Hello! It's Wednesday, which means it's time to share a few of the photos that stopped me in my scroll on Instagram this past week!
1. @JamesFarmerInc:
I get lost in James Farmer's photos because there are always so many fun design details to see! Just take this pic for example. The slender, wall-mounted plate rack is such a fun touch above the vintage chest of drawers topped with pottery, plants and candlestick style lamps. The collection of cattle-themed oil paintings, rustic ceiling beams, and outdoor-style ceiling lantern all complete me, and it looks like there's a secret door underneath the staircase too- SWOON!
Johanna has such a sweet feed and this picture took my breath right away! I love how that two-tone door and wall paneling is painted, and the blue & white spice jars and wooden peg rack are such a fun and functional touch on that little chunk of wall space there.
Did Sasha nail it with that bathroom floor tile, or what!? It's definitely one of the prettiest I've ever seen!
4. @TableFor5Please:
I'm such a sucker for a dog-themed wallpaper and the one Susan chose for her entry is SO cute! Her captioned mentioned it was from @wallsbyme if you're interested in visiting them too. I love the way the warm, textural wall basket full of greenery pops against it, and don't get me started on those oversized pegs- so cool!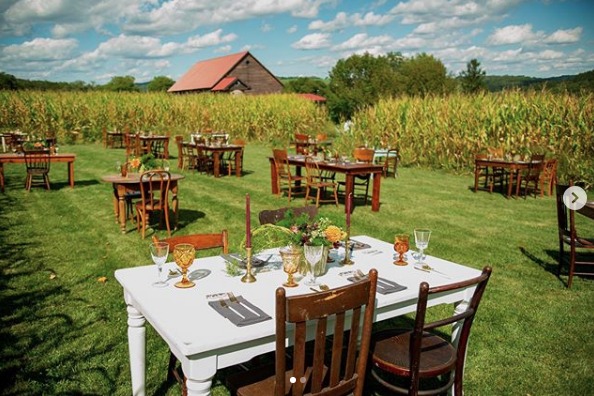 That right there? That's my idea of the PERFECT restaurant. #Dreamy
______________________________
Thanks again for swinging by this week! I've always liked putting together these posts on Wednesdays because like my Instagram bio says, "I like stringing words, and pictures, and people together", and I hope you met a new e-friend or two here today!
Layla
Get My Free E-book: 15 Common Decorating Mistakes And How You Can Avoid Them
Enter your email to download my free e-book instantly! 🙂