Howdy friend! We're excited to announce a fun little project that we'll be making a regular feature here on our blog. We're calling it "How To's Day" and it'll be a linky party where we can all share our most recent how-to oriented blog posts. It'll happen the last To'sDay (get it? (How) Tuesday?) of every month. Any type of how-to is welcome, and if you have any questions, please feel free to leave us one in the comments section of this post and we'll get back to ya lickety-split!
I had fun making a button for the party today, so if you do decide to join in on the fun, you can use it at the end of your blog post if you'd like. We'll make it available the day we kick off the first party. Here's a larger version of what it will look like…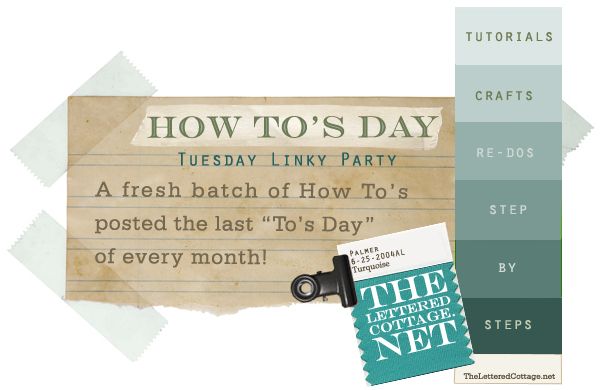 According to the ol' calendar, our first "How To's Day" linky party will be on Tuesday, February 22nd. So if you've blogged about a how-to this month (or plan to blog about one before the 22nd), we'd love to see you at the party!
And speaking of how-to oriented blog posts, this was one of our very first…
We still get a lot questions about it, so we thought we'd include another link to it here today.
Hmmm…that reminds me. It's just about time for another Spring mantel, isn't it?


——————————————————————————————————–
Join us on Twitter or Facebook!
————————————————————————————-
Need help with your living room layout?
Check out my e-book!