I had fun working on a presto chango for a gal named Beverly this week. She sent me an email asking for some sunny-style design inspiration for her tiny galley kitchen. It's open to three other rooms in her house, and here's a couple of the shots she attached to her email for me to work from:
She also asked about how to create a more "open feel", and mentioned that she only uses the upper cabinets on the right side of the room to store things she doesn't really need to get to.
I think we all know what needs to happen to those cabinets.

My inspiration pics are all pretty much the same, but I did pop a few different rugs in so that she could see what different patterns, colors and textures looked like down there.
Wanna see? Just move your cursor on and off of the photos below…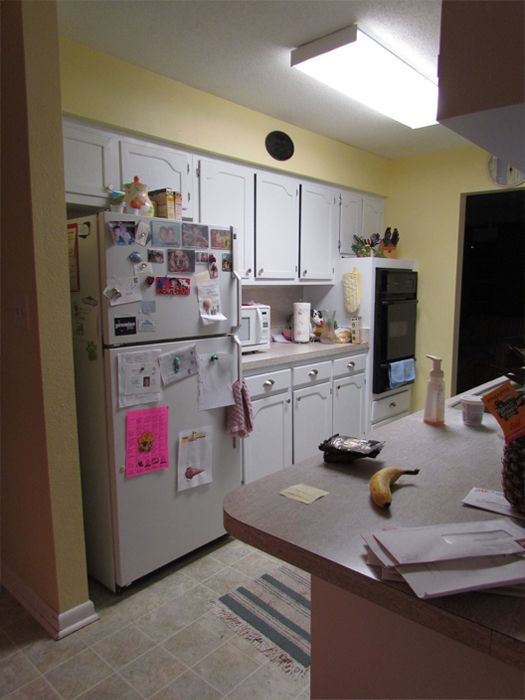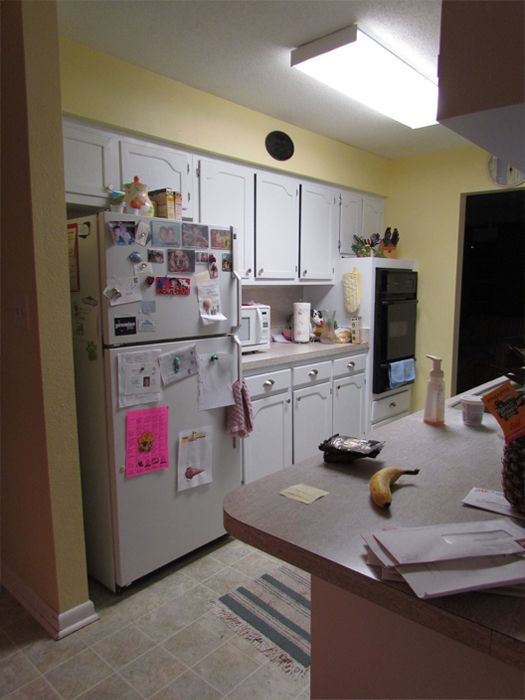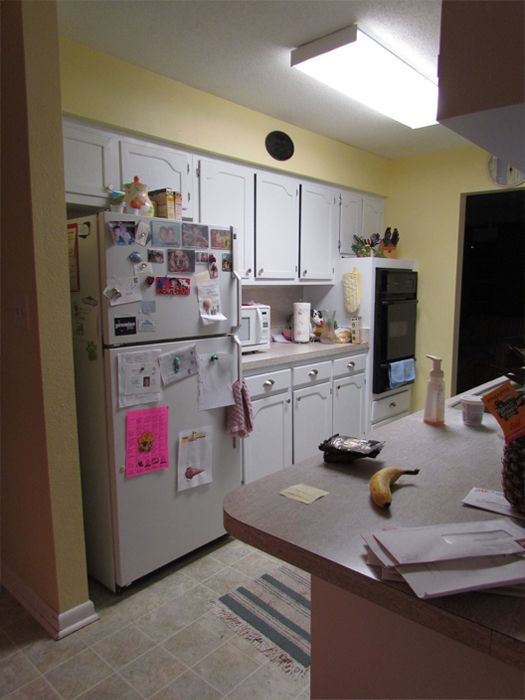 (Note: My drawings are for inspirational purposes only, and the ideas suggested here are just that. Spontaneous, flexible, just-for-fun, ideas. And since this is a just-for-fun-photo-consultation, and not an actual-and-perfectly-to-scale-virtual-consultation, I have no idea if any of the furniture, accessories or appliances I used would actually fit in this room. Boom.)
My overall goal was to accentuate the positives, and to give Beverly some ideas for the challenges, in her small, window-less, galley kitchen.
Let's start with the positives…
Positive: The room has a nice rectangular-shaped ceiling. Accentuate it with: A big ol' sheet of bead board panelling, or some planks of white (or light blue) painted wood. (Use a nail gun and construction adhesive to attach it to the ceiling, but don't forget to cut holes for new light fixtures before you put it up! Need step-by-step inspiration? Check out Shelley's post!)
Positive: Three cabinets above the counter to the right of the fridge. Accentuate them with: Glass-fronted doors. You can buy new ones at Ikea, or follow Susie's lead and make your own. It'll help open up the space a little more visually, and since there's not a lot of wall space to hang frames or accessories on, pretty dishes can act as art instead!
Positive: The wall at the end of the room. Accentuate it with: Something that'll capture your attention and make a bold design statement! Not into the high contrast of the black chalkboard wall? Make your own custom color chalkboard paint by following these steps instead. Not into the chalkboard wall period? It's all good. Maybe you'd rather paint it a cheerful color, stencil it like Ronda did, or wallpaper that wall instead of the wall I showed papered in my drawings. No matter what- just have fun with it!
___________________________________________________________
Here are some of the challenges I was inspired to throw my 2 cents in on…
Challenge: There's only one place to put a single-doored fridge. Solution: Make it a snappy one! I chose a cool, aqua blue model from Big Chill to add a little whimsy and color to the space.
Challenge: One, off-center, fluorescent light. Solution: Two, schoolhouse-style lights, spread apart by a few feet will wash the entire space with light. Yay! Under cabinet lighting will also help brighten things up, so I'd suggest looking into that option as well. Sarah showed how to do-it-yourself here.
Challenge: Short, upper cabinets. Solution: Paint the drywall that's covering the soffit above them the same color as the upper cabinets to create the illusion of taller cabinets. Seeing white all the way up to the ceiling will make it feel like the cabinets are a foot taller than they really are!
___________________________________________________________
I used colors like barn red, cool cream, crisp white, dusty aqua, medium brown, sunny yellow and chalky black all around the room for a classic cottage-meets-farmhouse kitchen vibe. (Beverly- if you're not into these colors, please feel free to choose a variety of colors that makes your heart sing. That's what's most important!) I also injected a variety of patterns and colors, to visually give the room more depth and dimension. Right now, all the colors and patterns are very similar. Adding some variety in those areas, will make a galley feel less…well, galley. (You've got a great foundation to work from Beverly…now all you have to do is add the spice!)
Here's an inspiration board I put together that just about sums everything up too:
(Chalkboard Wall, Dash & Albert Rugs, Anthropolgie Dishtowel, Big Chill Refrigerator, Red & White Plaid Wallpaper by Thibaut)
If you weren't able to view the presto chango in action above, here are the still images…
Beverly's photo: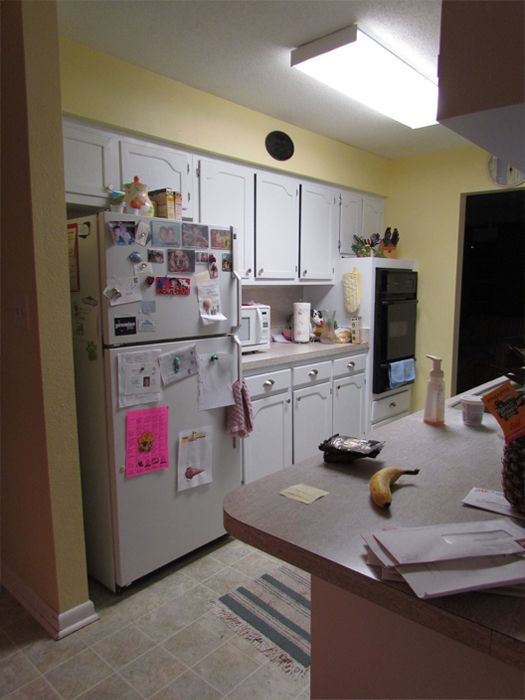 My inspiration drawings: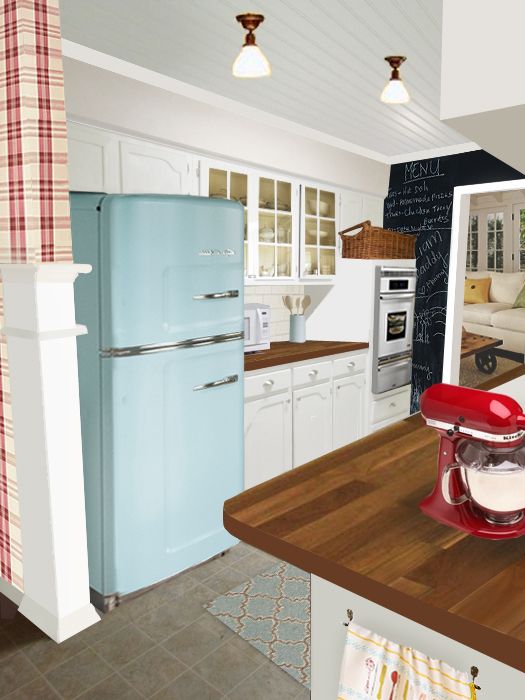 Thank you for the opportunity Beverly! And thank you to everyone who submitted photos so far. I look forward to randomly selecting another one soon!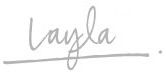 Wanna submit a photo for our Pick My Presto series?
Send an email to PickMyPresto [at] aol [dot] com titled, "PICK MY PRESTO". Make sure to include your name, your blog name (if you have one) your design likes & dislikes, and one photo of the space in question. (No links please.) It should be clear, and measure at least 400 pixels high x 600 pixels wide. (In other words: 4″x6″) Make sure it's a photo you're comfortable with me showing and writing about on our blog. Then, whenever I'm feelin' the urge, I'll randomly select someone's email and have a little fun creating some traditional or cottage style presto chango inspiration. Oh, and since I love surprises, I probably won't email you to let you know I've "picked your presto" unless I have a specific question for ya about your space.

——————————————————————————————————–
Join us on Twitter or Facebook!
————————————————————————————-
Need help with your living room layout?
Check out my e-book!
Get My Free E-book: 15 Common Decorating Mistakes And How You Can Avoid Them
Enter your email to download my free e-book instantly! 🙂