Upon first glance, Kev and I both felt like one of the things we'd (eventually) like to change about our new house are the exterior paint colors. Or should I say- color. Right now, the whole thing is pretty much completely covered in one single shade of tan. The body, the trim, the underskirt, the railings, the doors…heck, even the actual windows are tan.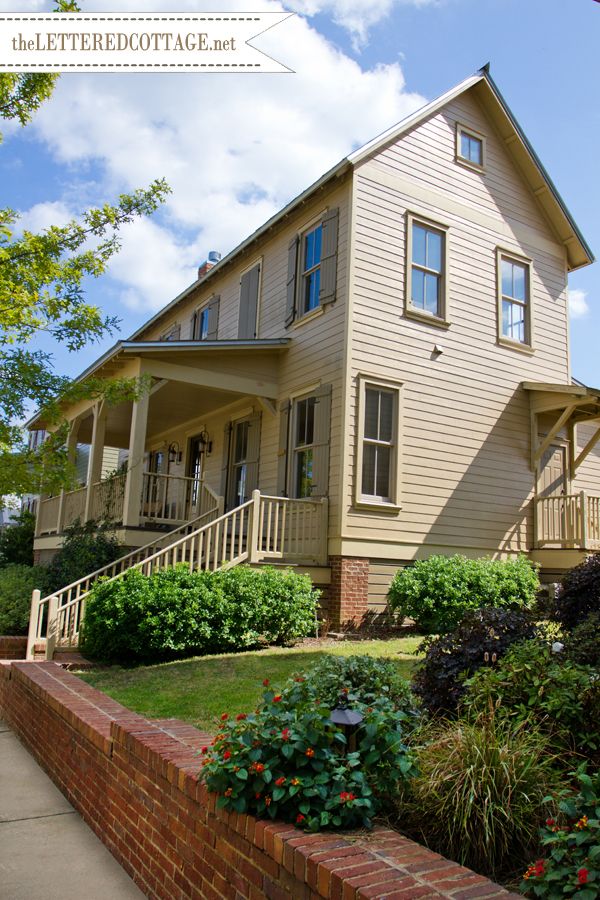 This is where I squirm a little, thinking to myself- "Self: what if someone reading this has an all tan house, too?" If so, please know that this is totally a personal preference thing. Kev and I seem to be drawn to blue/green/grays and a little more variation between design elements when it comes to exterior palettes- but we fully understand that some folks are more comfortable with neutrals and a tone on tone look. I definitely don't think there's a right or wrong when it comes to any of this stuff. It just boils down to what colors make your heart sing!
That said, Kev and I have found that choosing exterior paint colors can be super tricky and quite intimidating. Fortunately, there are several homes in our neighborhood that we can draw color inspiration from this time around. As a matter of fact, there's a house on our street that may already be sporting the very colors we'll end up using on our place. Check it out:
The body color is called Distant Mountain. It's a very pale blue/green/gray. The trim and underskirt color is a creamy off-white called Cameo. The front door color is Artisan Brown. They're all Glidden colors.
I (quickly) used Photoshop to see what that palette would (sort of ) look like on our house.
PS- I'm not chained to the back door color. I just kind of threw it in there to see what a different color looked like there.
Painting the exterior of our house will definitely not happen for a while though. Lots of walls to paint inside the house first!