Kev and I took a little road trip to Atlanta this past weekend, and boy did it feel good to get out and do something different for a couple of days!
We stayed in Buckhead on Thursday and Friday night, but we drove out to Suwanee, GA on Friday afternoon to visit our friends, Alex and Emily Morrison. We had fun helping them re-design their living room for HGTV last Fall, and it's always a trip to look back at the before photos after standing there in the re-done room… (insert flashback sound effect here)
We didn't get a chance to take many "after" photos when we were done working on it last year, so we were pumped when Alex and Emily said we could come back and snap some more on Friday…
Their makeover was such an interesting, whirlwind-kind-of-a-project to be a part of. We only had a few weeks to pull everything together before we got to Suwanee last Fall, and because some things had to be ordered online and custom made (long story) to stay on budget (sofa, rug, mantel beam, coffee table) we didn't get to see them until, like, 2 days before the big reveal. Scary! I don't know about you, but I'm a fan of knowing exactly what size/shape/color something is going to be before I commit to it (especially when it's going in someone elses house!), so that part of the makeover was really challenging for me…and the knot in my stomach. Apparently this belly wasn't built for that kind of bravery- ha!
We did do a lot of on-the-fly decorating while we were filming though, too, and I actually ended up enjoying that part of the process quite a bit. For instance, at one point, a runner brought back two pairs of white curtains (which was awesome) but unfortunately, they were just a few inches too short. I asked a fellow (sewing machine-totin') blogger if she could lengthen them by using some leftover zig-zag fabric we had, and she did a great job making it happen, lickety split…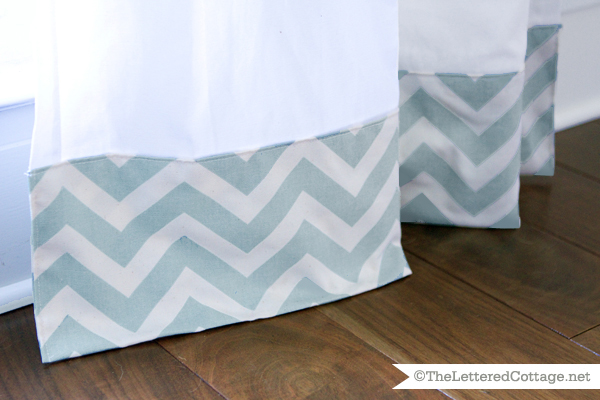 And speaking of that zig-zag fabric, another fabulous blog friend used some more of it to create slipcovers for an ottoman and a couple of flea market-found armchairs on the other side of the room…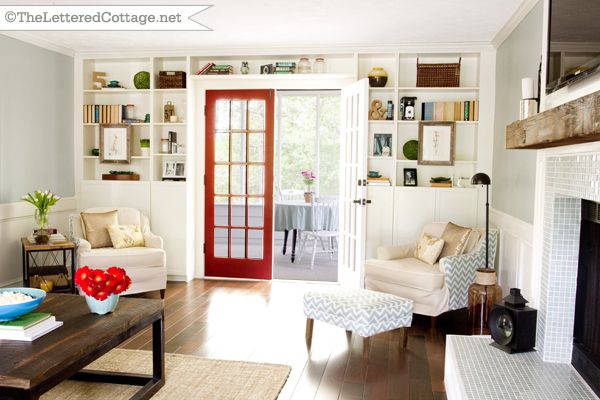 I don't know what we would've done without the help of so many talented folks that week!
The fireplace was my favorite part of the room to re-design, and I'm really glad we had a chance to take another picture of it this time around…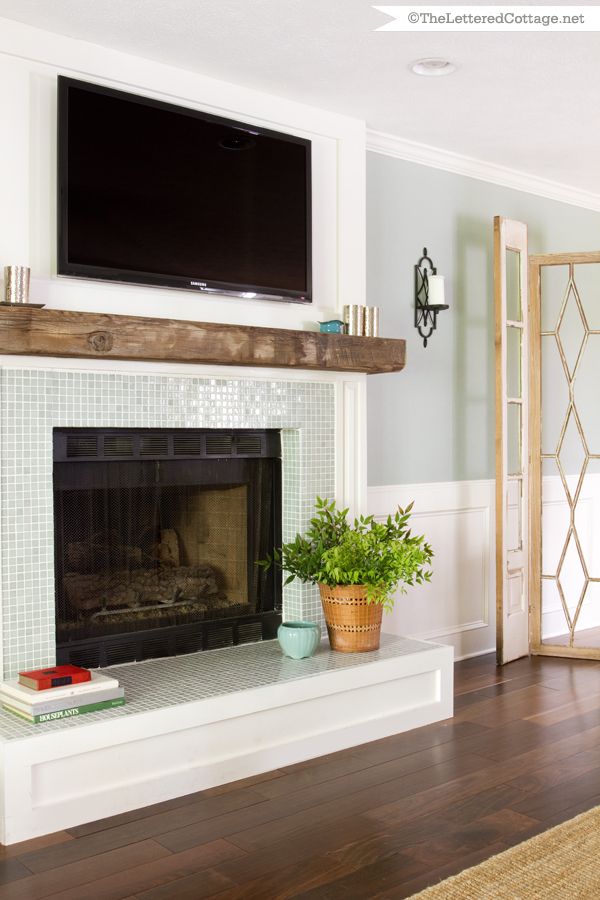 We got the recycled glass tile at Lowes before they discontinued it, and while it was on clearance for just $2/square foot. We picked up the rustic beam at Southern Accents in Cullman, Alabama, and our production company's carpenter built the fireplace surround based on a drawing I did in Photoshop. Kev and I couldn't get over what a great job he did covering the old one up! Here's a close up of the 70-year-old beam we used…
I knew Emily would love it, based on some of the rustic elements I was seeing on her Pinterest boards, but I wasn't sure what Alex would think about it. I was so relieved when he told us it was one of his favorite things in the room this weekend! Whew!
To the right of the fireplace, we used a really big potted palm (which is now deceased- ha!) and a folding screen made out of three salvaged windows we also found at Southern Accents…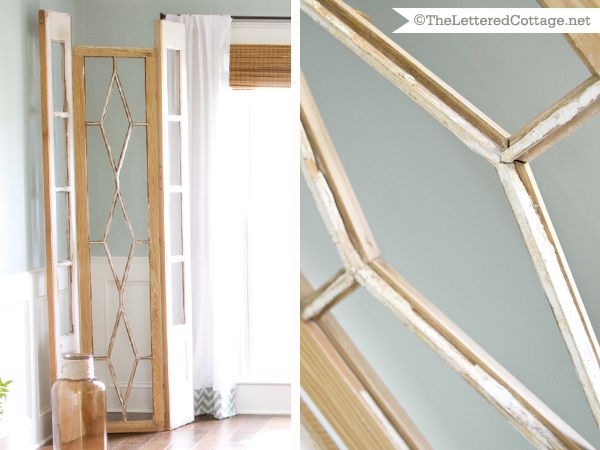 I am absolutely cuckoo for that thing, and mark my words, I will be going back to hunt down three more old windows so that I can make one for me and Kev!
And speaking of salvaged stuff…we also used some reclaimed wood from Southern Accents on one of the side tables…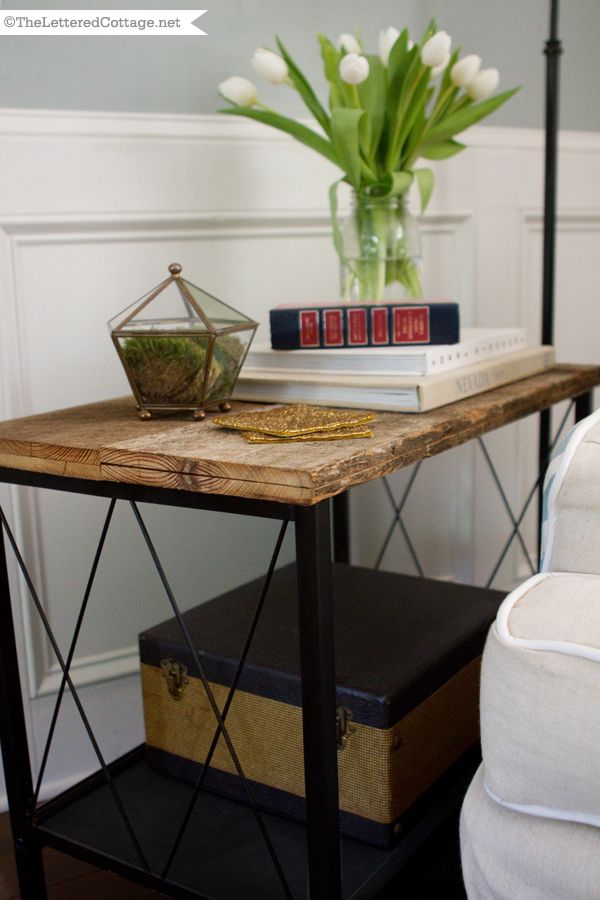 (Note to Emily: I tooootally forgot to tell you that you'll probably want to throw some wax on that sucker at some point so that it holds up better over time.) It was previously topped in a really outdated looking surface, and the base was previously a 70's style brown color. Our friend, Rhoda, sprayed it oil-rubbed bronze for us, and our carpenter-helper replaced the old top with the reclaimed wood. Not bad for a $20 side table, eh? Emily told me one of her favorite things was the little antique brass & glass piece we placed on the top of it for the reveal…
We picked that one up at Queen of Hearts in Buford, GA- but I've seen them at TJ Maxx a lot lately, too.
One big thing we learned while we were filming is that designing for TV is a lot different than designing for real life. (The Nervous Nelly in me repeatedly told Alex & Emily they could feel free to change or remove anything they didn't like after the camera crew was gone- ha!) One (fun) "rule" our production company gave us was that they wanted us to use lots and lots of color throughout the space so that the room would "read better" on camera. Darker wall color, vibrantly patterned fabrics, etc. We also brought in a cute aqua table lamp, and a bunch of fellow bloggers helped us paint the french doors and the sofa table a color called "Heirloom Red" by Valspar…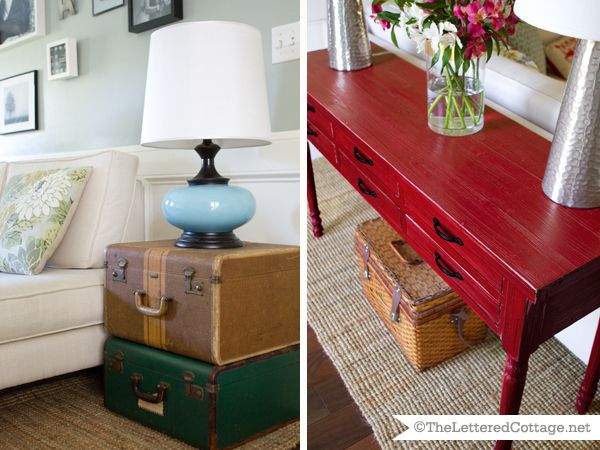 I also like using a least a little green in every room, and I absolutely adore the bottom suitcase in the photo above, and the bowl in the photo below. I got them both at Prattville Pickers, and I had a really hard time giving those guys up, too!
(Side note: we had our carpenter-helper screw those two suitcases together so that the top one wouldn't accidentally slide off!)
Just in case anyone is curious- here's a list of links and store info for everything we incorporated into the room:
Wall color- Oyster Bay, by Sherwin Williams
Trim color- Parchment White, by Glidden (Home Depot)
Red paint color- Heirloom Red, by Valspar (Lowes)
Rug- Anji Mountain Rug Company
Fireplace Tile- Elida Ceramica Recycled Mosaic Moonlight Glass Wall Tile (Lowes)
Coffee table- Custom made by Southern Accents
Mantel beam- Southern Accents
Vintage suitcases- Prattville Pickers
Metal coffee table- Prattville Pickers
Table lamps- TJ Maxx
Picture frames- Ikea
Floor lamp- TJ Maxx
Ceiling light- Lowes
Sofa- Custom made by FunkySofa.com
Bookcases- Ikea
Bookcase doors- Ikea
Flooring- Southern Accents
Curtain rods- Walmart
White curtains- Walmart
Window blinds- Home Depot (Maker- DesignView ; Style- Providence)
Armchair slipcovers- Made by Sassy Stitches
Sequined pillows- TJ Maxx
Floral pillow cover- Ikea
Striped euro sham- Ikea
Small bird pillow- Flea market
Beige floral, aqua geometric, aqua/mustard floral, and yellow floral pillows (on armchairs)- Made from fabric remnants from Claudia's Cloth Barn in Prattville, Alabama
We're so grateful to have had the opportunity to work on this makeover with so many big-hearted/incredibly talented peeps, and we're looking forward to working on another one with our own little cameras again very soon!