We've had this hole in the ceiling in our hallway for, oh…let's see…maybe, like, two years?
After we painted the ceiling, we just never got around to installing a light, and to be honest, we're not really "overhead light people", so we didn't even really miss having one there. But, ever since I got my Notebook app, I've been on a mission to cross something off my "House" to-do list every couple days. The first task on my list was "install light in the hallway", so I made a trip to Home Depot and picked up this little guy on sale for under seven bucks…
(Hampton Bay Classic Collection – Acorn Ceiling Fixture)
It was the right width (we need to be able to open that ceiling vent up there to change the air filter), but it wasn't the right finish, so when I got home from the store I hit the base with a little white spray primer and a little white spray paint…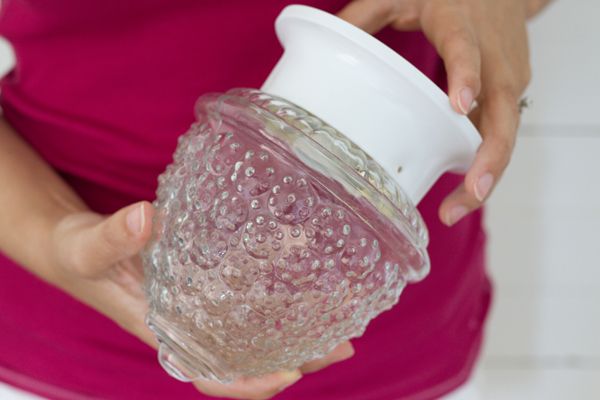 It's nothing fancy-schmancy, but neither is our little cottage-that-could, so I thought it would work just fine for a light that probably won't even get turned on- ha!
There was four too many wires sticking out of that hole in the ceiling though, so we had an electrician friend come and hook it up for us- and after I took this crazy, fish eye-ish photo of it…
…I happily checked that sucker off my list!
Big up's to the iPhone Notebook app for lighting my fixer upper fire- ha!