True Value approached us about being on their DIY Blog Squad again this year, and we were thrilled to give it another go. Working on this old house is my passion, and I never imagined a company like True Value would come e-knockin' when we moved in 5 years ago!
They sent us a gift card so we could take on (and blog about) some more home improvement projects again this year…
…so we're going to do our best to choose projects that will be helpful to the folks that are sweet enough to swing by and read this thing each week. (If that's you, thank you and let us know if there's a certain project you'd like us to take on and blog about!) We're also going to give away 2 more True Value gift cards over the next few months, so stay tuned for all the sweet deets about that, too!
We've been a part of the DIY Blog Squad since 2009, and while we have certainly appreciated the opportunity and gift cards- Kev and I are picky/sensitive creatures, so if the stores weren't fun to visit, we definitely wouldn't keep going back! Our favorite True Value is in Tallassee, Alabama…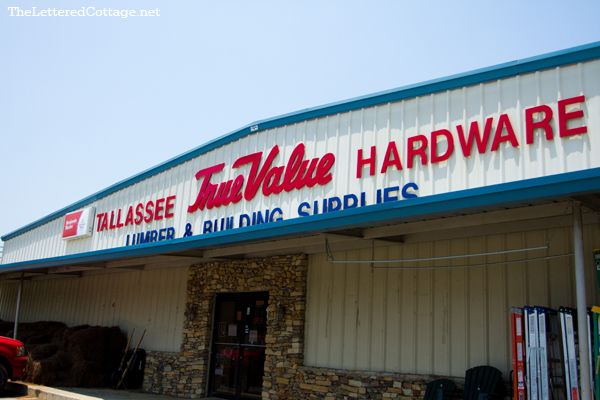 We made a trip there this past weekend to pick up a new circular saw (our old one finally bit the dust) and we were stoked to see that they carried some DeWalt ones…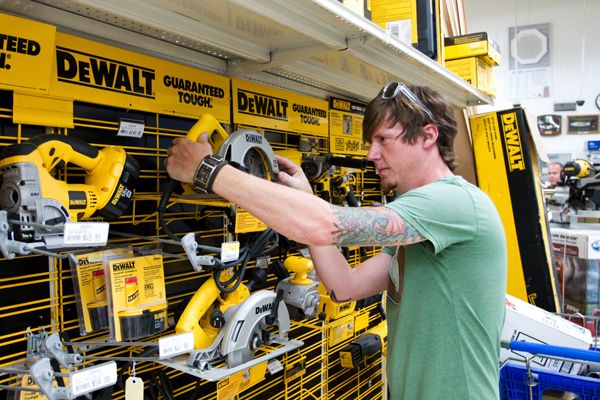 Rumor has it DeWalt ones live longer.
We used it to help Kev's brother, Kerry, alter his new TV stand. It's part of the Hemnes line, from Ikea…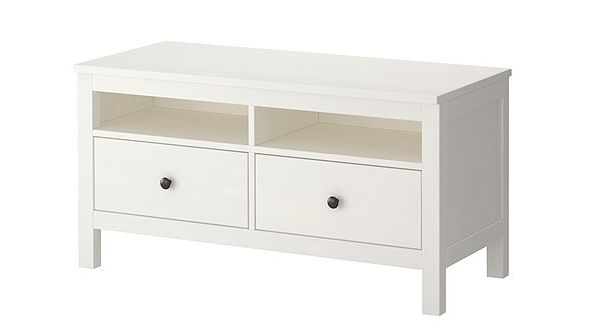 Kerry wanted to put his electronic equipment in the spaces below the TV, so he opted not to use the drawers…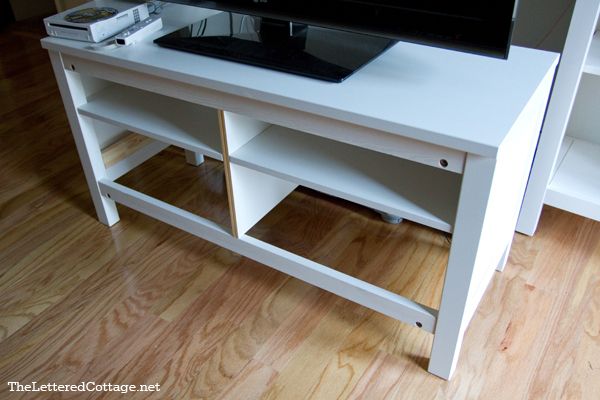 Which, as you can see in the photos above and below, left him with 2 open bottom "shelves" and 4 uncovered, counter-sunk screws.
But before we fired up the circular saw and cut out some new shelves, we used some iron-on melamine edging tape to cover up the exposed particle wood strip that ran down the center of the unit…
Kerry made the same mistake I did one time when he was assembling his TV stand- he put the middle piece on backwards. Oops! And since it's kind of a pain in the booty to take the whole thing apart once you've got it all together, we suggested using the melamine edging tape instead…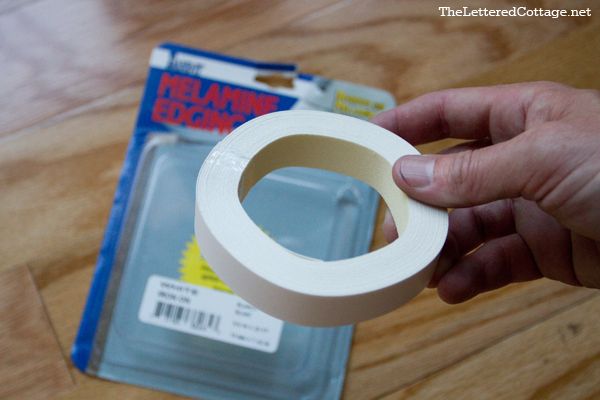 Hey- that's what it's for, right? Here's Kerry and Kev applying the edging…
The instructions suggested using a piece of tin foil to protect the iron. Here's a pic of how it looked when they were done…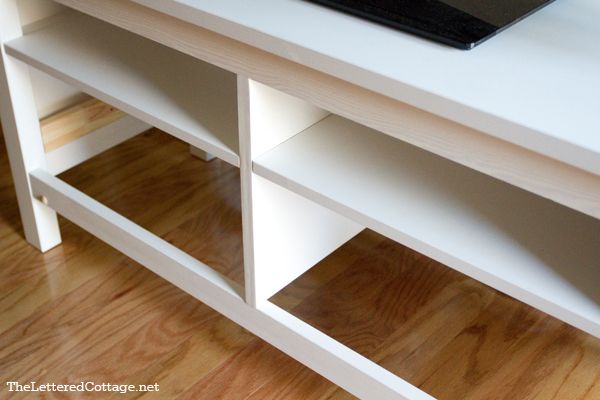 Ahhhh. All is right with the world again!
Next up, Kev cut out two shelves to set in the bottom of the TV stand. We painted them with some leftover Moonlight White paint.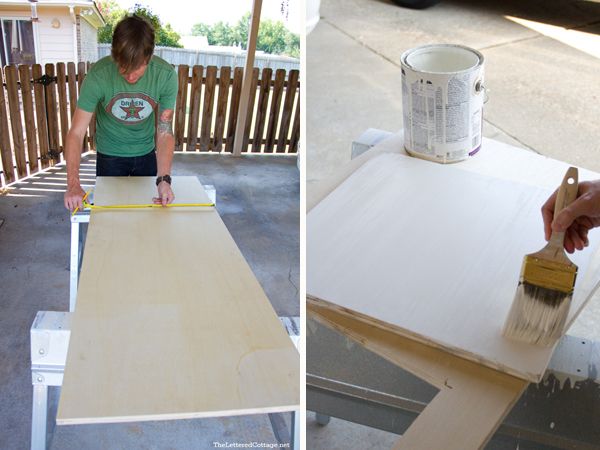 We added more melamine edging tape to the front sides of each shelf…
The instructions suggested leaving at least an inch overhang off each side when you're applying it this way. When we had it ironed on, we just flipped it upside down and cut the excess off with a razor blade.
Next, we painted and plugged all 4 counter-sunk screws (that normally would have been covered up by the drawers) with these 1/2″ hardwood button plugs…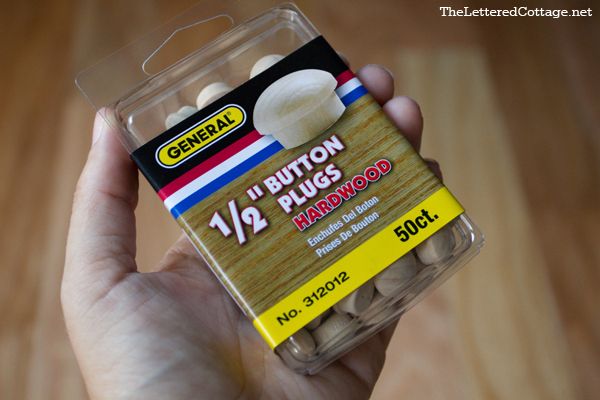 And, last but not least, here's the finished product!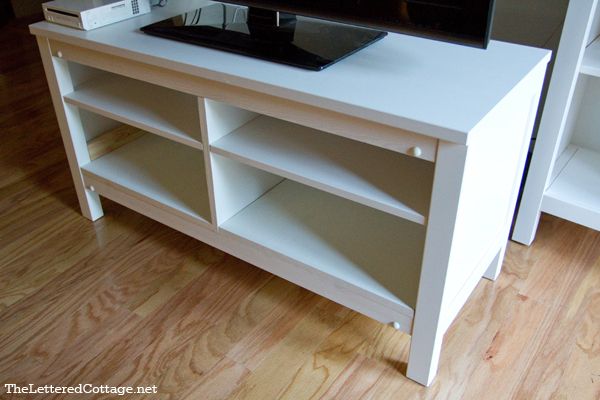 Kerry was excited to get all his equipment set up on the new shelves…
…and our nephew, Benton, was excited to get back to his video game smile for Aunt Layla and her camera…
Does that picture say "Sorry, Aunt Layla, I'll smile for ya- but my eyes are NOT moving off this video game!", or what? Ha!


This post is part of our 2012 True Value DIY Blog Squad series.

"Truly Valuable" links: Twitter.com/TrueValue, TrueValue.com, StartRightStartHere.com, TrueValuePaint.com, Pinterest.com/TrueValue, YouTube.com/TrueValue, and you can find more info about True Value DIY Blog Squad on True Value's Facebook page. We'll be hosting "Ask The Blog Squad sessions over there on July 17th, August 21st, October 9th, November 13th and December 18th!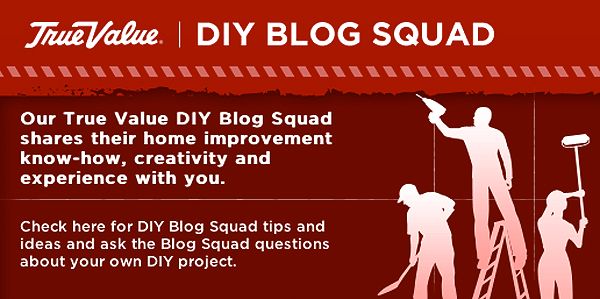 Legal stuff: We were selected by True Value to work on the DIY Blog Squad and have been compensated for our time commitment to True Value-related blog posts. We were also given a gift card to purchase the materials needed for our True Value-related projects, however, our opinions are entirely our own and we haven't been paid to publish positive reviews. Boom!
Get My Free E-book: 15 Common Decorating Mistakes And How You Can Avoid Them
Enter your email to download my free e-book instantly! 🙂