We worked on a budget-friendly fireplace makeover at Kevin's brother's house a few weeks ago, and we're so happy with how it helped to update their existing brick fireplace.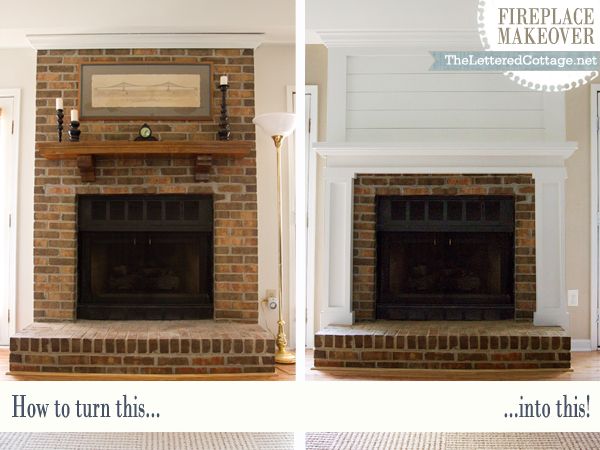 We've been slowly helping Kerry and Robyn redo their living room over the past few months, and it has been SO MUCH FUN "sneaking" into their house while they're at work (and school) so that we can surprise them with updates when they get home at night!
We have a few more projects to tackle before we blog about the "full reveal", but I wanted to share the fireplace makeover project here in the meantime.
We recruited our friend, Brian the Carpenter, to help us get the fireplace makeover job done right, and we used this photo we found on Pinterest as inspiration…
(Source)
Here are the steps we used to complete our project in case anyone out there would like to try something similar:
Step 1- Use screws to attach a strip of plywood down the sides of the fireplace, then create a mantel out of MDF or whatever kind of wood you'd like…
A masonry drill bit makes for easy brick drilling, so make sure you have one before you start this project.
Step 2- Attach a wood "cleat" to the front of the fireplace. We used two pieces of MDF to create ours, but again, it doesn't matter what kind of wood you use…
Step 3- Use screws to attach your mantel to the cleat and to the wood strips running down the sides of your fireplace…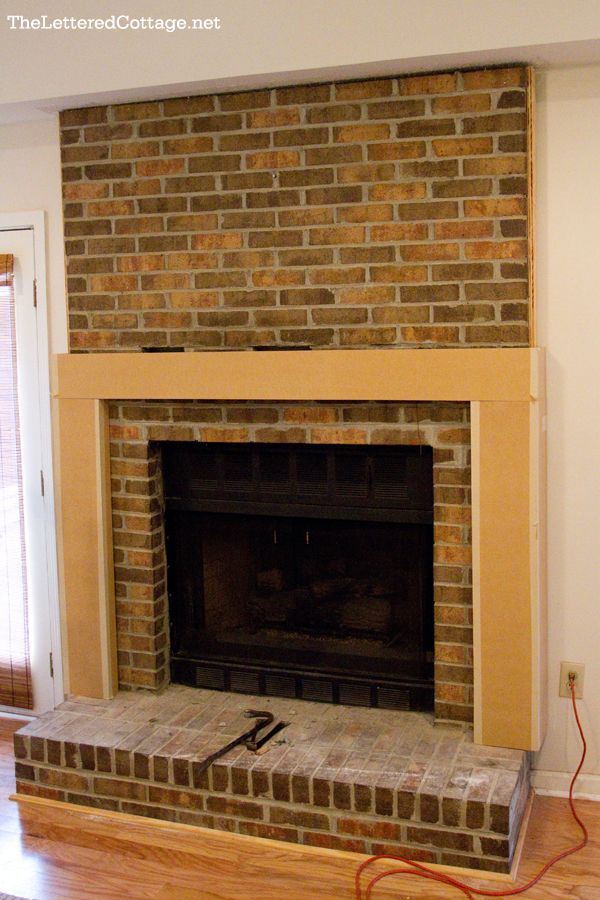 (Note: The masking tape on the edges of the mantel is just there to add extra security while the construction adhesive between the seams was drying. As you can see in the photo with Kevin in it, the pieces are held together with screws, too. Brian said the tape just makes it a little easier to move it around.)
Step 4- If your mantel hangs off the edge of your hearth like ours did, you can make it look like it's always been there by adding a two-sided box down each "leg"…
(Note: You could also cut your mantel "legs" down to the floor from the start if you didn't want to go back and add this part.)
Step 5- Kerry's mantel shelf was made from a double layer of MDF (for cost and smoothness reasons), but you could also choose any type of wood for this step. I really just wanted you to see the shape of it…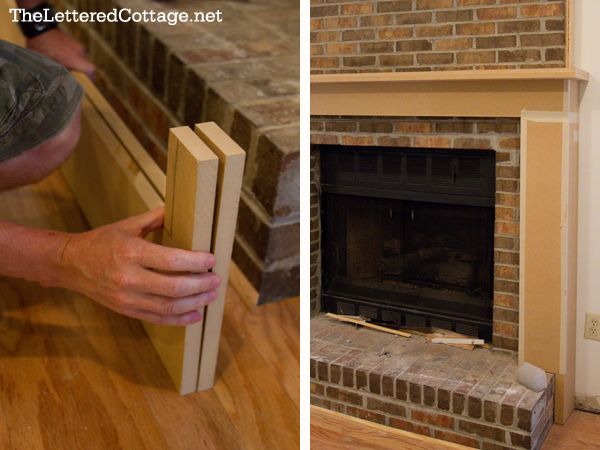 Here's what it looks like all secured to the cleat underneath it…
Step 6- Attach some strips of wood to the brick above the mantel, like this…
Make sure to counter sink your screws so that the wood you use on top of them lays flat…
Step 7- Attach your planks. We used MDF because of it's "straight and smooth" factor, but again, you can choose any kind of wood for this step. We used a nickel between each board to make sure they were all spaced apart evenly…
Step 8- Frame out the area above the mantel shelf with a few more pieces of wood, like this…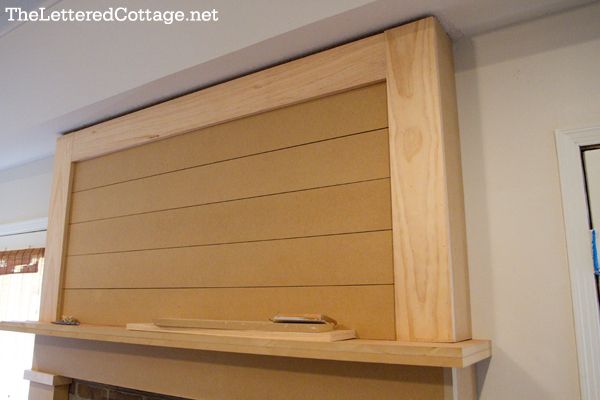 Step 9- Begin trimming out the edges, and covering up the seams, on the mantel below the mantel shelf…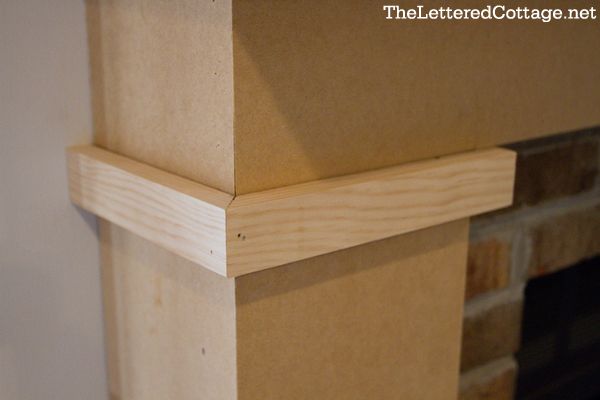 Here's a closer look at the simple trim we used to cover the seam in the photo above…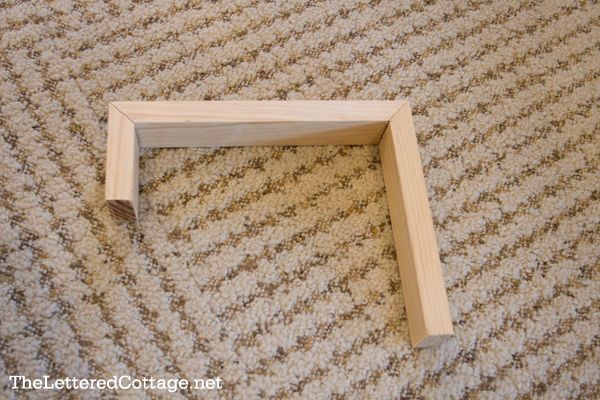 The trim sort of came together as we went. We just added pieces here and there until it looked like it was finished…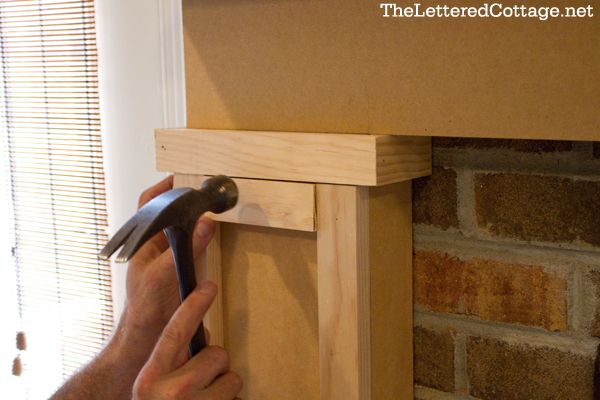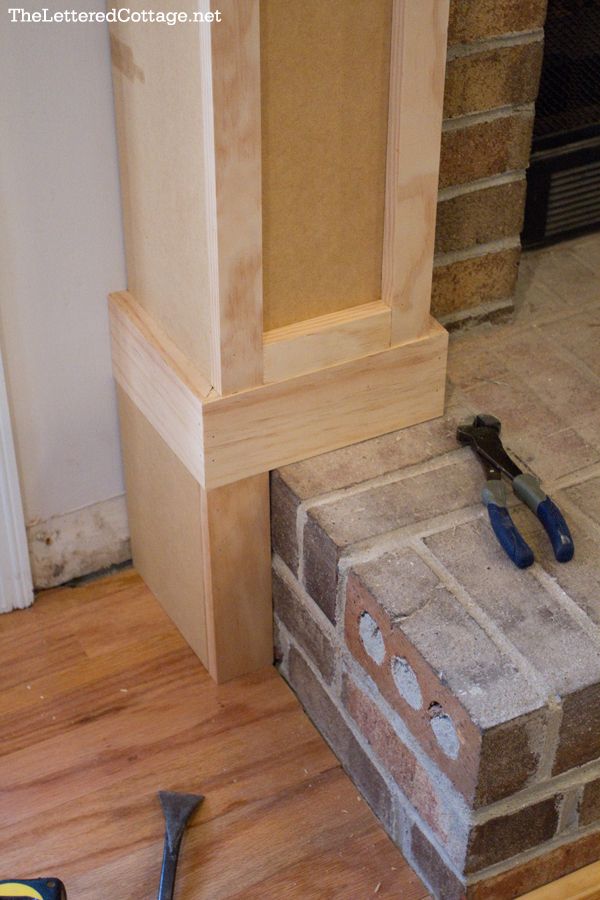 Step 10- To finish off the mantel shelf, we secured a piece of 3″ crown molding to a couple of angled pieces of wood underneath it…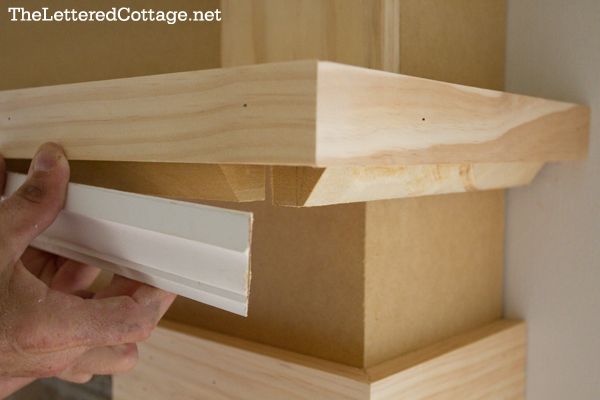 Step 11- Add crown molding to the very top edge of your fireplace so that it's capped off nice and neat at the ceiling…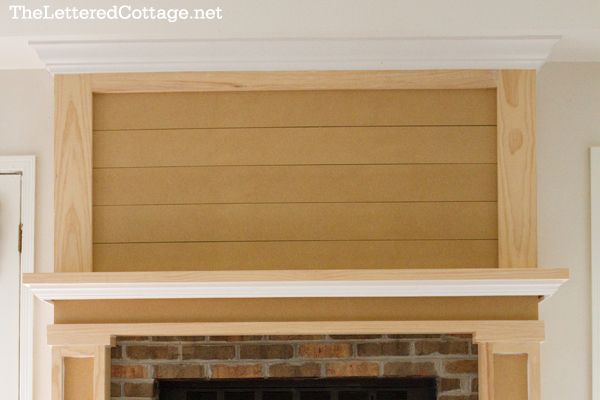 Step 12- Prime and paint.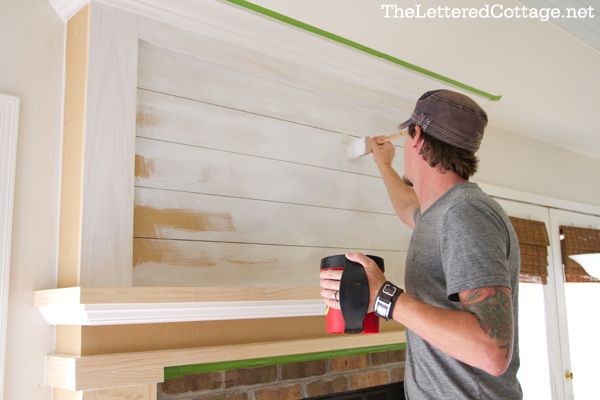 We used Kilz primer and "Moonlight White" paint from Benjamin Moore.
Step 13- Sit down and take a break for a couple of days because your fireplace makeover is DONE!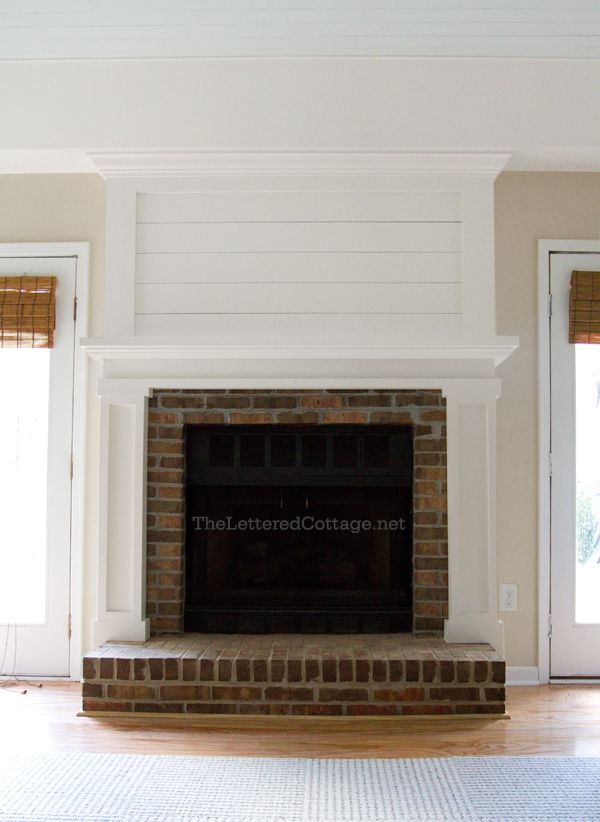 We snuck back into Kerry and Robyn's living room the other day to do some Fall mantel decorating, and we look forward to sharing those photos and decorating ideas during our "It's Fall Y'all" link party series starting next week. Hope to see you there!