Greetings! We thought we'd post a few fun, fall table decorating ideas here today to remind everyone about the fall table ideas link party we're hosting here tomorrow. If you've blogged, or are planning to blog about any fall-inspired table top ideas at your place, we'd love to see them at the link up this week!
One of my absolute favorite things about creating decorating-related blog posts like this one, is the "dream and do" process. I imagine it's similar to the excitement scrapbookers feel when they sit down to add something to the book they're creating. For me, these posts usually start with an idea that pops into my brain in the wee hours of the morning, before I've even opened my eyes. Do you do that, too? Lay there and dream/think/meditate/pray as the room gets brighter and brighter on the other side of your eyelids? I love that time of day. I always feel so recharged and grateful for the chance to experience it.
Another thing I absolutely love about creating these kinds of posts is the opportunity it opens up to collaborate with other artsy-fartsy folks- both online, and right here in person, in sweet home Alabama.
This particular post started with a "Hey! Let's have another link up" email between me and Kate, and Sarah, and Rhoda. I'm crazy about those gals, and I look so forward to throwing these e-bashes with them every now and then. That email led to a text between me and one of my local friends, Evan. I love collaborating with him, and this time around, I thought it would be fun to have him teach me how to put together a fab, frugal, fall flower arrangement. We also recruited our friend, Joshua, to film the insanity lesson, so if you'd like to learn along with me, click the play button on the video below:
Evan also wanted to add that the most important thing is to just have fun with it. The kinds of flowers, and how you arrange them is really second fiddle. You can't go wrong with buckets full of flowers!
We shot the video at our friends, Kim and Danny's, house a few weeks ago, and my hubby had  waaay too much fun shooting photos of our finished tablescape in their dining room.
I loved the idea of creating a pumpkin, dark blue, and white "farmhouse fresh" style tablescape this year, so we started by drawing inspiration from an inexpensive collection of mis-matched blue and white bowls I purchased on eBay a while back…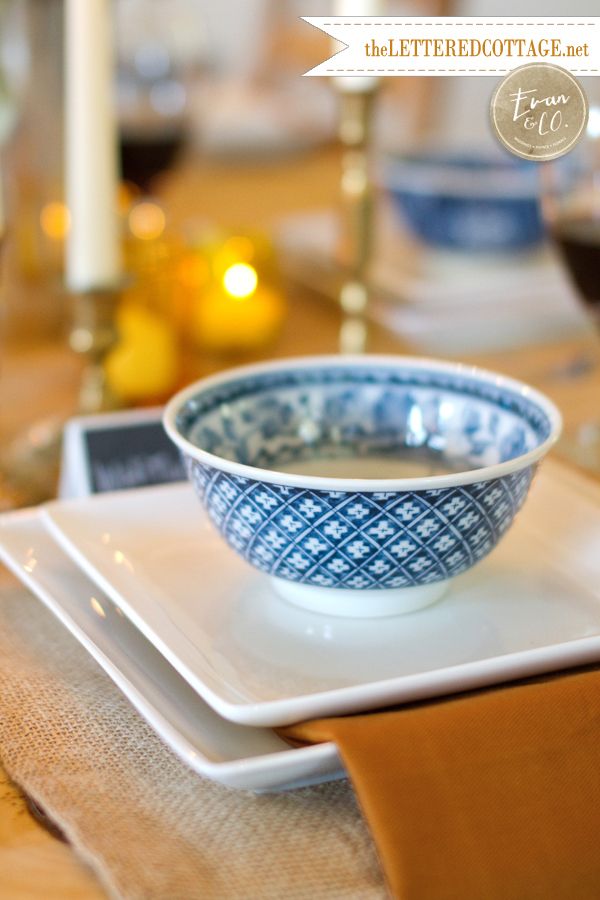 Who says fall has to be red, orange and yellow, right?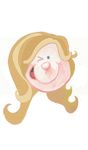 From there, Evan and I thought it would be fun to bring in some rough textures and warm colors to contrast with the glossy, blue and white dishes. We used a burlap runner, pumpkin-colored napkins, amber-colored candle votives, chalkboard name place holders, and a collection of old brass candlestick holders to bring in a little warmth and texture. Evan's "wildflower" inspired bouquets took center stage, and could easily be moved over to the sofa table once the dinner bell rings…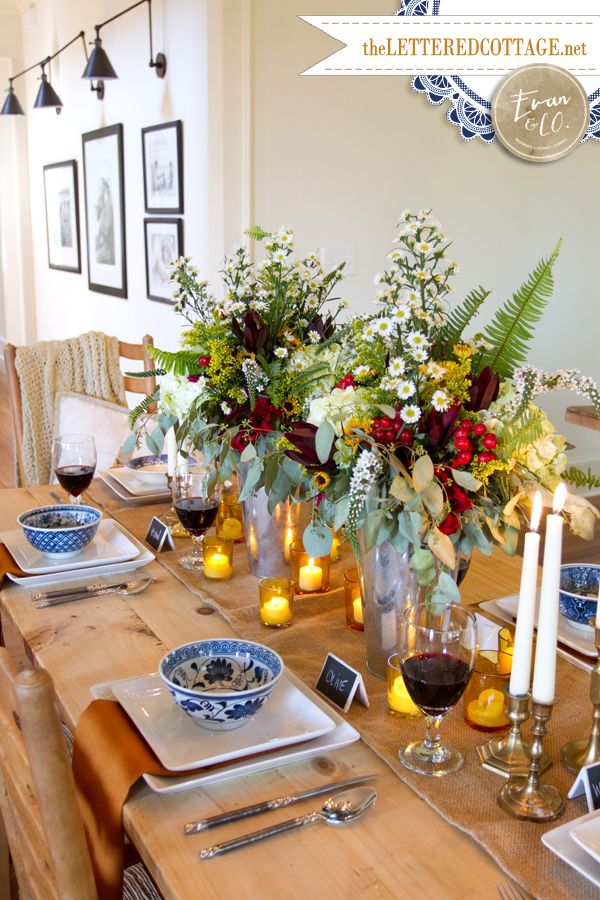 It's really just about mixing metal finishes with dishes and napkins in our pumpkin/dark blue/white palette, and then popping in a some flowers that have a fall feel to them.
This post is about fall table decorating ideas, but I wanted to share some exciting news today, too. It appears our house hunt has come to an end. We made six different offers on two separate (foreclosure) properties over the past couple of weeks and our "best and final" on the second property was accepted this afternoon! We're really excited, and look forward to exhaling after the closing of this house, and the new one, later this month- ha!

Table top sources:
Burlap Runner- handmade
Pumpkin-colored napkins- World Market
Silverware- homeowners
Blue and white bowls- eBay
Square dinner plates– World Market
Square salad plates– World Market
Amber-colored votives- Target
Tall, tin buckets– Save-on Crafts
Floral tape– Save-on Crafts
Brass candlestick holders- Goodwill
Chalkboard place cards– World Market
Flowers:
Mojito Hydrangeas
Hypercium (Red Berry, a.k.a "Coffee Bean")
Alstroemeria
Veronica
Seeded Eucalyptus
Viking
Safari Sunset
Fern
Montecasino
Solidago
PS- HUGE thanks to Joshua Pittman for filming…

Evan G. Cooper for flowering…

…and Kim and Danny Brown for letting us take over their table!