Hi. We're Dusty and Sandy- but today, you can call us Pooped and Plum-Tuckered.
I shot the following video of Pooped today.
He wanted to talk a bit about the infamous edge sander we mentioned in our last post. And when I say "he wanted to talk a bit", I mean "he hoped the right configuration of words would magically fall out of his mouth when he opened it to speak because he is completely exhausted right now"…
(Click here to watch it on YouTube)
I'm not sure my weak-as-wet-spaghetti arms could've held the camera up much longer either, so I'm glad he was able to get that all out in two quick takes.
Our animals seem to be a little out of sorts lately too.
Mr. Bean has taken up residence in my closet. At almost any hour, you can find him sprawled out behind my box o' socks…underneath a big, old plastic bag fulla' wedding dress.
Max, on the other hand, stakes his daily claim on top of one of the euro pillows on our bed. He curls up there immediately after his morning walk and pretty much stays put until bedtime. (Except for the occasional bathroom break, of course….which may or may not occur outside because he's clearly the reigning King of I'll-Let-Ya-Know-I-Gotta-Go-Sometimes-But-Not-Every-Time.)
We'll continue to plug away with our projects though. There's no turnin' back now!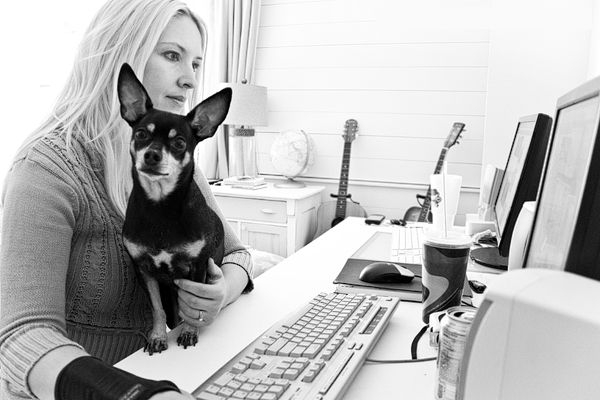 (Me and Max, in our home office. I mean, dining room. I mean, master bedroom.)
If all goes according to plan, we'll be back soon with some brand spankin' new shots of our splendiferously-sealed hardwood floor.
If not, you can probably find us in the back of my closet…just beyond my box o' socks…right below a big, old plastic bag full'a wedding dress.
Peace, hugs, and protective ear plugs,

——————————————————————————————————–
Join us on Twitter or Facebook!
————————————————————————————-
Need help arranging your furniture?
Check out my e-book!
Get My Free E-book: 15 Common Decorating Mistakes And How You Can Avoid Them
Enter your email to download my free e-book instantly! 🙂