"These bib overalls were his favorite for a time…they were his work pair, but he also had dress overalls that he would wear to the fair."
-William McKale

I gave a couple of our new (old) dining chairs a little makeover this weekend.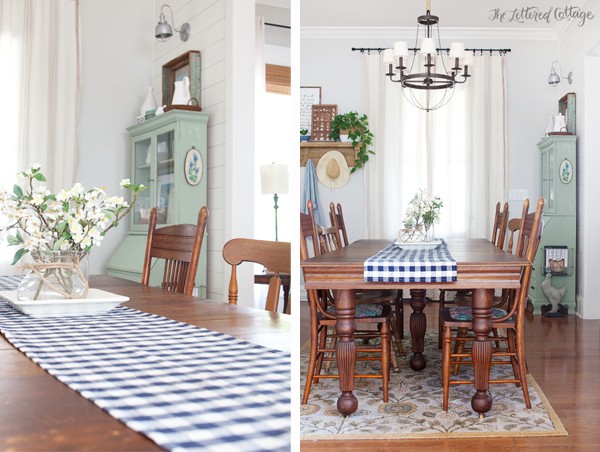 (The front door is behind those drapes. They provide privacy at night, and shielded the sun so I could snap that pic!)
Two of the eight that will sit full-time around the table. My mom had covered the seats in this vibrant floral…
…but I wanted to go with something a little more casual.
I started by prying off the seat bottoms my mom made…
…and got my first-ever glimpse of the original, caned seats:
Such a fun surprise! It always amazes me to see they didn't usually use any kind of support underneath that kind of delicate, woven seat. I sure would like to have the bottoms professionally restored at some point. Surely they could add something to the underneath the seat to make it studier, don't you think? For now, I decided to go with aged brass nailheads, and a super-soft, blue jean type of fabric. I love it for a couple of reasons.
1) It's a nod to my Great-Great Grandpa August, the one who first purchased these chairs. He was a farmer, so I'm thinking he was no stranger to denim. 🙂
2) Navy blue is one of my favorite colors and it's going to look great with the farmy-meets-fancy (meets-food friendly!) fabrics I'm using on the captain's chairs at each end of the table.
…and hey, I figure, if the blue jean starts to fade here and there, that'll look pretty country-cozy too. And if not? I'll just re-cover them with new blue jean…you know, the kind you'd wear to the fair. 😉

PS- A couple of the side chairs won't be upholstered because they have sturdy wood seat bottoms, and I'm going to pick out a coordinating fabric for the other two "August" chairs today. Be back soon with a post about what I went with soon…wish me luck at the Land o' Too Many Choices fabric store! XO