Remember when the builders mistakenly put board and batten on the (decorative) doors at the end of Jim and Katie's Bungalow Barn?
Well, they finally fixed them yesterday, so I thought I'd post a photo of the newly-added Xs!
(Don't worry, the crepe myrtle will grow back!)
Seeing them made me curious about why people started using Xs on barn doors to begin with, so I did a little Googling, and found out that the "X" design of white boards across barn doors is there for the very practical purpose of making the barn door stronger. Who knew? 😀 I also learned that large, sliding (exterior) barn doors became popular because then the farmer need not swing open a wide door and let in a rush of cold air. So smart! (And as a sliding barn door lover, I'm so glad they introduced that trend!)
I was also tickled to read that "while the depiction of barn raising in movies always seems to feature cheerful people singing and staying around for a dance that night, this fictionalized version of barn-raising is not too far from the truth. Barns were a big project that required help from many willing volunteers and the process needed to go quickly so that everyone could get back to their own farms. While the singing and dancing may or may not have happened, the neighbors were almost certainly delighted to see each other and share news. Women came along to cook and the children played and helped where they could". How neat!
I also read that "ventilation was always important, both for animals and for grain. (Grain could explode if it was packed too tightly and the sun beat down on the building for a time.) Vents under the eaves were common, but some barns had slits running vertically along the walls for air; others had cupolas for the same reason". Jim and Katie's cupola is just for looks, but how interesting to know that they used to keep grain from exploding!
The article went on to say that "these openings served another purpose: owls could come in during the day and roost in the rafters", and that "farmers welcomed the owls as they helped keep the mouse population down".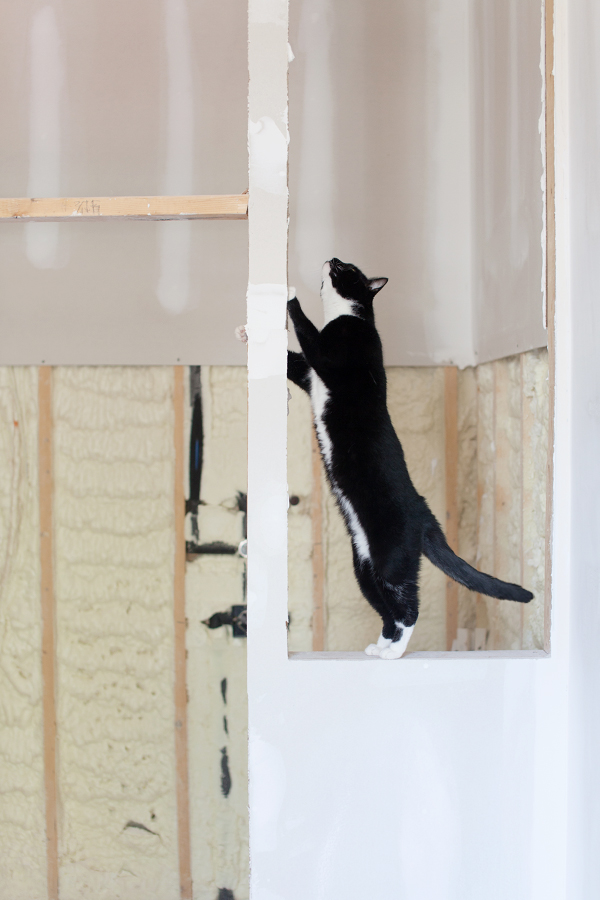 Good thing we have a Kit-Cat for that. 😉

PS- Rumor has it the painters are backed up right now, so I'm not sure when the inside of the barn and the back side of our house will be painted Simply White (Benjamin Moore), but we're pretty used to being patient ( 😉 ) so we'll just be happy to see them whenever they do show up.
Get My Free E-book: 15 Common Decorating Mistakes And How You Can Avoid Them
Enter your email to download my free e-book instantly! 🙂