Remember when I blogged about my friend Beckie's fireplace:
She wanted to give it a little facelift, so I sent her these four Photoshopped inspiration photos to get her creative gears turning…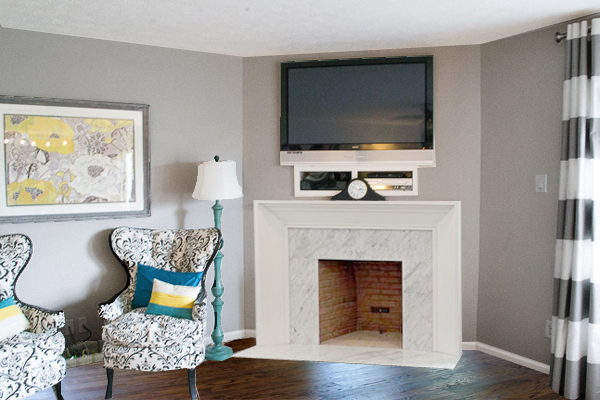 Well, she and her husband sold that house and moved to another state- LOL! 😀
Now she's got a new fireplace to work on, and she wants to use AirStone on this one. She asked if I could show her what it would look like if she installed it from floor to ceiling, so I Photoshopped another inspiration photo together for her yesterday. She's already painted the (previously red) walls light gray, mounted the TV, started to remove the laminate flooring (they're having gray flecked carpet installed next week), and moved in some Billy bookcases from Ikea- so this is how the room looks right now:
I found a beautiful photo of a stone fireplace on a blog called 'A Pretty Life In The Suburbs' created by a very talented gal named Jo-Anna, and it really does a good job of showing exactly how the AirStone might look in Beckie's space. I didn't Photoshop the TV in, but whether you go with a rustic wood mantel…
…or a white-painted one:
I definitely think you're on the right track, Beckie– and I can't wait to see photos of it when it's all done!

PS- If you'd like to follow along with Beckie's renovation click here: Infarrantly Creative, and if you'd like to learn how to use Photoshop or Photoshop Elements to modify photos of your house, click on the Shoot Fly Shoot banner below to check out my Room Makeover class!