Do you know Beckie? She blogs at Infarrantly Creative, Road Kill Rescue and Knock off Decor:
Well, she asked me if I'd be interested in throwing out some ideas for her fireplace one day and, well, you know what happens when people ask me for design advice. 😉
I started by staring at this photo of her fireplace for several minutes…
…then I rounded up a few inspiration photos I found online. After that, I played around with the photo of Beckie's fireplace in Photoshop to give her a few different ideas of how the fireplaces in the inspiration photos might *sort of* look in her place. Here's what I came up with:
Idea #1: Mega Molding
Since Beckie's fireplace facade is flush with the wall it sits on, there's not really an opportunity to do anything that sticks too far out from the wall unless they want to dive into a pretty elaborate construction project- which they do not. So, idea #1 was inspired by this photo:
Here's what it looks like popped onto Beckie's photo:
She wouldn't necessarily have to use marble around the fire box…tile or stone would do the trick, too!
I also couldn't resist popping in the gray wall color and dark hardwood flooring…just to see what that would kind of look like: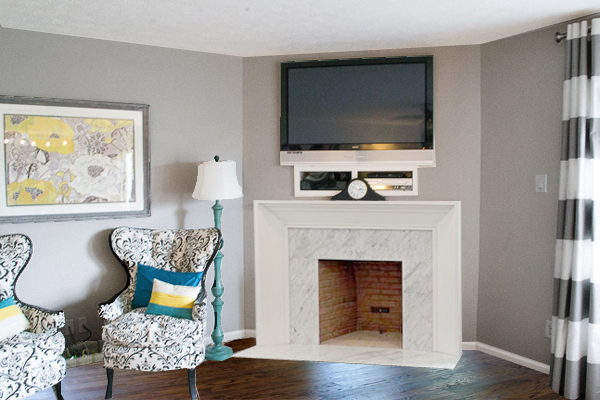 Pretty neat! 🙂
Idea #2: Color Contrast
Idea #2 was inspired by this photo:
And again, this is a very rough virtual sketch, but I was thinking that she could cover the existing black tile around the fire box with some kind of faux concrete (like Skimstone, or Ardex), and then build up and trim out the rest of the space around the fireplace with molding and dark gray paint.
A chocolate-y brown, rustic wood mantel would be the perfect pièce de résistance!
Idea #3: Craftsman & Columns
My last photo drawing was inspired by this photo:
(Fireplace: Belzowski Homes Photo: Matt Cashore)
Here's the (rough) photo I pasted together in Photoshop to show what a couple of angled columns and some craftsman-style molding might *sort of* look like:
Again, Beckie wouldn't necessarily have to re-create that exact pattern with the molding (maybe lose the arched part for something cleaner lined?), and the sky is the limit when it comes to tile. I'm just hoping these photos will help get her super-creative gears turning, and that she'll share her 'Ta Da!" photos with us here with us when she's done!
(Hint, hint Beckie!) 😉

PS- If you'd like to learn how to use Photoshop or Photoshop Elements to modify your room pics, click on the Shoot Fly Shoot banner below to check out our Room Makeover class!