…and speaking of kitchen islands…I thought it might be fun to share a post about a few of the different ways folks have made the stool side of there kitchen islands more durable when it comes to kiddos and their kicky feet! 🙂
It's something that I've been considering since I repainted ours the other day. Maybe I'll add some Stikwood at some point?
This first photo (that I took at one of our neighbors' houses a while back) features a distressed and glazed paint treatment:
A dark color and elaborate trim work would help hide potential scuff marks too.
Liz at Desert Decor used tile on the stool side of her island and I love the pop of pattern it introduces to the room!
Such a tough and easy-to-clean material, too!
Remember when Sarah Richardson used old, painted wood to clad the stool side of her island?
The more scuff marks the merrier with that one!
Jane at Grit Antiques got really creative and turned parts of an old shipping container into her kitchen island: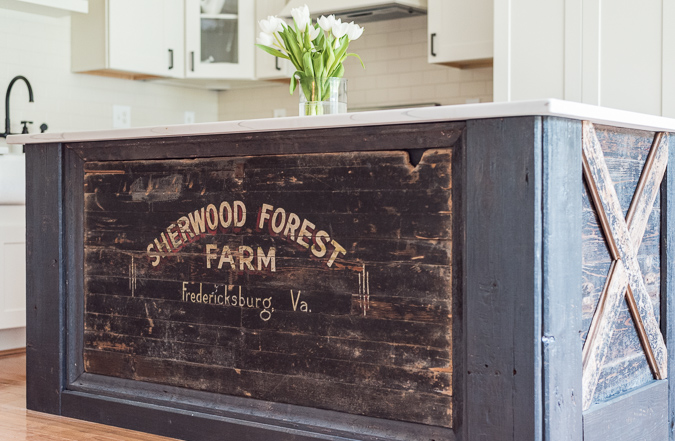 What a FUN way to put that thing to use! You can click here to read her post about it: Farmhouse Kitchen
I love how Nancy at Ella Elaine clad hers in planks of salvaged wood too:
No worries when it comes to kicking the front of that thing!
I also like the idea of tin ceiling tiles, but I couldn't find any great photos of an island that used them. Have you used an interesting material on the stool side of your (enclosed) kitchen island? Please link to your post about it if you have so we can all have a look-see!
Layla