I've got flea market fever lately, y'all.
When Kevin asked what I wanted for my birthday earlier this month, I told him something sugary, or something to read, and a couple of hours at Amy's Antiques. 🙂
Well, lucky for me, and thanks to my thoughtful hubby, June 5th brought with it a coconut cream pie (my favorite!) and the book in pictured above (so inspiring!), but it was a busy week, so the flea market trip had to wait. I carved out some time this afternoon though, and boy was it just as fun to wander around a week late! Amy Antique's was closed, but Eastbrook was open, so that's where I went. If you're on Instagram, and you'd like see to the videos I captured while I was out and about, you can click on my profile pic over there (on the app) to watch.
And in the spirit of my flea market fever, I thought it would be fun to share a post about some fantastic "trash to treasure" makeovers today. They really make me want to transform something!
1. Piano turned desk:
Such a fun way to give an old piano new life!
2. Palets turned kitchen island:
Now *that* is definitely one of my favorite palet projects.
3. Regular mirror turned floral mirror: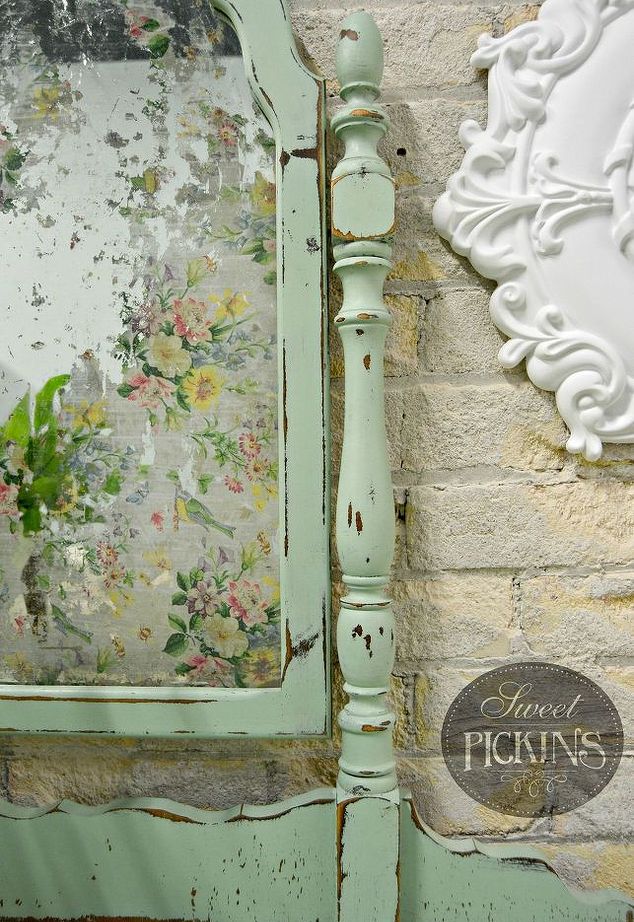 Tissue paper never looked so good!
4. Boring file cabinets turned fun file cabinet center:
I can't tell you how many old inexpensive (or free) file cabinets I've come across. I love the idea of painting them a fun color and topping them with wood!
5. Old window turned window art:
What is it about lettering on glass? So charming!
6. Shutters turned table:
There are so many great shutter projects out there but this one *really* makes my heart sing!
7. Suitcase turned side table:
I'm smitten with this idea. Vintage suitcase + wooden tray table = beautiful bedside!
8. House parts turned four-poster bed:
Hello, bed of my dreams!
9. Headboard turned fence gate:
Such a pretty place to pass through!
Have you upcycled anything lately? I'd love to hear about your projects, too!
Layla
Get My Free E-book: 15 Common Decorating Mistakes And How You Can Avoid Them
Enter your email to download my free e-book instantly! 🙂