Happy Monday!
I thought I'd share a post about some of my favorite decorating secrets today in hopes they're helpful to any readers who are looking for this kind of inspiration. Ready? Let's go! 😀
Secret #1 – Window Treatments
I've got a couple of secrets when it comes to my favorite window treatments. First, I love Ikea's super long, inexpensive curtains (which are super easy to shorten with iron-on fusing web), but I also love to find new-in-the-package Pottery Barn curtains on eBay. How do I search for them? I go to PotteryBarn.com and see what they're called and then type that name into the search box on eBay. The ones in the photo below, for instance, are called Riviera Stripe, so that's what I searched for on eBay. There are usually lots of listings, and they're priced much lower than they are at Pottery Barn. Shhh!
The rods we use are from Walmart. They're only about 13 bucks a piece and they have held up great! The ones in the photo above are out of stock, but here's one that's similar and is the same price: Oil-Rubbed Bronze Curtain Rod
All of our cordless, woven wood window shades are from SelectBlinds.com.
My favorite style is the Designer Series Woven Woods Shade in the color Jute Wheat and you can use the code TRANSFORM at checkout for an additional (exclusive Lettered Cottage reader) discount!
Secret #2- Layered Gallery Wall
I get asked about this one a lot, so I thought I'd re-share the secret behind our layered gallery wall. Here's a photo of what's going on behind the vintage oil painting. It's just a few leftover chunks of wood, a nail, and some hook-and-loop adhesive-backed tape for extra security: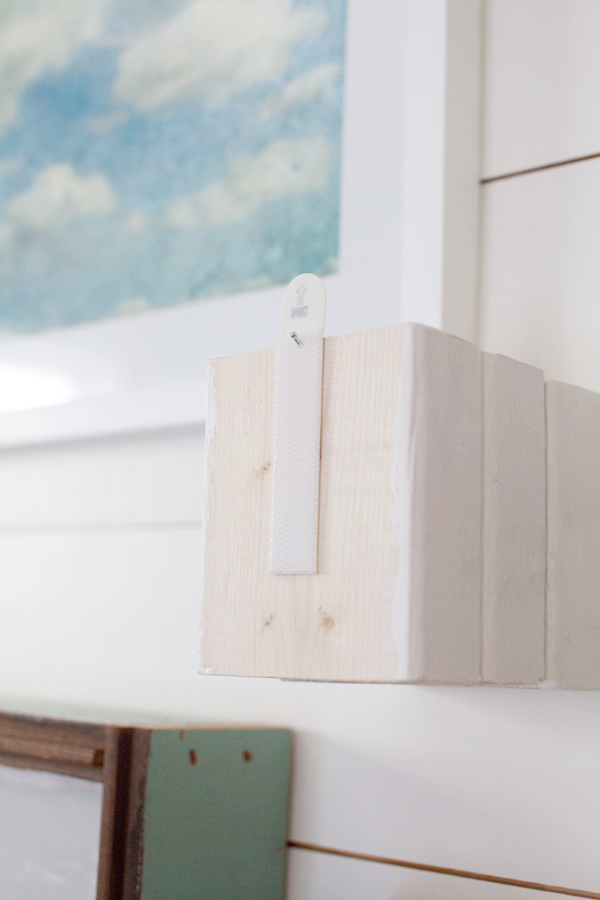 Here's a peek at the Simply White-painted dowel we pounded into the hole we drilled into the wall to hold the propeller:
And here's a link to my full post about it if you like to see our step-by-step: How To Create A Layered Gallery Wall
Secret #3 – Disc Hangers
I'm also often asked how I hang my decorative dishes and my secret is Disc Hangers.
They come in all different sizes and after years of use I've never had one fall off, so they're my favorite way to display my plate collections!
Secret #4 – Simply White Paint
This one isn't much of a secret because so many other designer/decorators also use my favorite shade of white paint, but just in case you happen to be searching for the perfect white paint, I'll tell you which one I absolutely love: Simply White by Benjamin Moore.
It's the perfect white with a touch of umber, which keeps it from becoming too cool. It's an crisp off-white that's feels easy on the eyes because it's got just enough warmth that doesn't lean yellow. I like to use it in a semi-gloss finish on molding and door frames, in an eggshell finish on walls, and in a flat or matte finish on the ceiling. I love the way it goes with everything!
Secret #5 – Stikwood
One easy way to age new, custom cabinetry is to add Stikwood to it.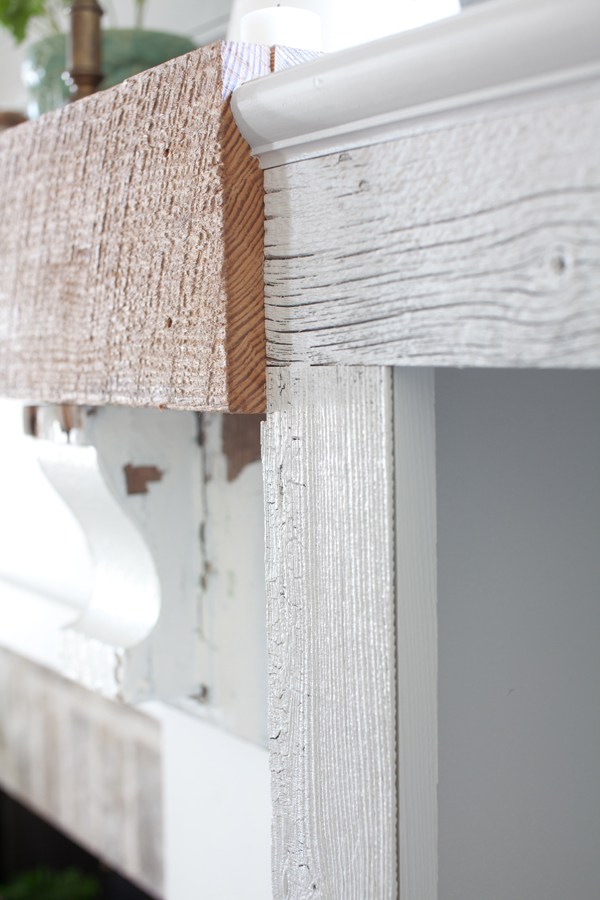 Stikwood is a super thin, adhesive-backed reclaimed wood. It's a bit spendy, but as you can see, a little bit can go a long way in terms of how much character it can give to a newly-constructed project. We painted ours Light French Gray by Sherwin-Williams to match the rest of the wood on our fireplace.
Secret #6 – Throw Pillows
It's probably no secret that I get most of my throw pillows at HomeGoods, but I also love Pottery Barn's pillow covers. I don't usually stuff them with Pottery Barn's pillow inserts though. My secret is to use stuff the covers with inexpensive throw pillows from secondhand stores, garage sales or ones from the clearance rack at HomeGoods. Here's an example of the kind of difference you can often find in price:
My favorite cottage-style pillow covers are florals, stripes, solids with buttons and covers that have a jute or fringed edge.
I also love a super textural covers like these:
Secret #7 – Rope-Wrapped Chandelier Pole
Remember that one time we used this Aidan Gray Chandelier pole (that retails for $66) in our sunroom?
I painted the ends darker before we hung it up:
Well, Kevin and I figured out a "secret" way to achieve the same look for less on a couple other cords around here since then. JoAnn Fabrics has a nice, soft jute rope that's easy to hot glue onto existing cords:
And if it's a chain you want to cover up, just get yourself some Cordmate from Home Depot to cover the chain with first, then use hot glue to wrap the rope or twine around it:
It's not the most fun project in the world (#TiredArms), but boy does it change the look for a lot less!
Secret #8 – How To Make Faux Flowers Look More Like Real Flowers
I such a stickler for a realistic artificial flower or berry stem, and here are my secrets to choosing and arranging them so that nobody knows they're not real:
It's just as much about the branch or stem as it is about the berry or flower. Start there and look for branches and stems that look the most like actual bark or real greenery. Nine times out of ten the faux botanicals that have the most realistic-looking branches and stems also have the most realistic blossoms or berries.
Look for blossoms that don't look or feel like fabric. I touch all of them as I'm shopping to find the ones that feel the most real.
Mix your faux stems with greenery clippings from your yard. Here's an example:
That greenery in particular lasted several days inside that water-filled pitcher, and it made SUCH a huge difference in the way those faux snowball branches looked. (PS- the snowballs were a part of my collection with Cloth + Cabin but are still sold out.)
And there ya have it. Eight of my favorite decorating secrets that won't break the bank! I've got lots more up my sleeve if you're interested in these kinds of posts. Just say the word and don't hesitate to share some of your favorite decorating secrets in the comment section too! XO
Layla