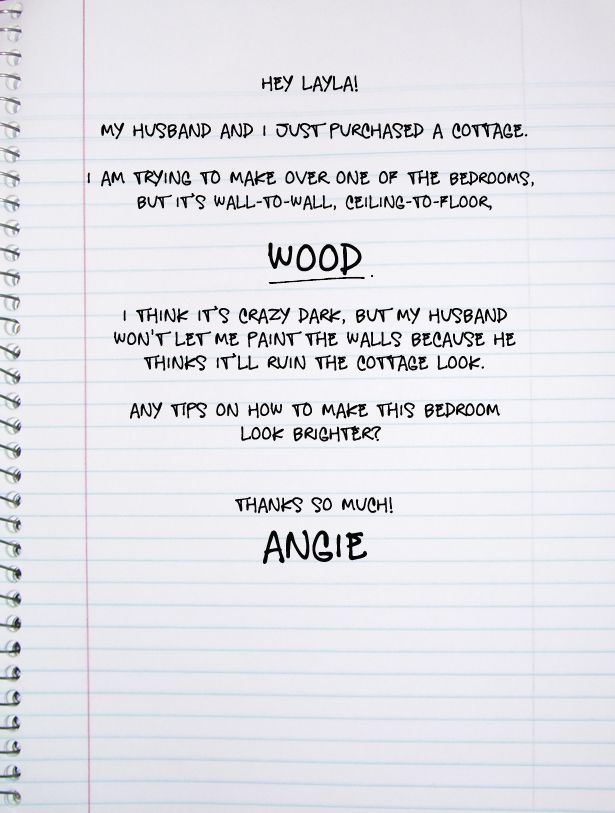 Angie's all wood room…

Welllllll…
I,
personally,
don't think anything says "cottage" more than a room full of fresh, white, wood walls….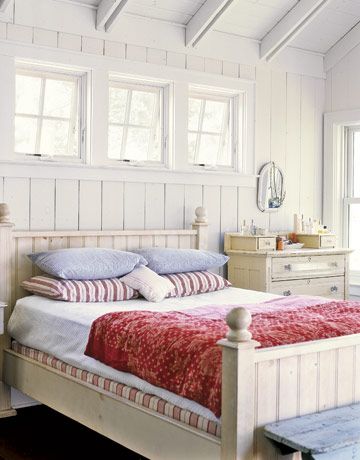 But…
I can also totally dig your hubby's desire to preserve your cabins' woodsy/rustic interior- especially if what's cladding your walls and ceiling is real wood.
(And yours looks like it's in mint condition too- VERY COOL!)
Soooo…
I've gathered up some photos of some beautiful, unpainted, wood-walled rooms that might help get your creative gears turnin!
Let's check them out, shall we?

In this first photo, I think it's important to notice the white roman shades, and the white painted furniture and photo frames…
Also, take note of all the reflective surfaces they used- stainless steel, chrome, glass. They not only help open up the room, but they also add a little "bright n' sparkly", which is a nice contrast to the matte finish of the wood.
(Mirror would be another great, reflective surface to use in an all wood room.)
And by accenting the room with pops of pale blue and green, the room has a really nice, fresh feeling about it.

In this next photo, they've used white roman shades again, but this time, they've painted the window trim white…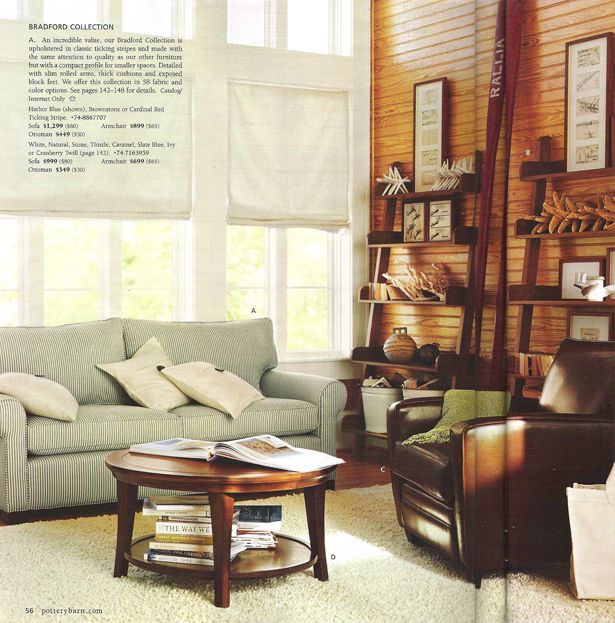 They've also used a huge white area rug, white mats, white starfish, white enamel buckets, and a bunch of white throw pillows- so using a lot of white seems to be the key to keeping things fresh.
Another reason I think these wood walls look so great is because they've also used darker browns in the room. The coffee table, shelving units and leather chair provide a little extra contrast- and the overall look is really striking.

In the next photo, they not only painted the trim white, but they painted the doors white too…
…and again, they used white painted furniture and lots of white accessories.

And even though the walls in this next photo are lighter than yours are, (and I know you're husband is totally against painting) it really gives you a good idea of what white trim looks like up against un-painted wood paneling…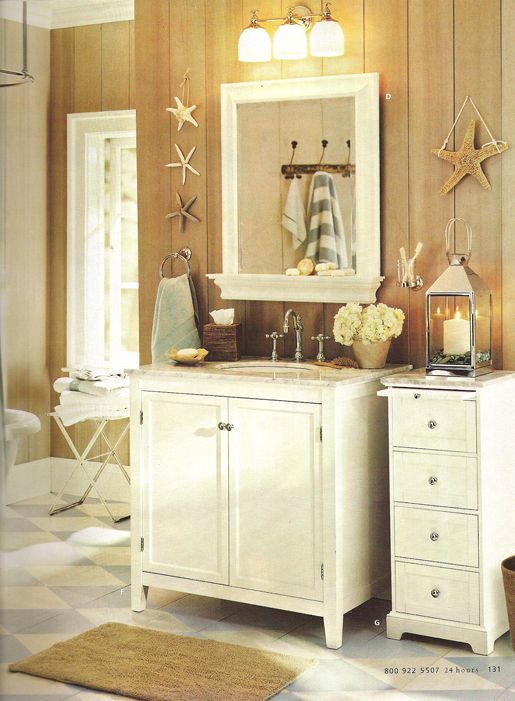 (Don't hate me Mr. Angie- I'm just throwin' all the options out there!)
And, again, notice all the white painted furniture, reflective surfaces (mirror, lantern, hardware, faucet) and the fresh accent color.
Very pretty!

And speaking of accent colors, if light blue isn't your thing, what about accenting with navy?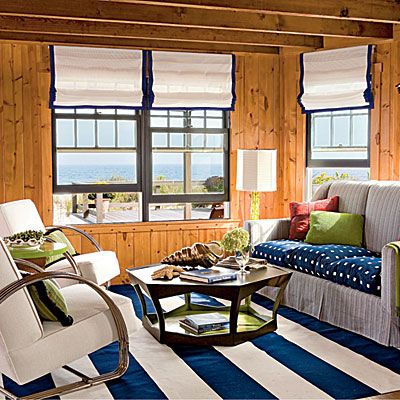 (Once again, notice the abundance of white. White roman shades, white upholstered arm chairs, and the wide white stripe in the area rug.)
And here's an all wood room that's accented with an extra-lively shade of green…
(And more white window treatments, a white side table, and crisp, white bedding.)
I hope these photos help Angie!

(And if you feel like sharing your "after photos", I'd love to see what you end up doing with your room!)

Now, just for fun-
What would YOU do if you were in Angie's shoes?
All white interior…
(Move your mouse back and forth over the photos below)
All wood interior…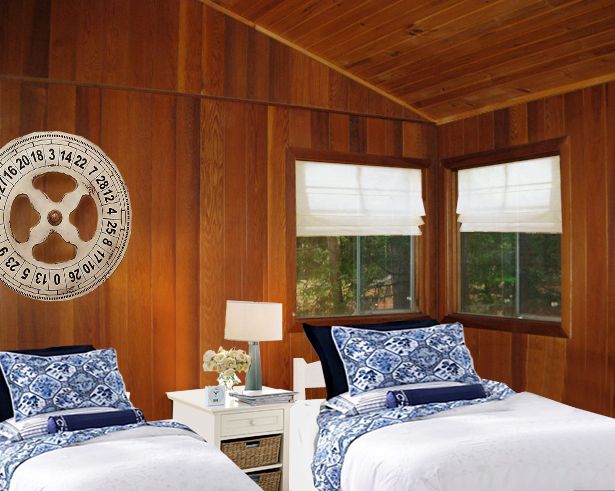 Wood walls/white ceiling…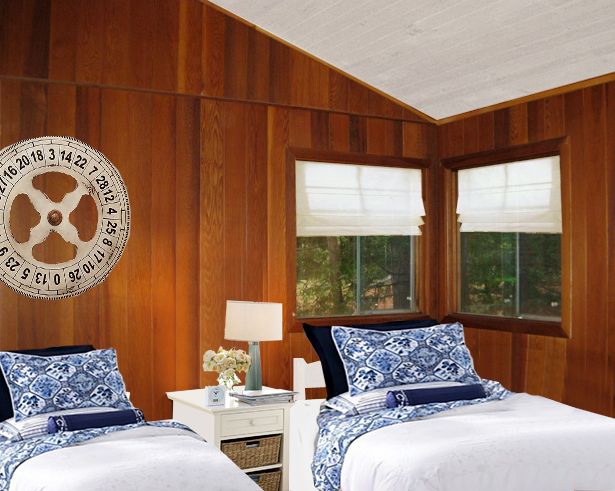 Wood walls and ceiling/white window trim…
Wood walls and ceiling AND wood beams…
Wood walls and ceiling and WHITE beams…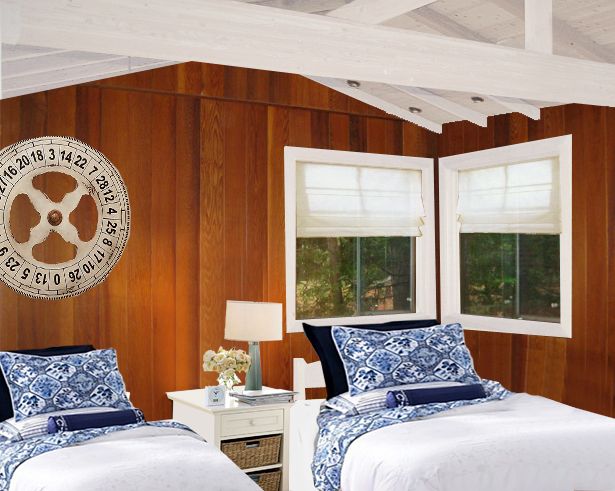 White walls/wood trim and ceiling…
Ooh! That reminds me!
Here's a great inspiration photo of a room with white walls and wood trim…
————————————————————————————-
Need design help?
Check out my e-book!