Remember that hidden doorway I told you we recently discovered in our dining room…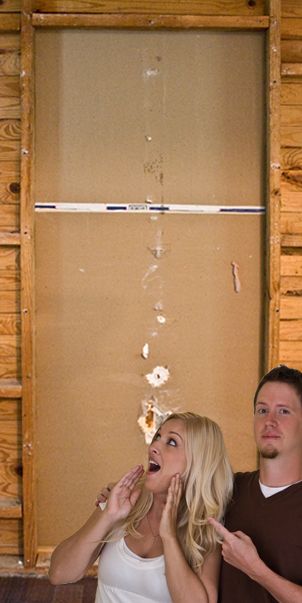 Well, today I thought I'd post the video we shot the night we uncovered it.
(Warning: The following video contains un-styled hair, an un-made up face and creepy lighting conditions. Those with weak stomachs may wanna skip it.)
Ta Da!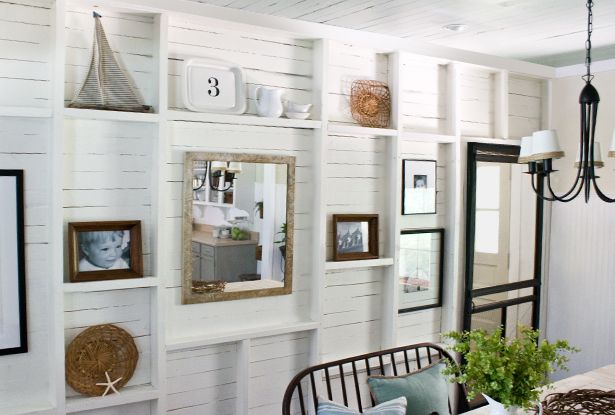 Whaddya think?
Wait!
Before you answer that, keep in mind, I'm not done accessorizing it yet.
I still need a couple of frame risers…
I'll use them on these two frames…
…which, by the way, will be centered in the nooks they're currently sitting in, not resting on the ledges they're currently resting on.
And the driftwood sailboat up here…
…will go back into the guest bedroom, and will be replaced with a shorter one that has a white sail, and an oatmeal-colored flag.
I also still need to figure out what to put here…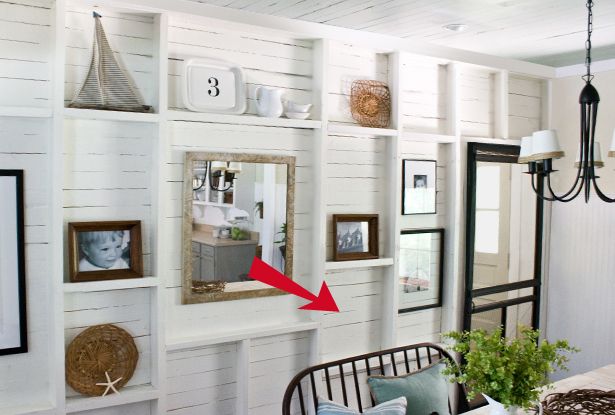 And I need to switch out some of the photos inside some of the frames, but I'm thinking the wall should be done by the time we need to take everything down because it's time to refinish the hardwood floors.

(Am I the worst, or what?)
If you like the way our "wonder wall" looks, but don't have horizontal planks hiding beneath your drywall- it would be pretty simple and inexpensive to replicate the look.
All you'd need are some nails, some lumber, and some construction adhesive.
Just figure out how you want to space everything, and go to town!
We actually like the look of it so much, we're considering doing something similar on the headboard wall in our master bedroom. It would wrap around the windows…
If we do decide to do it, we probably won't do the short horizontal 2×4's between the vertical ones. But don't quote me on that!
We figured it would only cost about $120 bucks to do the whole wall, and it would really make our newly-added on bedroom feel more like the older part of the house.
As for the rest of the dining room, well, we've still got a bench to paint, some rattan chairs to re-do, some pillow covers to purchase, and some new curtains to hang up- but once we've got it all together, I'll post some new pics of the whole shebang!
In the meantime, here are a few shots of how the walls in the dining room have changed over the past few years…
BEFORE: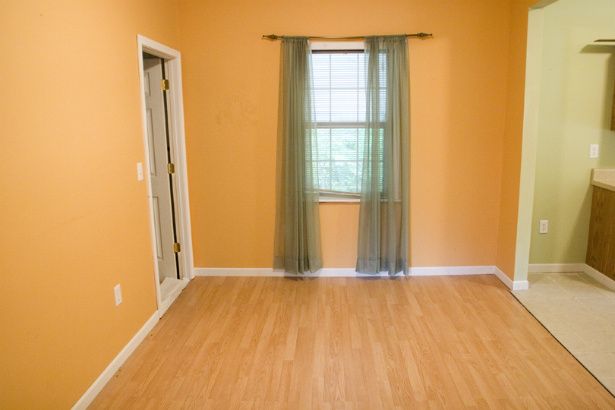 DURING: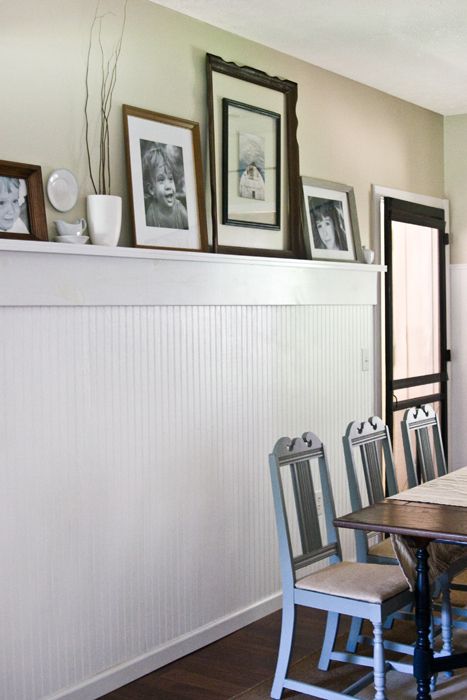 NOW: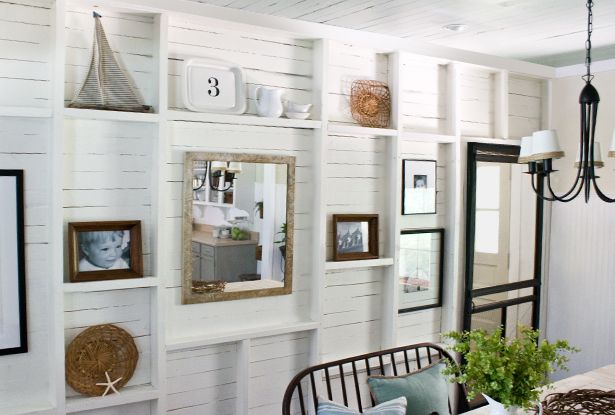 (Notice I didn't say "AFTER".)