Well, here we are on the last day of December 2012- happy New Year's Eve!
We've made a few more updates in our sunroom (a.k.a- my office) over the past month, so I thought I'd share some more before-and-after photos here today. This first one isn't really an "after" yet, but we're having some friends over tonight, so I'm determined to get a bunch of our new (old) shutters up today: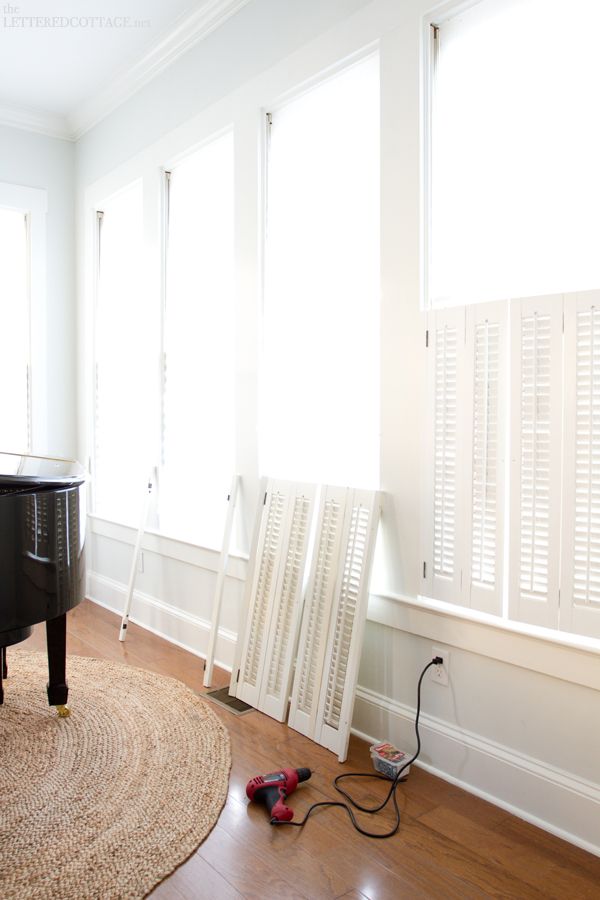 The story behind them is a pretty neat one, and it started on Facebook, of all places.
Kev and I had been having a heck of a time trying to figure out how in the world we were going to cover all the windows in there with something other than temporary paper shades. We loved the shutters that Mary Kay Andrews used at Breeze Inn…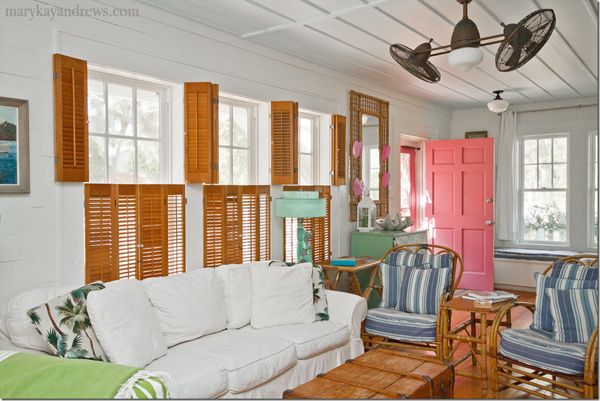 …but we couldn't find any that fit our (extra-tall) windows for less than a million dollars each. #Kidding #KindOf
One night, I decided to throw our dilemma out there on Facebook to see if anyone had any they were looking to get rid of. Why not, right? Here's what I posted:
We were stoked to hear back from a whole bunch of folks, and in the end, a woman named Toney was the one who shipped us the shutters. She sent them (from South Carolina) for the price of shipping, which was so, so kind of her to do. (Thanks again, Toney! We are so grateful for what you did!)
We've got 12 sets total, so first we're going to see what it looks like with shutters on both the bottom and top half of one of the windows (like Mary Kay did), and we'll decide what we want to do from there. I do love the idea of using some cordless roman shades like these on the upper half of each window…
(Pottery Barn- Riviera Stripe Cordless Roman Shade)
…but those suckers are so pricey, and I can't seem to find any that look (and function) exactly like them anywhere else on the web. #ToBeContinued
For Christmas, Kevin got me a big ol' jute rug to use in there under our piano:
(Pottery Barn- Round Jute Rug)
He was able to take advantage of a 40% off sale when he bought it (yay!), and I love the contrast of color and texture it adds to the floor in there.
We also took advantage of a sale on my desk chair this month. It's the Hayden dining chair (in Linen) from World Market: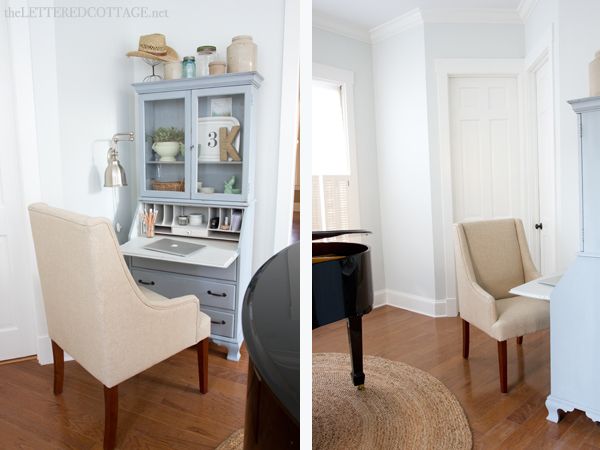 Here's a close up of the fabric:
Luh. Shuss. Ness!
If the chair had come with a spoon, I swear, I totally would've understood why. YUM.

When we have company, I'm going to slide my chair back into the corner, and close up my desk, like this: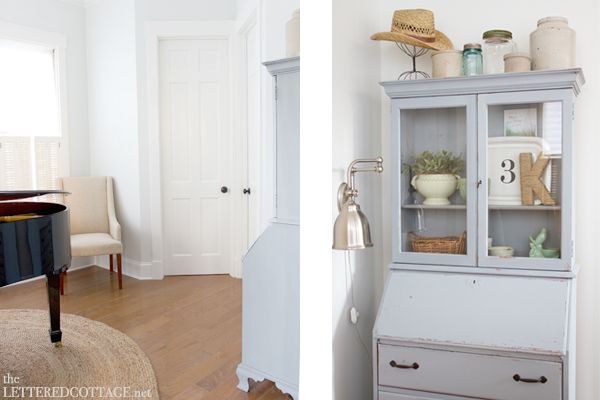 I attached thick felt squares to the bottom of each leg, so it slides over there easy breezy, without scratching the floor.
Oh, and you can see in one of the other secretary photos above that I finally got around to painting the inside of it this month. I used Grain Sack-colored milk paint from Miss Mustard Seed, and lemme just tell ya- the winner of the Most Un-Fun Thing In The World To Paint With A Paint Brush is definitely the cubby and drawer section of a secretary. #WristWrecker
This is what it started out like…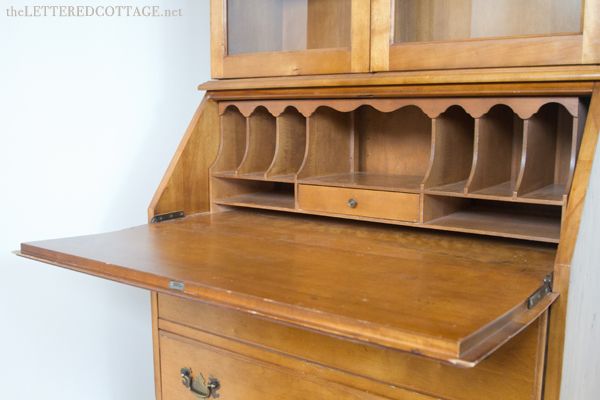 …and here it is all coated in Grain Sack, with a new little drawer knob from Hobby Lobby: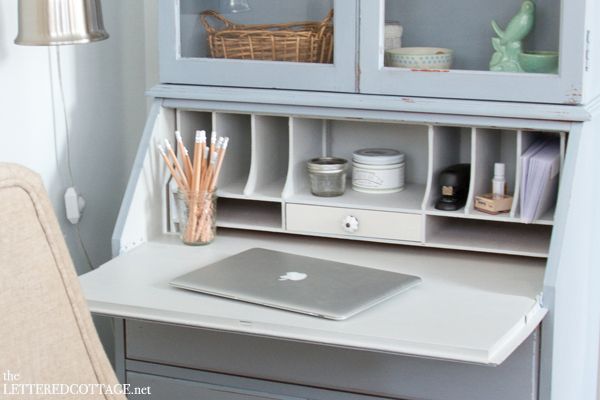 I just took all our Christmas decor down, so it looks a little bare-ish inside the glass doors right now. I'm going to play around with some things in there today. I'm feeling most inspired by this little pot I got from my friend Shannan (Flowerpatch Farmgirl) a couple of weeks ago:
We were able to meet up with her (and her daughter Ruby) on the way back from Michigan, and our lunch together at Cracker Barrel was definitely a highlight of the trip!
(I'm such a Flowerhead- I get so excited when I see that's she's published a new post!)
My FAVORITE "before and after" photo of the year doesn't have anything to do with our sunroom though…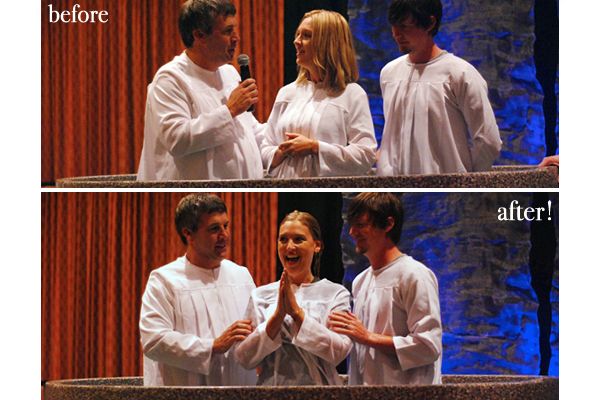 2012 has been a truly Transformative year for me, and I feel incredibly blessed to be able to share these kinds of "makeover" photos here with you, too! #ThankYouForBeingSuchBrightLightsInMyLife #Happy2013!

PS- The winner of the True Value gift card giveaway is:

Congrats, Anjanette! I'll be in touch with you shortly!