"Art enables us to find ourselves and lose ourselves at the same time."
-Thomas Merton

I finally hung those old paint-by-number paintings up this weekend. I clamped them inside two vintage pants hangers in the laundry nook, in the hallway upstairs. I figured anything hanging from a vintage pants hanger would fit in just fine in a laundry area, ya know?
I pass by them at least a half a dozen times a day now, and I love getting lost and found in them as I make my way through the hall.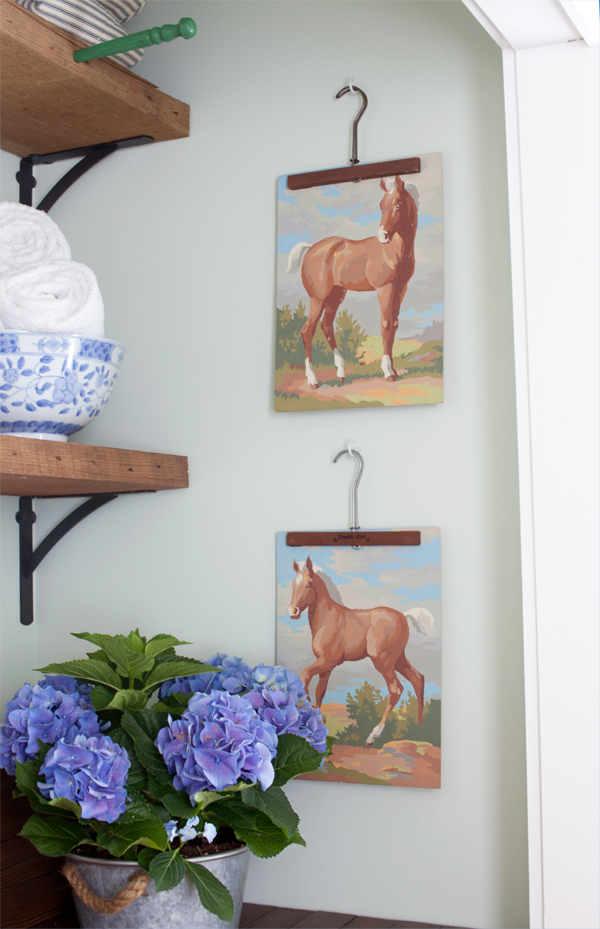 Meet Persimmon:
I found both the paintings and the hangers on Etsy. It's my favorite (online) place to search for pieces to personalize our home.
As for that armoire I started painting last week…gosh, did that buffalo check give me fits! I've never been so mad at a pattern before. 😉 I had been concerned, going into the project, that some of the paint would bleed underneath the painters tape, and it did. Even though I sealed the edges of it with a clear glaze first. Grrrr. And, of course, the whole mess just got worse when I tried to fix it. Grrrrr.
But ya know what? I didn't really *love* the buffalo check anyway. I'm serious. Whenever I stood back and looked at it (so that I could barely see my crazy checks), it seemed to compete with the sunflower tile in our kitchen:
I wanted the tile to "win", so here's what I did yesterday: I covered the buffalo-checked areas with beadboard wallpaper. It's got ridges, just like real beadboard, and when you apply it to wood (and paint it), it look and feels just like real beadboard paneling. My favorite part? The fact that I can stand right next to it and the pattern doesn't make me mad. 😉
I'm doing a little decorating in there today (Kevin had the best idea about how to accessorize the side of the armoire!), and I'll be back with some "after" pics on Wednesday. Headed to bed for a good long read…happy first week of May!

Get My Free E-book: 15 Common Decorating Mistakes And How You Can Avoid Them
Enter your email to download my free e-book instantly! 🙂