I was inspired to call this Monday's link party "This Little Word Of Mine" because of a sweet story my friend, Traci, shared with me in Nashville last month. It had to do with her, (then) 3-year-old son, Jonathan, singing the song "This Little Light Of Mine". Today, Jonathan is 12 years old, and he can still sing like nobody's business! So in honor of the upcoming party, he and Traci created a special, little, a cappella tune for us all. Take it away, Jonathan!
(Click the play button on the video below to hear Jonathan sing!)
Isn't he AWESOME?! (Thank you so much for sharing your time and talents with us, Traci and Jonathan! We love you guys!)

I've received some really inspiring messages from some of my favorite people about their words of the year this past week, too. I got one from my Mom…
"My word of the year is SMILAX. Every time I say, or think about it, I feel like I've invented a new word, that combines two of my favorites: "smile" and "relax". In all reality, the word SMILAX should muster up feelings of almost completely the opposite. In the gardening world, SMILAX is an aggressive thorny vine, that laughs at herbicides, and grows into dense, impenetrable thickets. My New Years resolution is to remove all of the SMILAX from my yard, which means I will be spending countless hours digging up the bulbous root systems with a shovel. That being said, I'm thankful to have a yard, thankful to be healthy enough to tackle the job, thankful for all the exercise I'll be getting, and last but not least, I will be so thankful when it is gone! That's when I will smile…and relax."
One from my Aunt Chriss…
"The last twenty years of my life have been focused around being a wife and a mom. But today, my daughter is in her second year of college, (and doing very well) and my son (a junior in high school) has become more independent, and doesn't need (or want) as much attention as he used to. My purpose is starting to change. It's almost palpable. I've felt it since we took our daughter to college for the first time in 2010, but the feeling is so much stronger now. I am in transition. As a matter of fact, I almost chose 'transition' as my word for 2012, but it doesn't adequately describe what I want for my year. A transition is something that happens to you — and I want to be in control of my life; I want to affect the transition. So my word of the year is MOVE. Yes, like a lot of people, I want to exercise and lose weight, (I had my second Zumba class tonight and yoga starts on Wednesday!) but there's more to this little word of mine. I want to MOVE toward positive people, thoughts, and activities- and attract those things back to me, too. In doing so, I'll move away from negativity, and destructive attitudes and situations. This will be a year of re-definition for me. I will search for who I am going to be next, and MOVE in that direction…dancing, developing, changing, varying, motivating, and affecting, along the way."
One from Kevin's Mom…
"The word I have chosen for 2012 is GIVE. I am making a commitment to GIVE my tithe, time, and talents, in service to Christ, through my church. To GIVE more quality time to the needs of my family members. To GIVE time to be of service to members of my neighborhood. To GIVE a smile to a strangers I meet at the grocery store, the mall, etc. But first and foremost, I GIVE thanks and praise to God for loving me so much He gave His son, Jesus, to die on the cross for my sins. Through the ultimate sacrifice of His son, and my belief and acceptance of Him, God will GIVE me a place in Heaven with Him forever. This GIVES me joy and peace, daily." – Kevin's Mom, Katie
And one from Mr. Lettered Cottage, himself…
"My word of the year is REACH. I will reach inside myself to be more, do more, and give more. I will reach up to God, reach out for help, and reach down to pull others up. And when I feel like I've reached the end of my rope, I will continue to reach."
(My word of the year is UP and I had fun blogging about it HERE.)
If you blogged about your word of the year, I hope you'll swing by on Monday and link up your post!
Ooh- and speaking of linking up, I sort of see the link party thumbnails looking something like (but certainly not exactly like) this…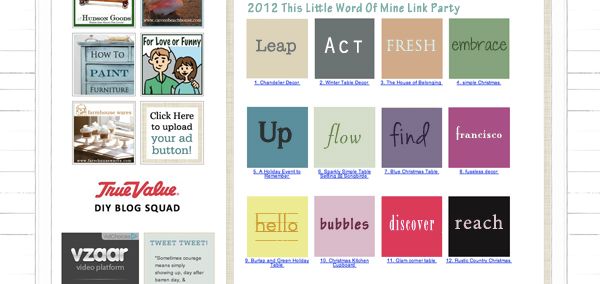 That way, party-goers can click around on the words they're drawn to.
Your thumbnail image could even be a fun photo of your word…like these I found on Google Images:
Or maybe you took a photo of your word for your blog post? That would make an awesome thumbnail image, too!
And like I said, I'm just throwing out ideas here, but maybe the description underneath your thumbnail photo could be the title of your 'Word of the Year' post, or the name of your blog. (?) Whatever works!
Just have fun with it, and thanks so much in advance for partyin' with us! We can't wait to read about your word!
PS- If you don't have a blog, we'd love to read about your word of the year in the comments sections of Monday's post!

Click on the ADVERTISE tab at the top of our blog, or on any one of the "Click Here To Upload Your Ad" buttons in our sidebar for more info!
Join me on Pinterest, Twitter and Facebook!

Need design inspiration? Need help arranging your furniture?
Check out my e-books!


Get My Free E-book: 15 Common Decorating Mistakes And How You Can Avoid Them
Enter your email to download my free e-book instantly! 🙂