Interested in advertising on our blog?
The Lettered Cottage blog was created in May of 2008 as a creative outlet, and a place for us to document our day-to-day & decoration adventures. We have fun adding pages to our "virtual diary" so that our senior-selves will have it to look back and smile at someday, but according to our Google Analytics, our blog pages are also loaded around 750,000 times a month by folks from around the globe, too. (But I try not to think about that when I'm vlogging without make-up on!)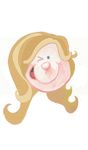 Who is our audience?
The folks that read our blog are a creative bunch! They like to inspire, and to be inspired- just like us! They're do-it-themselfers, and carpe diem-ers. They also seem to share our interest in learning about inspiring new products and procedures, and if they write their own blog, they're eager to share their experiences with the rest of blogland, too.
Testimonials from folks that experienced positive results by advertising on our blog:
"Our experience with Layla, Kevin and The Lettered Cottage has been extraordinary! When they featured items from our shop on their blog, the response was phenomenal. We immediately saw the hits on our website skyrocket, and so many of their readers started viewing and following our blogs. Honestly, the exposure through their blog "put us on the map!" Though we have an established following at our brick and mortar store, our online presence was in its infancy when we first met Layla and Kevin. Being a part of The Lettered Cottage has been a huge part of our blossoming internet sales. What we also find so remarkable is the community of people their blog introduced us to. They have such a loyal, kind and enthusiastic group of followers who are such a pleasure to do business with. Honestly, we really can't say enough positive things about Kevin & Layla and The Lettered Cottage blog! Our relationship with them is rewarding, productive and inspiring!"
– Lori, owner of WhiteflowerFarmhouse.com
——————————————————
Dear Layla and Kevin,
I want to thank you both for the opportunity to sponsor "The Lettered Cottage" blog. As a reader of your blog, I love your sense of style, your love for your home and each other, your wit and your positive, humble attitudes. I really believe that is what sets your blog apart, not just that you create such amazing beauty in your home but also that you are so down to earth that readers get the feeling that they can also do it. As a sponsor of your blog, I appreciate how hard you work to promote yourselves, your blog and as an extension of that, my site as well. Each time I see The Lettered Cottage on television, in magazines, and on major decorating websites I know that there will be that many more potential customers also being introduced to my website through yours. My products and your site are a perfect match. Your readers are my "target audience", people who love their home and want it to reflect their personality. Customers who have found my site through your blog often comment on your latest project. It gives customers and I a connection that we wouldn't have otherwise, we both love TLC! I look forward to continuing our professional relationship and the friendship that has grown from it as well.
– Eileen, owner of LeenTheGraphicsQueen.com
——————————————————
I first "met" Layla in May of 2009 when I was just beginning to consider where to advertise. I immediately fell in love with the simple style of the Lettered Cottage. I could envision RedLetterWords products in lots of the different rooms Layla has designed. I was thrilled when the blog sponsorship became available! Hits from The Lettered Cottage have been huge and I have received lots of orders from Lettered Cottage readers as well as wonderful emails from them saying they love my prints and are bookmarking www.redletterwords.com for future purchases! It is wonderful working with Layla and the Lettered Cottage!
– Dee, owner of RedLetterWords.com
Want all the details?
A 125 x 125 pixel ad button spot in our sidebar is $80 per month and there are 24 of these spots available (12 of them are visible at a time, and the other 12 appear every time our blog is refreshed.)
A 250 x 300 ad banner spot in our sidebar is $175 per month, and there are 8 of these ad spots available (4 of them are visible at a time, and the other 4 appear every time our blog is refreshed.).
We prefer static image ads only- no flashing ads please.
Note about Givewaways: We are no longer posting sponsored giveaway posts. We occasionally publish giveaway posts- but we choose the products on those.
Note about text links: We don't accept advertiser text links in our sidebar.
If you're interested in purchasing an ad spot, just click on the link below. You will be redirected to a page that will allow you to upload your button or badge, and make a payment through Paypal.
To see if we have any spots available, or to purchase an ad spot:
Thank you for your interest in advertising on our blog- we really appreciate the opportunity to work with you!

Get My Free E-book: 15 Common Decorating Mistakes And How You Can Avoid Them
Enter your email to download my free e-book instantly! 🙂