Hey there- and welcome to another installment of Pick My Presto!
I read this comment on Monday's Pick My Presto post…
…and was totally intrigued!
I invited Julie to send me a photo of it, to see if I could come up with anything to help kick start her creative juices. Here's the photo she sent in…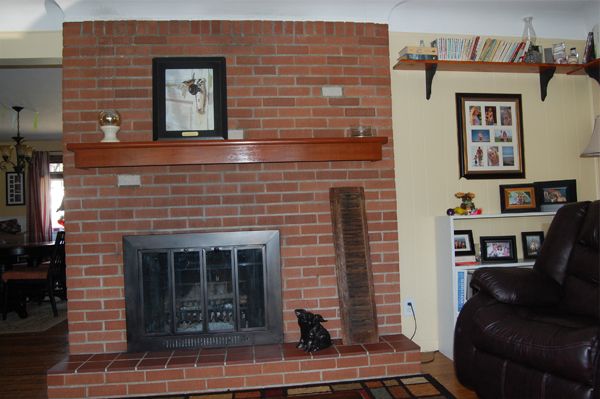 …and here's the inspiration drawing I had fun creating for her…
(Move your cursor on and off of the photo below)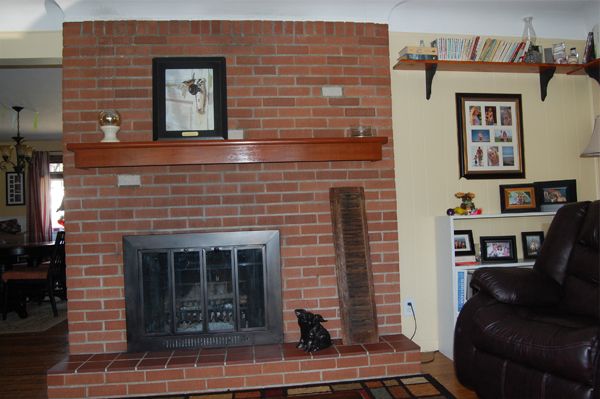 (Note: My drawing is for inspirational purposes only, and the ideas shown in it are just that. Spontaneous, totally flexible, just-for-fun, ideas. And since this is a just-for-fun-photo-consultation, and not an actual-and-perfectly-to-scale-virtual-consultation, I have no idea if any of the furniture, ideas or accessories I used in the drawing would actually work in the room. Boom.)
Here's a still image in case you couldn't view the presto change-o above…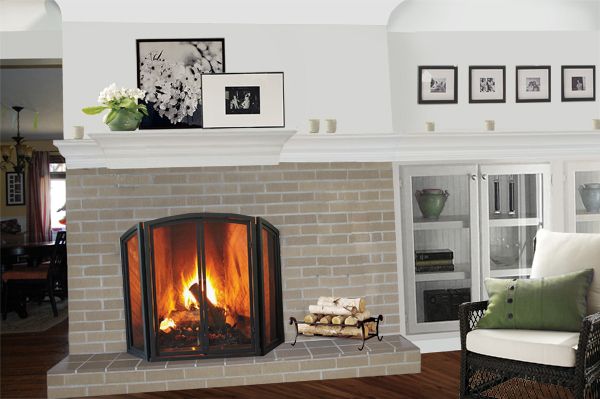 The idea with this one was to help Julie figure out a way to make the off-center firebox not feel like it was quite so off-center. And I don't even know if what I came up with is even possible in real life, but it's what popped into my noggin' when I was putting it together, so I went with it!
First up, I suggested adding some sort of shallow built-in cabinets, that stick out just a little, so that they're in line with the brick fireplace facade. I thought doing that would kind of counter balance the visual weight of the brick fireplace, and make it feel more like one big unit. And then maybe the firebox would feel more balanced because of the visual interest created by the items inside the bookcases.
The built in's could have glass doors, like the ones in my inspiration drawing, or even just be a series of cubbies and/or drawers, like Janice's from Canadian Cottage…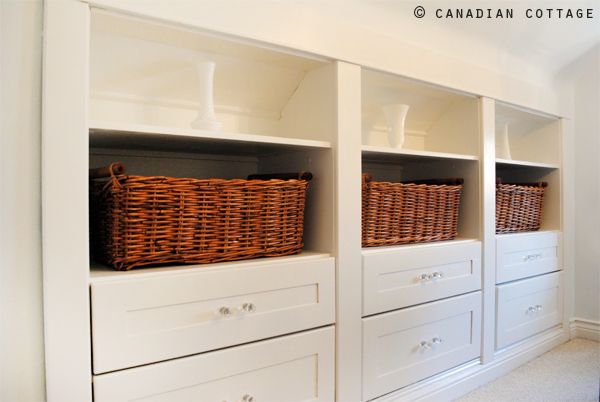 If there's a way to do it, the sky's the limit!
I tied the fireplace and the built-in's together by spanning a white-painted mantel all the way across the two. To make sure the fireplace stayed the center of attention though, I showed a separate, deeper mantel popping out over just the firebox. Attaching some smooth, thin, luan paneling to the brick above the fireplace mantel, (so that it matches the smoothness of the wall to the right of it) and painting everything from the mantel up to the crown molding the same color, continues to visually tie the two sides together. Again, spreading the same wall color across the entire upper part of that area makes everything feel sort of feel like one big unit, and less like two separate spaces, which helps takes some of the weight off that heavy, off-centered firebox.
You'll also notice I showed what it might look like to tone down the bricks a bit. Not 100% necessary, but again, it's just an idea that popped in my noggin, and ever since I read this post, I've been sort of obsessed with the whole brick staining process. The post was written by a gal named Elizabeth, and these photos she posted with it had me at hello…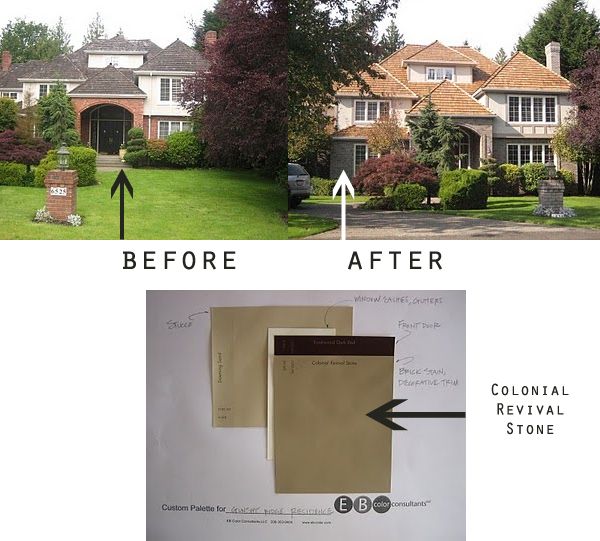 If you're familiar with the brick staining process and have ever written a blog post about it, please leave a link to it in the comments. We're dyin' to see more stained brick before and after photos and hear all about your experience!
Last but not least, here are some of the inspirational elements I plucked from the web to put together my drawing…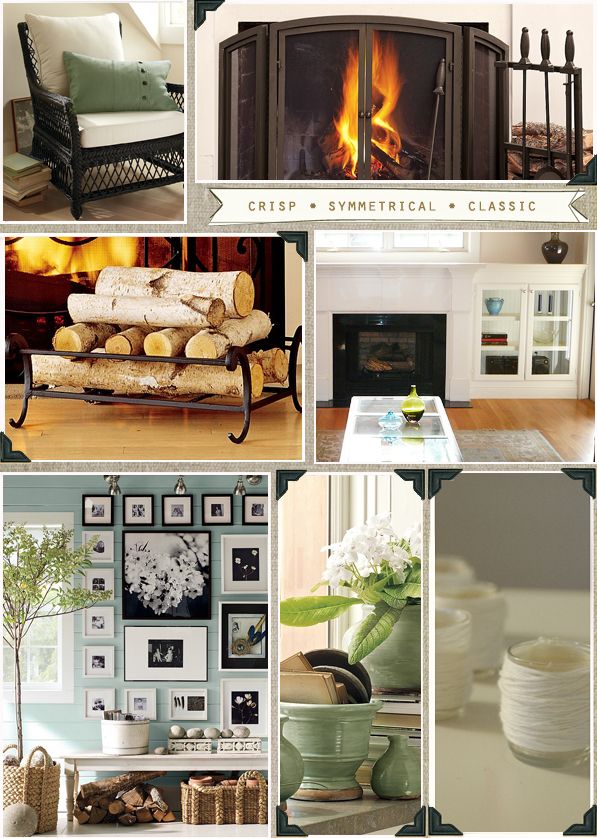 (chair, log holder, picture frames, plant pots & fire screen photos- Pottery Barn; yarn-wrapped votives- MyWedding.com; fireplace photo, GrantParkTownhome.com)
Thank you for the opportunity to pick your presto this week, Julie!
I look forward to selecting another one sometime soon!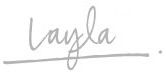 Wanna submit a photo for our Pick My Presto series?
Send an email to PickMyPresto [at] aol [dot] com titled, "PICK MY PRESTO- Living Room". (Replace the words Living Room with whatever type of room you're actually submitting.) In the body of the email, include your name, your blog name (if you have one) your design likes & dislikes, and one photo of the space in question. (No links please.) It should be clear, and measure at least 400 pixels high x 600 pixels wide. (In other words: at least 4″high x 6″ wide) The bigger the better! Make sure it's a photo you're comfortable with us showing and writing about on our blog. Then, whenever I'm feelin' the urge, I'll randomly select someone's email and have a little fun creating some traditional or cottage style presto change-o inspiration. Oh, and since I love surprises, I probably won't email you to let you know I've "picked your presto" unless I have a specific question for ya about your space.

——————————————————————————————————–
Join us on Twitter or Facebook!
————————————————————————————-
Need help arranging your furniture?
Check out my e-book!