A few weeks ago, something really wild happened at the church we've been attending. It caught me by surprise, and I was able to snap a photo of it right after it happened, so I thought I'd share it here on the blog today.
Before I get to the moment though, I should start by saying, that I've never really had a "church home", so finding this place, that I feel so excited by and comfortable in, has really been a BIG, BIG blessing for me. The folks that created it (a few years ago) sure have done a great job of putting together a warm and inspiring place for us to worship. And although we haven't met a ton of people there yet, (we're still in "stroll in quietly and sit off to the very side" mode- ha!) I look forward to our time there so much. Each week, I can feel my "crazy compass" bobbity-bobble back toward the center point again. Ya know what I mean? (Fun fact: The church is called Centerpoint.) The only problem (for lack of a better word) with attending this particular church is that I have yet to make it through a service without tearing up. And I'm not talking about just during the message portion of the service. I'm talkin': while the worship team is playing a song, while someone is getting baptized…you name it– I'm tipping my head back ever-so-slightly so that those big ol' drops welling up don't fall down…or out, ifyaknowwhatI'msayin.
A friend of mine said the same thing happens to her at church, and I had to laugh when we both admitted that we hope the people around us don't think it's because we've done so much sinning throughout the week- ha!
Okay, on to the moment.
Right now, we're in the middle of a series on relationships. It's about relationships with God, relationships with others, setting priorities, and resolving conflicts. Our pastor (John Schmidt) found a clever way to demonstrate things by using different-sized moving boxes to illustrate how our priorities should stack up. God's box is three big boxes taped together to make up one, extra-large box. From there, they decrease in size: spouse, then kids, then work, then house/car/stuff. The smallest box is labeled, hobbies.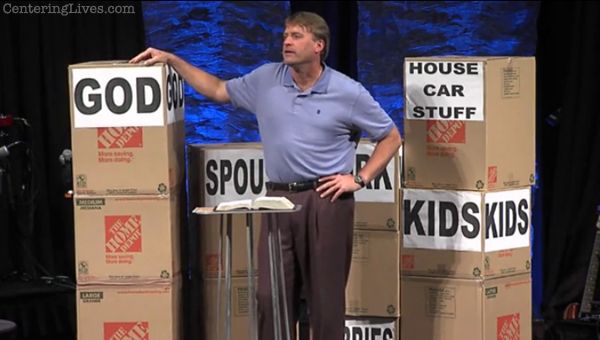 John's been talking about how easy it is for those "moving boxes" to get jumbled up, and lost in the shuffle, when life gets go-go-going, like it always tends to do. Just like when you're literally moving. Boxes get re-stacked and relocated, and when they end up in the wrong room, it can cause a lot of stress and make it really hard to find the things you need. I'm such a visual person, so seeing it laid out that way was great, and it makes sense to me why everything would run smoother if I just kept those stacks in the right order.
Okay. Now on to the moment.
It was pretty symbolic and goosebump-y, y'all…and I hope it translates here as well. I don't even know if anyone else saw it happen, but boy did it make my eyes pop wide.
A couple of Sunday's ago, the worship team (who absolutely rocks my socks off, by the way) was playing "The Great I Am". (If you haven't heard it, and want to check it out, click here.) It's a really catchy and powerful tune, and at that moment, it felt like the whole congregation was really locked in. I'm talkin' total sing-it-like-you-mean-it goin' on. Exhilarating. Moving. The whole kit-and-kaboodle. I was lovin' it…and I'm pretty sure big drops had welled up, and *ahem* out at that point.
Anywho, right about that time, as I was standing there all goosebump-y, the priority/moving box labeled "House/Car/Stuff", (which was previously perfectly stacked on top of the box beneath it) flew right up and onto the floor…top side down. I scanned the area, looking for a fan, or anything that could've blown it over that hard.
But there wasn't anything blowing over there. There wasn't anyone near the box.
It just flew off.
Right there at the end of that Great song that we were all singing.
I probably embarrassed Kevin to pieces, but I had to pull out my cell phone and take this photo when the song was over, and we had all taken our seats again. See the box upside down on the floor?
The lighting was low, so the picture is a blurry and less than perfect. Hmmm…reminds me of me…and that's okay, because it's all about the "boxes" and how they're standing, anyway.

Get My Free E-book: 15 Common Decorating Mistakes And How You Can Avoid Them
Enter your email to download my free e-book instantly! 🙂