Happy Thanksgiving 2012!
We're home!
(Translation: I made it through 3 of the 4 flights, but chickened out on the last one and we drove home from Houston!)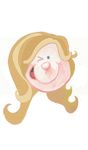 And speaking of things I'm afraid of…
Last week was jam packed with 'em. Planes, pills, and unfamiliar places, chock full of scraggly stray dogs. But there's nothing like being surrounded by a group of talented/healthy/unafraid people to make you want to keep trying when you're right there in the thick of it.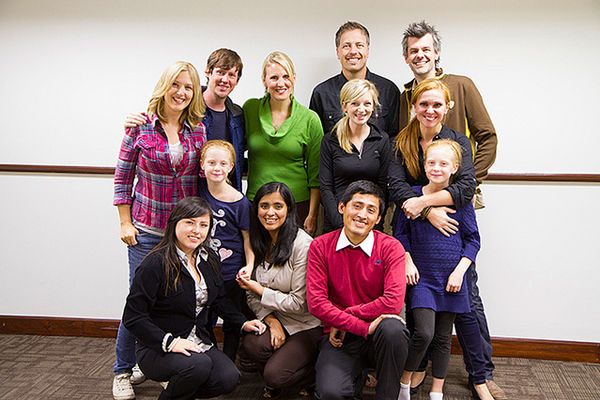 (My biggest fear now is that they all think I'm more wacko than they might have before- ha!)
But enough about me and my phobias. I want to share some more about the trip…
Our group leader, Shaun, warned us that re-entry would be hard, but we had no idea just how completely overwhelming adjusting to even the most familiar of blessings would be this Thanksgiving. The blue, and green, and orange ones…the twinkly, fragrant, warm ones.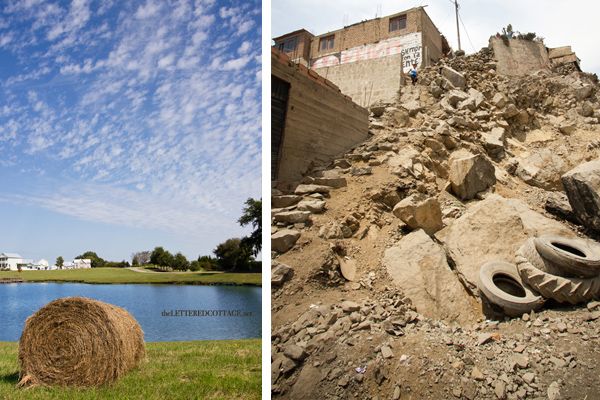 I'm so thankful for Them today. We may not be able to share those kinds of blessings with the folks we met in Peru, but we can share our time, talents, and support- and I'm thankful for the Nudge to do more of that.
I don't know exactly how to "sum up" everything else we experienced, but I do know this:
There are these people out there. They live in third world countries. They didn't choose to live in them- they were just born in them. They want to enjoy life just like we do. They want to have homes and things and families, just like we do. They want to share meals and Love, just like we do.
And as for the ones we got to spend the most time with in the dusty mountains of Peru- they're a super sunny bunch, all things considered, and I imagine they'd write much better blog posts about what really matters than I could ever do.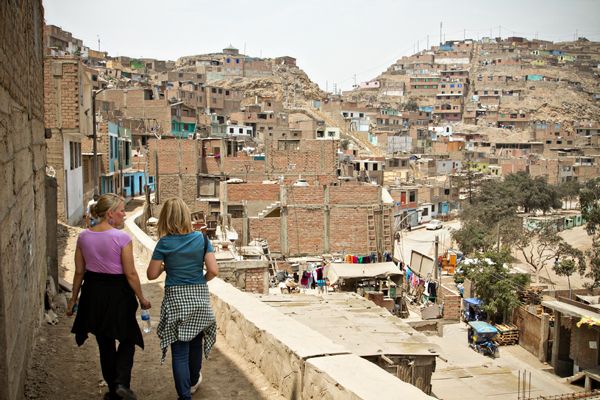 Speaking of blog posts, remember when I told you about Estefania and her dad the other day?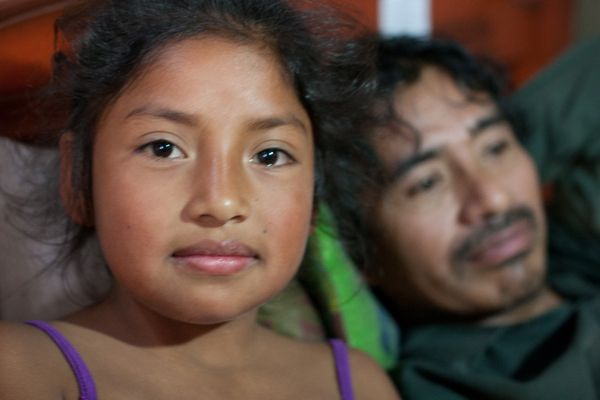 Well, I had to go back and edit that post because I forgot to mention that he told us that he was able to have surgery because of donations made to Compassion's CIV fund. I asked him how he got to and from the doctor (not hospital) that fixed his shattered back. His answer: they carried him. No 911 or ambulances in the mountains of Peru.
I'm thankful for the access we have to those kinds of things today.
I chose not to show you a photo of a heart-wrenching moment we shared in my last post because it was too fresh…too raw…too painful. But I've had some time to think about it now, and I feel like today's the right day to share with you how badly her dad wants to be able to work again, and how thankful he is for God and Compassion.
I also want you to know that Estefania instinctively got up right when he finished that sentence to get him a tissue, and he smiled so big a few seconds later. We may have more in the way of money than they do- but I've experienced firsthand that what they have to share with us is worth so, so much more than $38/month.
I also wanted to mention a little more about Nicolasa and Christian again in today's post.
Because of Compassion International, Christian is able to attend school. And because he is able to attend school, his mom is able to work, six days a week, 12 hours a day, at a local factory. I'll never forget climbing up and down the hill that leads to and away from their house…
If you look up the word, "treacherous" in the dictionary I'm pretty sure you'd find a picture of it there. (Did I mention that rocks were continually falling down it? #NerveWracking) Christian carries buckets up water up that thing twice a day on the two days a week it's available.
I'm thankful for Hope, and the opportunity to see how It comforts helpful kids and their hardworking mamas.
I'm also thankful for Fresia…which by the way, is pronounced "Freh-see-uh". (who knew?)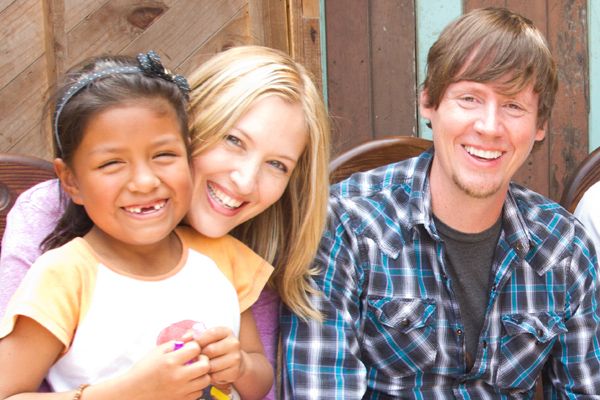 I'm thankful that, as her sponsor, I can visit her and send her emails and letters whenever I want. I'm thankful that she pinky swear-promised she'd write me lots of letters, too!
I'm thankful for all the photos we have from our visits with her…the good, the sad, and the overexposed…
I'm thankful for her grandparents who take such Good care of her and her siblings…
…and I'm thankful that the camera caught her looking at me that way.
I'm thankful for our time together at the zoo in Lima. It was the first time Fresia's ever been anywhere outside of her community.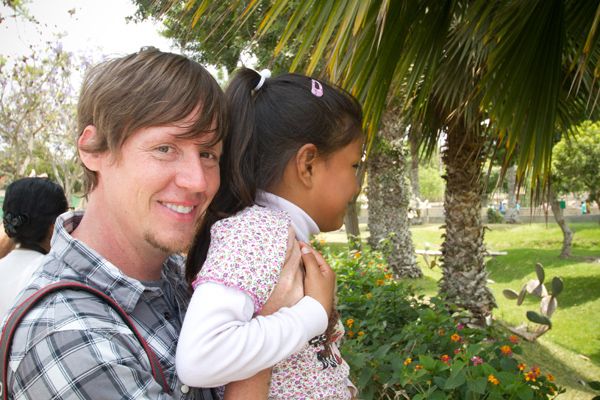 I'm thankful for the time we got to spend together at her very first restaurant, too…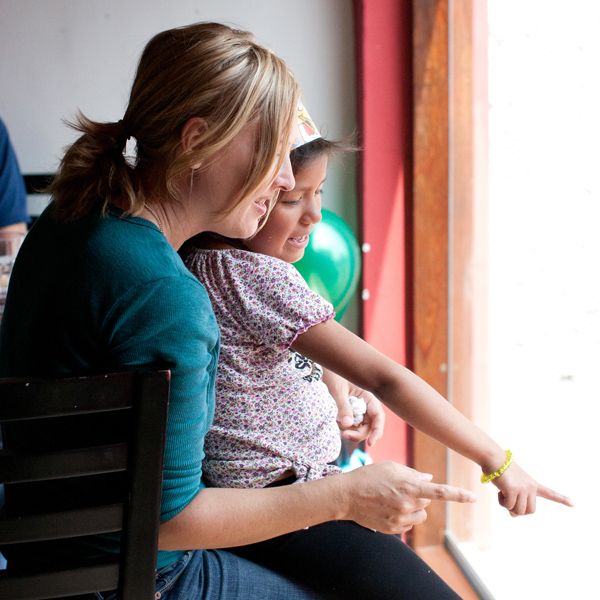 …and I'm thankful for the guts it took her grandma to share the hard-to-talk-about things she shared with us there.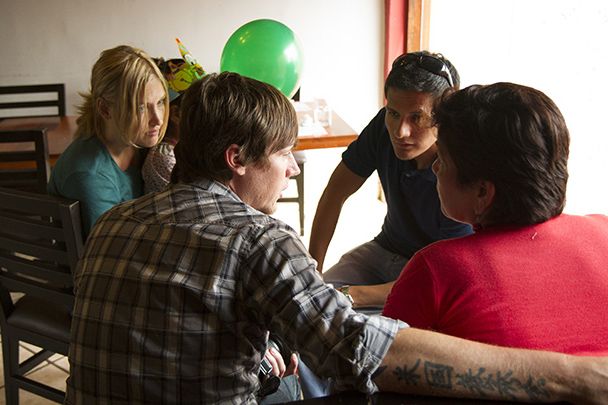 Fresia is one incredible little lady, and I'm so thankful to know what it feels like to have the back of my shirt sink in this way…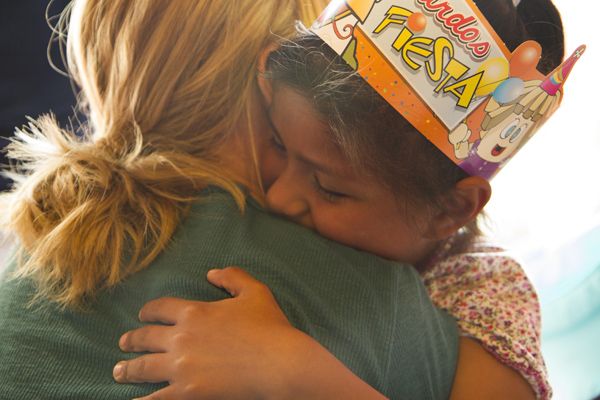 That photo was taken as we were saying our final see ya laters on Saturday.
So was this one…
I've stared at it so much since we've been back. Fresia pulled back teary-eyed after Kevin hugged her for the last time, so I asked him what he said to her as we were walking back to our bus. This is what he told me:
"I shared with her that God has big plans for her life. I wanted to plant the seeds of Hope. I wanted her to hear it. I wanted her to believe it because there's so much power in Belief."

I'm so thankful for the opportunity to see firsthand what sponsoring Fresia through Compassion International really is.
We've seen her face, and called her name. We've held her in our arms and felt her joy. We've gotten lost in her smile, and heard the story behind her two front teeth.
Just like all of the kids in Compassion's sponsorship program, she's more than a picture in the mail. She's a real person whose whole future changed the day someone from Compassion International knocked on her door. And for that, we're so thankful today.
PS- Here's a short video of some of our time with Fresia! (Subscribers will have to click over to our blog to watch.)
Want more information about Compassion International? Click here to read more about their Child Development Model, their History, and their Financial Integrity.