Confession: I spend more time thinking about these…
…than these: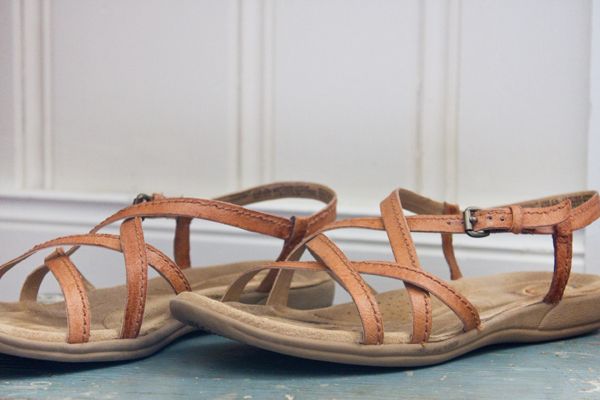 Those are the shoes I wear every day, all day, and will continue to until those faux leather straps are no longer attached to the sole. Or it gets too cold outside to wear them. Whichever comes first. (Considering the amount of money I paid for the shoes- A new pair of shoes may actually come first.)
And before it was those, it was these: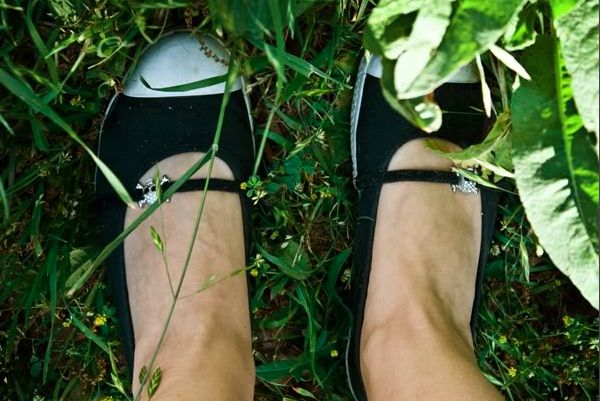 I wore those suckers for, like, three years before my foot finally busted out the side of one of 'em.
That was a very sad day, and visions of fixing them with super glue may or may not have been dancing in my head when the incident occurred. If they hadn't been so stinky worn out, I definitely would have tried it. Definitely.
I went through a couple of pairs of flips flops after my skull sneakers bit the dust. Flip flops, by the way, are my favorite type of shoe to wear…but why do they all seem to break so quickly? Am I just too hardcore? Or is it because I refuse to pay over $30 (okay, $20) for a pair of shoes that I know I'm going to be DIY'ing in every day? Hmmmm…
Anywho…after a lengthy phone call with the gal who's "styling" us for our pilot episode experience, I discovered that a "nice pair of sneakers" that "weren't atheletic-looking" are in order. So yesterday, I picked up these little navy numbers at Target for $9:
I ran in and out of 4 stores before deciding to get them. I tried on approximately 14 pairs of shoes before deciding to get them. I licked my hand and used it to moisturize my leg before deciding to take that picture.
I like them, but oh how I wish they were a little more….uh….open-footed. And I just know I'm going to get a blister on the ol' achilles if I don't walk all Cindy Lou Who-style. (I can't remember exactly how she actually walks, but I'm sure there are tip toes involved.)
Also in the Target bag yesterday: Band-aids.
So, my question to you, shoe-buyin' DIY'er: Where can a girl get a nice pair of sneakers that are a little more Mary Jane-ish and a LOT more Layla Palmer-ish? (And by that, I mean: better arch support and that aren't so tight around the achilles.)
Do they even make a shoe like that? Help!
PS- I realize I'll have to spend more than twenty bucks this time…but I'm getting reimbursed for them, so it's all good.

__________________________________________________________
Join us on Pinterest, Twitter and Facebook!
___________________________________________________________
Need design inspiration? Need help with space planning?
Check out my e-book!