We mounted a little caster to the baseboard behind the left side of the sliding door yesterday. I pulled the door away from the wall in these first two photos so that you could see it: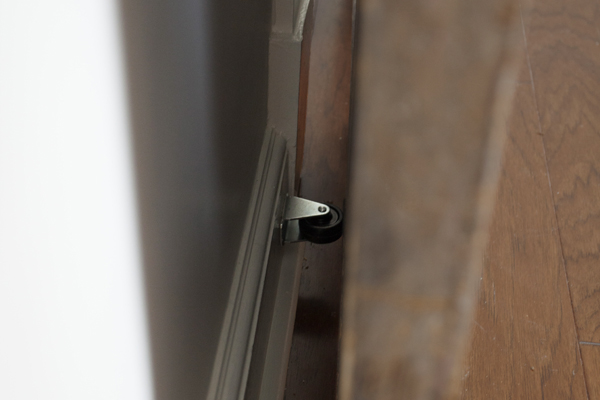 The caster helps push out the bottom of the door juuuust enough so that it won't bang against the wall behind it. It also helps make sure the back of the brackets attached to the top of the door won't ever scratch against the front of the door trim.
(I did add a little felt behind those brackets though, too.)
The caster only pushes the bottom of the door out about an inch, so you can barely tell it's there:
That extra inch created enough space to ensure that fingers won't get pinched either:
You know how I feel about pinched fingers.
It's been 4 months since I smashed that sucker in our back door. I guess I could paint on some polish if I owned some, but truth be told, watching that thing grow out is completely fascinating to me. 😀