"My brain has too many tabs open."
-Unknown
Remember when I blogged about "having" to paint the wall (and ceiling) outside the room I'm working on right now?
Well, now you know why it had to be done. 🙂
I had to paint the wall so that we could hang that big ol' 9-panel pocket door! It came from an antique shop in Sweetwater, Tennessee courtesy of my friend Lucy, and we are absolutely loving it!
We picked up the sliding track hardware at Sabel Steel Wholesale here in Montgomery, Alabama.
The grand total for everything (an 8′ track, 3 hangers, 2 brackets, a pair of wheels, and 2 end caps) came to $85 after tax. Not bad considering most of the sliding hardware I've seen online is between $200-$400. (Note: the only finish Sabel sells is galvanized and the tracks come in 4′ and 8′ lengths. They said they usually don't carry a lot of tracks in the store, so make sure to call first to see if they have what you need in stock: (334) 265-6771.)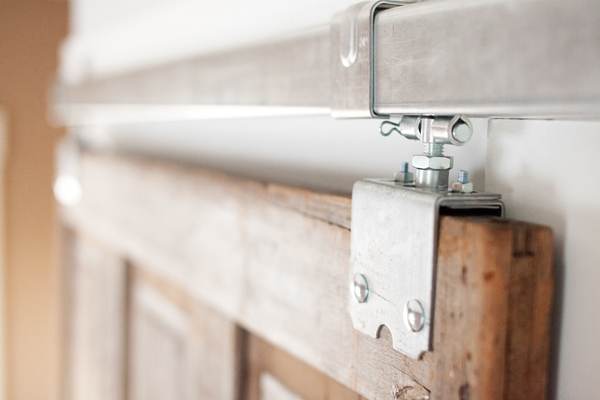 The door handle came from my friend Ashley's shop, Parish. (Also located in Montgomery.)
…and as far as pulling the door open from the other side, there's enough raised and recessed molding on the back side of the door to pull it open very easily. That said, this room will become my office in the next couple of years, so it will probably stay open most of the time. The door does slide open and closed very easily though. It's amazing how a sliding track can make something heavy feel so featherlight! The only thing left to do is mount a small caster, horizontally, onto the base board behind the door so that nothing scrapes against the door frame. I'll show you what I mean in my blog post on Wednesday.
*****
Now.
On to what's really swirling around in my mind today.
The group trip.
The one that started this past weekend…the one that we almost got to be a part of.
New forever friends are bonding with their babies today, y'all.
So, needless to say, my brain is doing a lot of darting around this week.
I mean, me and the Mamas have been talking about being there for months…but now they're actually there.
(photo from Three Angels Facebook page)
They're standing on that infamous Arabesque tile floor. They're hearing all 13 kiddos at once. They're looking into the eyes of the littles they've loved since first sight.
It's absolutely thrilling for this soon-to-be-traveling mama-to-be to think about. Think I'll go paint and get lost in that "tab" some more today. 🙂