Happy Monday, friends!
I had some fun putting together a presto change-o pic for a gal named Sindy recently and thought I'd share it here today in case someone out there is looking for similar design inspiration. It's a small den that she and her husband watch TV and read in, and here's a photo of the space:
In her email, Sindy said she felt like there's too much wood right now, and wanted ideas on how to break that up. She said she wanted to bring in a cow hide rug and that she'd love to add some kind of display shelving on each side of the TV. She also said she loved the blue-stained wood and fireplace surround we did at Keith the Fireman's house: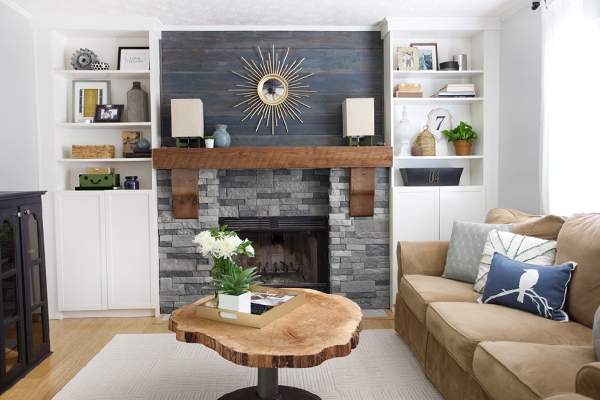 Here is a link to the posts about that makeover in case you are interested: Keith the Fireman's Living Room Makeover
So the first presto change-o photo I put together for her incorporated a *faux hide rug, the blue-stained barn boards, and rustic shelves made from pine boards and black iron pipes: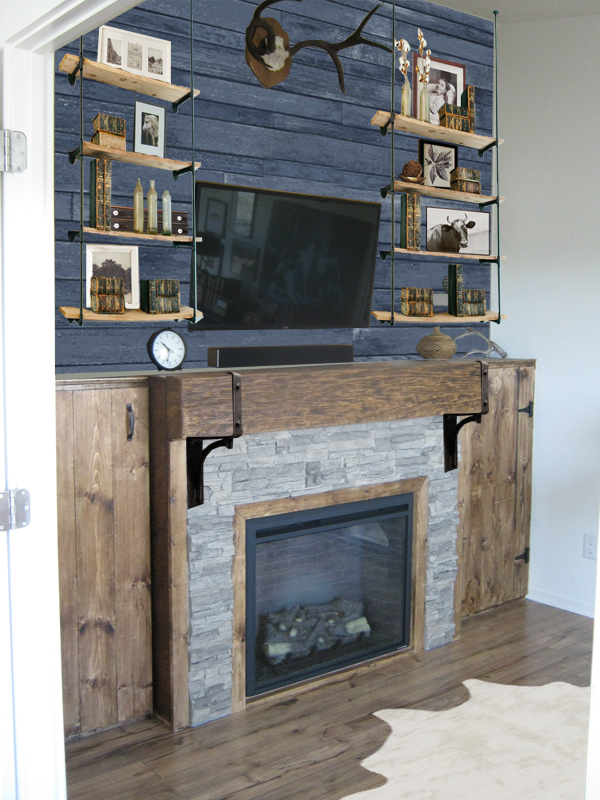 I also suggested adding black brackets to the mantel beam to break some more of that brown up a little. I just searched for "black iron mantel brackets" on Google and found those.
I thought it might be fun to show her what barn red-colored boards would look like in the second presto change-o pic:
In the third presto change-o pic, I showed her what painting the cabinets white would look like:
I thought it would really drive home the red-and-white barn vibe.
In the last pic, I took a totally different approach- just to give Sindy a totally different idea. I brought in more brown wood, but I tempered it by painting the cabinets white and suggesting they use chippy, white-painted Stikwood as wainscoting around the perimeter of the room. Instead of shelving, I popped two *Pottery Barn lanterns on the wall:
I also deepened the color of the stain around the fireplace to add more contrast between it and the floor. I think having so much wood that's the same color (cabinets, trim, flooring) in that area might actually be the reason Sindy feels overwhelmed by it.
Anywho- these are just a few ideas that immediately sprang to mind. Hopefully they'll get Sindy's creative gears turnin', and she'll send us after photos of what they end up doing in there when they're done! 🙂
Layla
*Disclosure: Hide rug and lanterns are affiliate links.