Because I always love an inspiring room redo post, I wanted to share some before and after photos of my e-friend, Jennifer Rizzo's recent kitchen remodel here today.
Jennifer and her family had actually planned to wait a while before remodeling their kitchen, but a pipe burst under their sink and caused extensive damage to the floor and base cabinets, so they were forced to fix it up a little earlier than expected. They hadn't had a chance to save up for a total overhaul though, so they decided to keep & paint their upper cabinets, and replace their base cabinets with new, unfinished ones that had the same simple door style as the upper ones. Smart!
Here's what Jennifer had to say about the process of painting the uppers…
"First, I scrubbed every last door and drawer with vinegar, soap, and Borax. Next, we gave them a good sanding, and then we minimized some of the wood grain on them by filling in the deeper grooves with wood putty. After that, we sanded them again, until they were smooth. I used a good quality angle brush to paint the inset areas of the doors, and then a dense, 4″ foam roller for the raised parts so the paint went on nice and smooth. I finished with a good coat of non-yellowing Polycrylic to keep them from chipping and to make them scrubbable."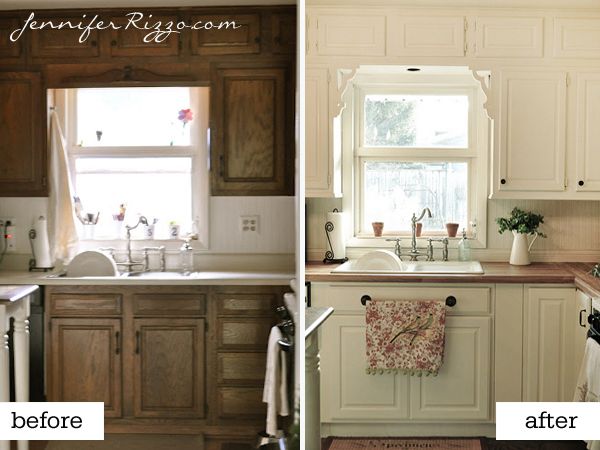 The paint color they chose is called "Linen White", by Benjamin Moore. They had it mixed in their "Aura" paint brand, and they applied 2 coats of it in an eggshell finish after applying 1 coat of primer. After they were finished painting everything, they topped the base cabinets with wood counters from Ikea.
Jennifer says they need to be oiled with a sealer (also from Ikea) a couple of times a year. She does the area around the sink every few months though, because it tends to be wetter  there than other areas of the kitchen. She also said the application process is super simple, you just wipe the sealer on, and let it dry overnight. Her favorite thing about having wood counters is that if they get damaged or burned, you can just sand the marks out, and reseal. Neat!
Instead of installing more upper and lower cabinets on the other side of the room, they decided to save a little money and go with something that wouldn't stick out into the room as far as base cabinets would. They purchased a hutch from seller on Craigslist and gave it a new coat of pretty, green paint…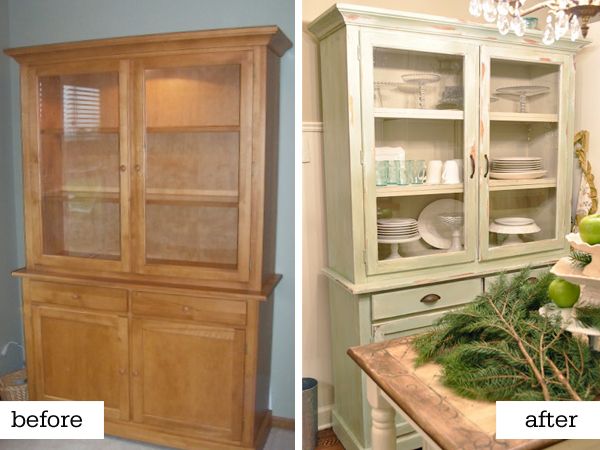 Jennifer says, "I wanted something old; but the $900 one I loved from the flea market definitely broke the bank. I painted our $200 Craigslist find with a color I mixed myself, from 6 different shades of paint. The color I created is very close to a color called "Antique Jade, by Benjamin Moore."
The walls are painted a color called Bennington Grey, by Benjamin Moore. Jennifer says, "It's a great taupe-y grey color, that has a bit of a warmish-green under-tone."
She also said they decided not to put door knobs on the upper cabinets to help hide the fact that some of them are "wonky."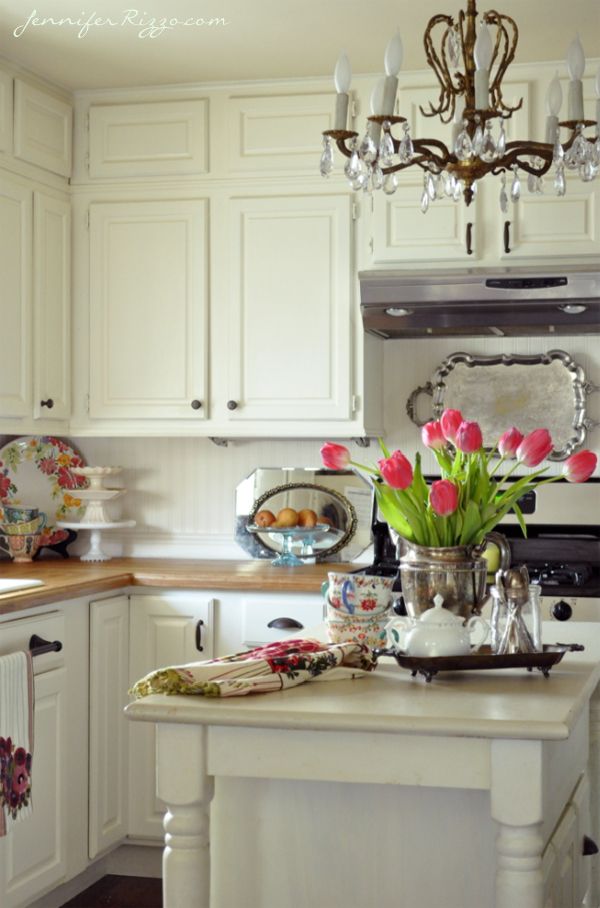 The entire kitchen only took about a month to redo, and Jennifer attributes a lot of that speediness to their contractor, Jason, who worked very quickly and was super organized. She says, "He helped keep us on track, and when I had an idea, he was awesome about just going with it, no matter how crazy it was. A good relationship with a good contractor really does make all the difference. I interviewed 6 contractors before hiring Jason."
Jennifer also says, "Follow your instincts about your home. If there's an odd smell coming from somewhere and you don't know why, there's probably something wrong. When it happened to us, the whole thing seemed devastating and overwhelming. I think we really thought it was going to ruin us, but there was such as silver lining that came from it, and I love my kitchen more than I ever thought I would!"
To check out Jennifer's blog click here: JenniferRizzo.com, to read more about her kitchen renovation, or to ask her questions about any part of the project, click here: Kitchen Details, and visit her Etsy shop, click here: The Vintage Tea Collection.

Well, I'm off to my first ever jury duty experience today.
Ugh.
I've been hearing the Law & Order "doink! doink!" sound effect in my head ever since I received the summons.