Kev and I follow a nice fella named Michael on Twitter and I wanted to blog about some of his crafty projects here today. He writes a blog called Inspired by Charm, and he owns a bed and breakfast in Saint Marys, Pennsylvania.
Inside the front door of his (1917) B&B, there's a little gift shoppe, and while the goodies he's got for sale are definitely delightful, I was also totally inspired by the zig-zag wall treatment he recently painted on the back wall of an old closet in the space…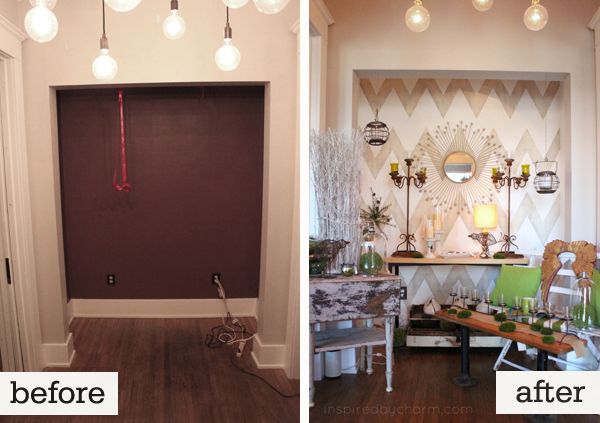 Here's what Michael had to say about his pretty paint project, "I wanted something light and clean, something modern, but still warm and a bit rustic. I've been a little obsessed with chevron lately, so I thought I'd give that a shot. I started with a fresh coat of white paint. To give the chevron a softer look, I decided to have the colored portion of the zig-zags resemble burlap or linen."
After I did some intensive math (it really wasn't that hard) and taped everything off, I started painting. To keep the cost down, I used two colors I already had from previous projects- Antique White and Perfect Greige, by Sherwin Williams.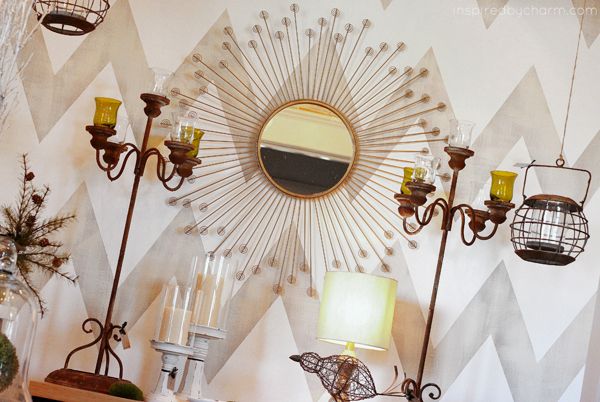 Using some cheap brushes, I painted several layers of paint on the wall. I managed to achieve the textured burlap/linen look I wanted, and to be honest, I was quite surprised that it turned out how I had envisioned it!"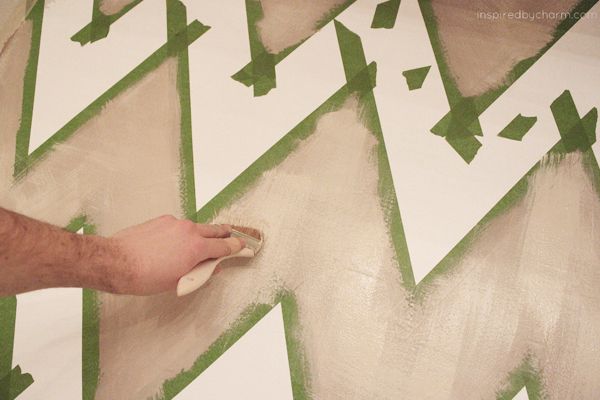 Click here to read Michael's step-by-step instructions: Chevron Wall Tutorial
Michael had fun working on a room he calls 'The Garden Suite' at his B&B, too.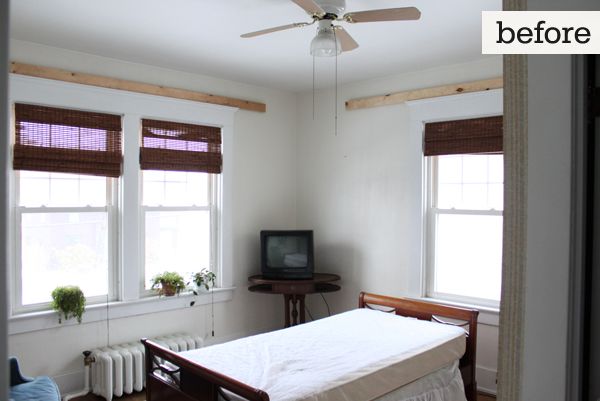 He didn't have any plans when he first decided to redo the room, he just let things come together organically.
He found the heavy-weight, red & white floral fabric he made the "dummy panel" curtains out of at Walmart while they were having a 50% off sale. I think they're so pretty, and I love the unconventional 'curtain rod' he made to hold them up. Here's what Michael had to say about that project, "I attached two 2x4s to the wall above the window trim. I filled in the gaps with putty and painted them white to match the rest of the molding. I found some forged nails online and pounded them into the wood evenly across the top. I attached pieces of chain link to the curtain panels and hung them on the forged nails."
For more about how he made it, click here: Curtain Reveal Post
And speaking of fun fabrics, I also love the sunny, yellow shamrock-patterned bedskirt he made for the bed in The Garden Suite…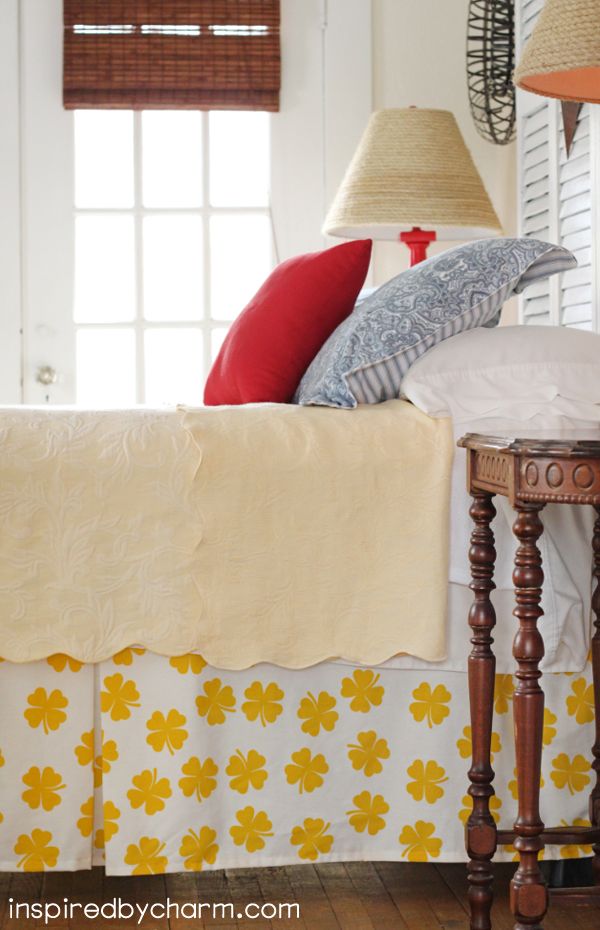 He purchased the fabric at the same 50% off sale at Walmart, and I think it's so fun and unexpected!
Another one of my favorite elements in the room is the giant sign he hand-painted…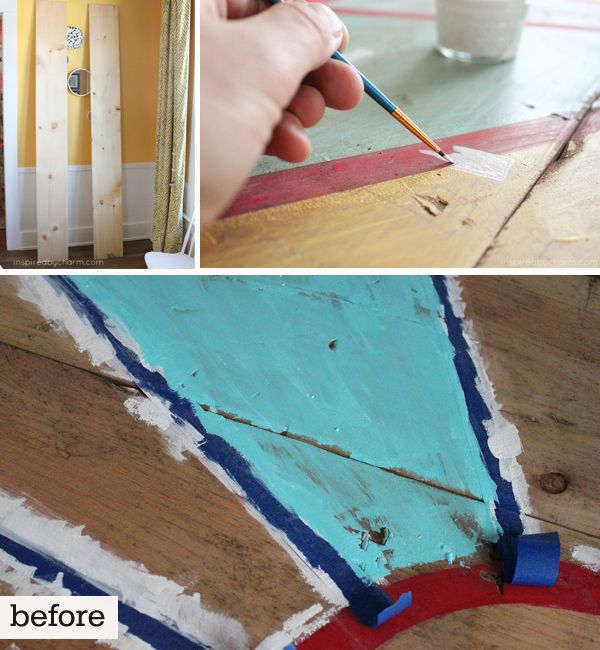 Here's what he had to say about the project, "I typically prefer to use vintage/recycled wood, but in this case, I couldn't find the size I needed. I wanted the finished sign to be 8ft by 2ft, so I purchased two, twelve-foot 1″x 8″s from the lumberyard. I distressed the wood by banging it up with a hammer, a saw and a length of chain. After that, I applied a treatment of vinegar and steel wool, which really helped age the wood. I kept the colors and design simple, and used painters tape as my guide. I printed out the lettering from my computer and transferred it onto the wood using a pencil, which made the process really simple. The total cost for my sign was under $40."
Isn't it fabulous? To read more about Michael's sunny sign, click here: The Making Of A Sign, and if you'd like to say hi to the talented Mr. M, you can find him here: Blog, Bed & Breakfast, Twitter, Facebook, Pinterest.
Before I sign off, here are the names of the giveaway winners that were randomly-selected earlier in the week:
Valentines Day Pennant Banners–

Congratulations ladies, and thanks for playing along with us!