We're in our new house, and now that the internet service is finally turned on, The Lettered Cottage is back in business!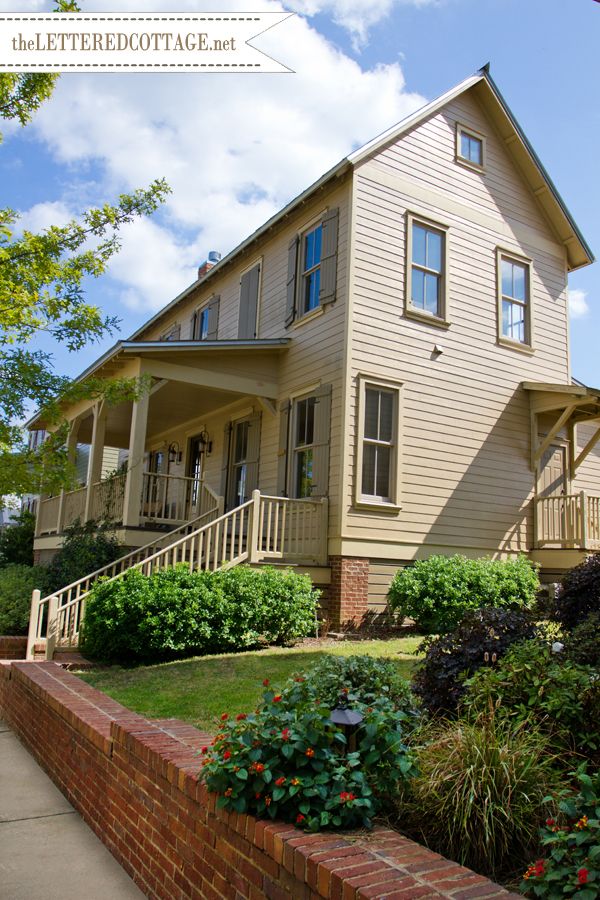 Which reminds me- a few folks have asked if we're changing the name of our blog. We'll still be 'writing about life in our cottage', so the name will stay same.
Our new house is a 2 bedroom/2.5 bath, two story, cottage-meets-farmhouse style home. It sits in a quaint, rural community (in Pike Road, AL) that Kevin and I have wanted to move to since we first discovered it, in 2005. The house was built six years ago, and was originally listed in the 300K's. It never sold, and eventually went into foreclosure. We were able to finance it in the 100K's, and feel so grateful to be able to call it home!
I don't think there's a single fixture, finish, paint color, or design element we would've chosen if we had been involved in the picking process- and we're assuming it didn't ever sell because of an awkward layout upstairs. All those things made it the perfect place for us though, and we look forward to personalizing it (and adding some square footage, landscaping, and a carport) over the next several years. (Note: We'll be blogging about this inside of the house soon!)
The whole move ordeal was super spontaneous. Long story short, we didn't think we'd be able to move for at least two more years, but things just seemed to (miraculously) fall into place over the past three months. We were hanging out with a friend on the 4th of July, who introduced us to a real estate agent, who introduced us to a loan officer, etc. etc. etc. It felt sort of "meant to be", so we just went with it, and kept telling ourselves it wouldn't be a big deal if it didn't work out since we really hadn't planned to move right now anyway.
But like I said, everything just seemed to fall into place.
Until this past week.
Apparently when they say you've been "pre-approved" (and that you'll need to sell your current house in order to buy another one) it doesn't mean that you're officially approved. Boy did we sit on pins and needles as we waited for our final approval last Thursday night. Our closing was scheduled for the next day!

I couldn't get out of that closing office with the keys fast enough! I kept saying to Kevin, "they can't take it back once they hand us the keys, can they?" Ha!
By the way, that friend that we were hanging out with on the 4th of July was Kevin's Shoot Fly Shoot business partner/BFF, Josh. Our house is across the street from his house, and the guys are pretty pumped about it.
I think there may be a set of walkie-talkie's in their future.