I will forever cherish the time I've been able to spend with my mom and dad this month. This isn't the house I grew up in, but wherever they are will always feel like home to me.
We've referred to our family kitchen as "Katie's Kitchen" since I was a little kid, and my family's favorite spaghetti recipe has been served up in the Palmer home for as long as I can remember.
You start by bringing 5 cups of water, with a package of Lipton onion soup in it, to a boil. After that, you throw in 8 ounces of spaghetti and let it cook uncovered for 15 to 20 minutes, or until it's tender. (Note: Do not drain the spaghetti once it's cooked.) At the same time, you can be browning 1 pound of ground chuck or turkey, and then draining and returning it to the skillet.
After that, sprinkle the meat generously with garlic salt, and add in 2 teaspoons of oregano, and 1 teaspoon of basil.
Next, purée 2 (14.5 oz.) cans of diced tomatoes in a blender, and then add them to the meat mixture. Let it simmer for about 30 minutes.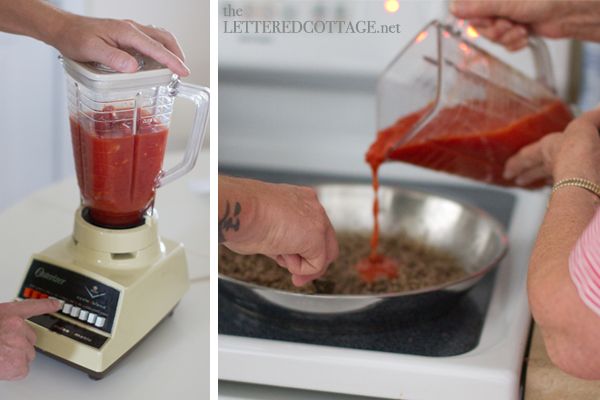 At this point my mom said, "Now I don't know about y'all, but I'm a taster!"
Apparently once everything is blended, she lets her taste buds decide whether to add more garlic salt or not. I'm still trying to perfect this part of the process, but my mom is definitely a master at it!
The last step is to add the meat sauce to the spaghetti and mix it all up.
I grew up eating spaghetti that was mixed together before it was served, so I was really confused the first time someone dumped a pile of noodles on my plate and poured spaghetti sauce all over it. I thought it was so strange that they expected me to mix it up myself- ha!
I didn't realize how special these recipes and memories would be to me when I grew up. Here's a printable recipe for you if you'd like to give my family's favorite spaghetti recipe a try. I hope you love it as much as I do!
My Family's Favorite Spaghetti Recipe
Ingredients
4 and 1/3 c. water
1 env. dry Lipton onion soup
8 oz. package of spaghetti
1 lb. ground chuck or turkey
garlic salt
2 tsp. oregano
1 tsp. basil
2 - 14.5 oz. cans diced tomatoes
Instructions
Bring water with Lipton onion soup to a boil
Add spaghetti and cook uncovered for about 15 to 20 minutes or until tender
Do not drain spaghetti
Brown meat, drain, and return to skillet
Sprinkle with garlic salt and add oregano and sweet basil
Purée tomatoes in blender and add to meat mixture
Simmer for about 30 minutes
Add meat sauce to spaghetti and mix well
https://theletteredcottage.net/my-familys-favorite-spaghetti-recipe/
What about you? Do you have a favorite family recipe?