Remember those curtains we used to have in the dining room?
Well, about a month ago they moved into the living room- and almost immediately after they went up, we were totally inspired to cozy up that side of the room for Christmas!
We created a tabletop vignette using lots of things we already had, and two small (live) trees from the home improvement store. I read my mags in that corner and man do those babies smell GOOD! (The trees, not the mags. Well, on second thought- I do love the smell of a brand, new magazine, so it's just an all around good smellin' corner altogether now.)
The table itself was a project I've been wanting to tackle for loooooong time. Ever since we moved in, we've had a low, 36″x36″ square trunk in that space…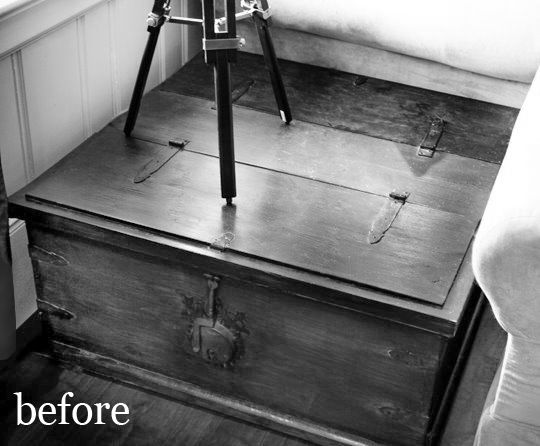 But I've always envisioned something taller, and round, like the ones you see in the Ballard Designs catalog…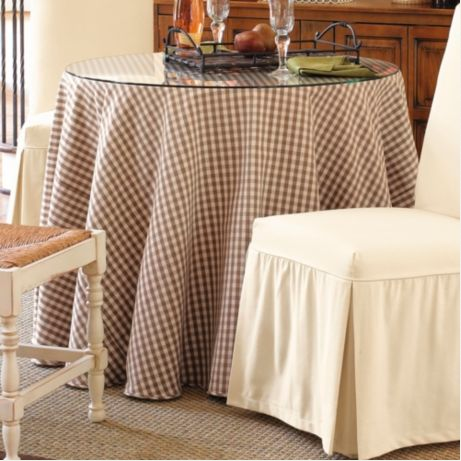 (Ballard Designs- "Terrific Table and Tablecloth" $129.00)
I was determined to come up with a more cost effective solution though, so I took an inexpensive little table I got from Kevin's Mom…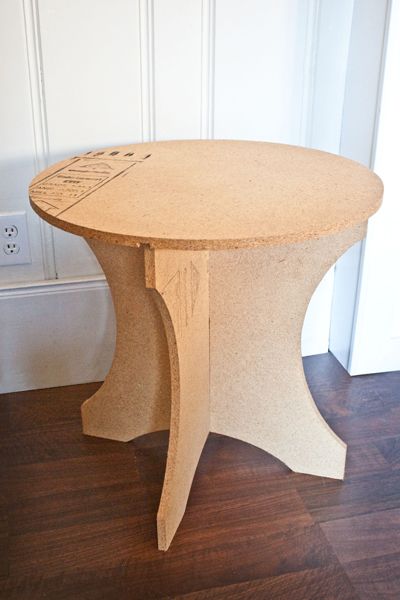 …and topped it with a 36″ round of wood from Lowes ($38)…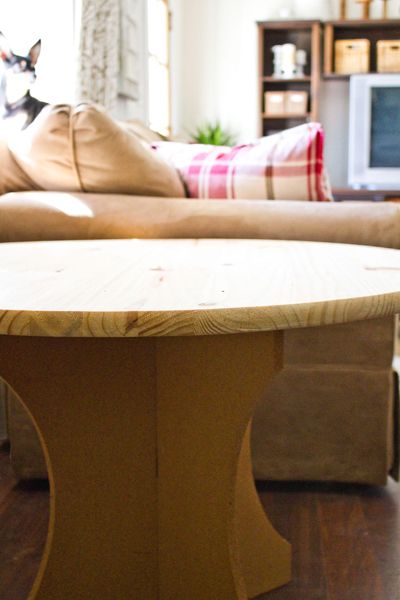 …and voila! A festive & frugal version for our living room!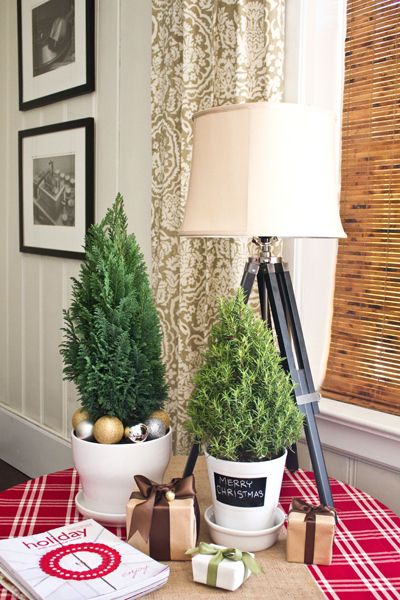 (If you're worried about stability, simply use construction adhesive to bond the two pieces together)
The tablecloth came from Target ($12.99), and I may or may not have ran up to it when I saw it hanging on the shelf all by its lonesome. I'm mad for plaid and even though it's not the right size (70″), I had to have it! (Secret: we just made sure the shorter side was up against the wall so no one would know! Hee hee!)
The little gift boxes were actually ornaments on our Christmas tree last year. They're just little empty Jell-o, medication, and other random boxes we had around the house, wrapped in solid-colored wrapping/Kraft paper. The ribbon around them came from Michaels.
And last but not least, I gotta give a shout out to my man Matthew Mead! That's his fabulous "Holiday" magazine on the top of the stack there…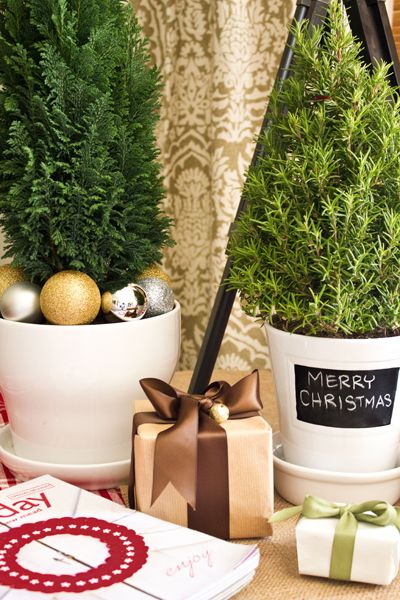 (Click HERE for more info on "Holiday")
And there ya have it!
Our cozy, Christmas corner, built for me and Mr.P!
For more vignette inspiration, be sure to swing by Rhoda's "Holiday Home" Christmas Vignette Linky Party today!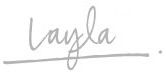 PS- Our table lamp came from TJ Maxx a few years back, and I "scarfed" the tallest tree with ornaments because I'd rather look at razzle-dazzle than dirt. 🙂
——————————————————————————————————–
Join us on Facebook or Twitter!
————————————————————————————-
Need help arranging your furniture?
Need design help?
Check out my e-book!