We've decided to tackle the sunroom first.
The makeover will include primer, paint, light fixtures, plants, wall art, a work station, and window treatments. Lots and lots of window treatments.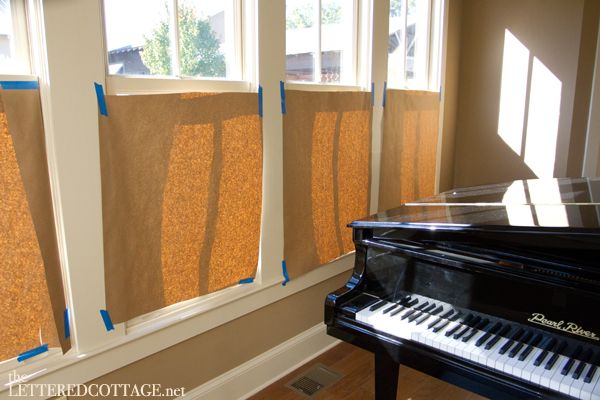 There are 1728 square feet in this house right now, and we'd like to make the most of as many of them as possible. Because he has more "stuff", Kevin's going to use the spare bedroom upstairs as his office. Because I like being out in the open, we're going to create a work station for me in one corner of the sunroom. I'm rockin' a temporary set-up in there right now, but I've got a few different things in mind for my soon-to-be office space.
The first involves a comfortable desk chair with felt-bottomed feet (maybe one that could easily roll into the large closet behind it if I feel like hiding it?)
The second involves making a decision between a traditional desk, sort of like this…
…and a desktop sitting on cleats and a corbel. Sort of like this, except I'd only need one corbel and I'd use a different material on the desktop:
(pinned from here)
Since people will pass by my desk to go in to the first floor bathroom, I sort of envision the area looking more like a "entry" (for lack of a better word) than an office. More like the vibe of the Pottery Barn photo above, but a little "vignette-ish" (for lack of a better word) like the corbel photo. It'll be for blog posts and e-bill payments, but it doesn't necessarily need to look like I do either of those things there- yaknowwhatImean?
So. That said- which desk style would you go with? Stand alone, or stuck to the wall?