Hi, and welcome to my second "One Room, Three Ways" (ORTW) post!
Again, here's a shot of what our kitchen looks like right now:
The cabinets are currently painted mustard yellow, and they have a chocolate brown glaze on them that you can see when you're standing up close to them. The backsplash is some kind of travertine, and neither it nor the tan/purple/gray/black/gold-veined granite (nor the cabinet color) reflect our personal taste. I'm guessing the builder chose them because he thought they were "neutral", but since we live and work here now, we're looking forward to personalizing the kitchen so that it tickles our fancy…not the fancy of the folks who built it- LOL!
Anywho, this is also one of the kajillion looks I've been having fun dreaming about lately:
White-painted cabinets on the stove side of the room, (Torquay) quartz countertops, a (polished) ming green mosaic tile backsplash, a white-painted planked wall (that would extend all the way into the living room) and some kind of gray-green painted island. (Again, I left the hardware and faucet alone for this pic because my eyeballs were achin' by the time I got done with it, but those could also be switched out for something else, too.) (And again: The photos I'm posting this week are just-for-fun ideas. Nothing is set in stone, and I'm sure I'll think of a kajillion more ideas before we actually start changing anything in there- LOL!)
After I finished creating my inspiration photo, I googled "Gray green kitchen islands" to see if I could find any to include with this post in case anyone asked me about which gray green I would use. Imagine my excitement when my search led me to this photo that shows a white planked wall, a gray green island, and galvanized pendants!
A couple more clicks, and I found out the color is Benjamin Moore's "Gettysburg Gray".
(source)
I think it would make a lovely companion to the ming green marble tiles and dusty white quartz countertop I suggested in my inspiration pic: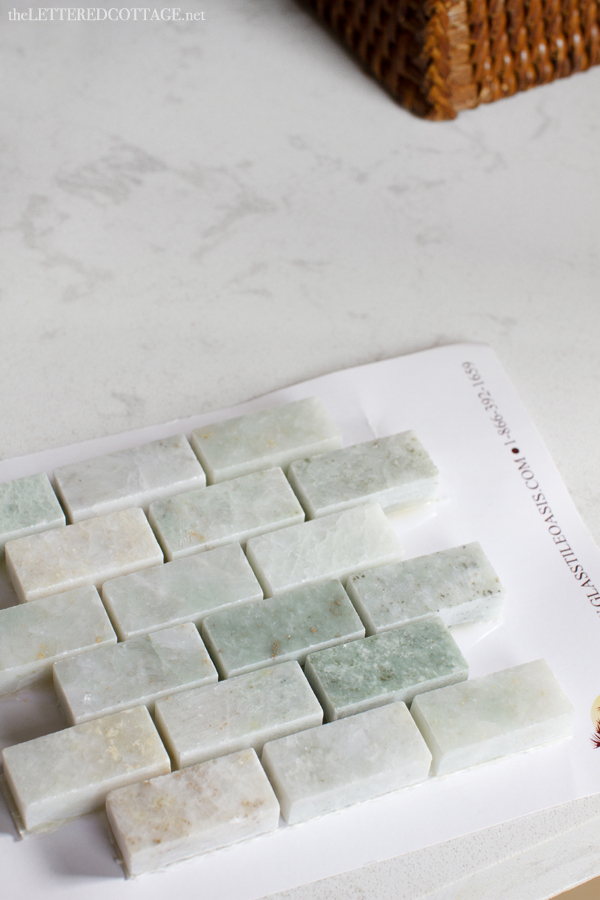 I'll be back tomorrow with Way #3, and if you'd like to see what the other ORTW hostesses did for their Way #2's, just click on their buttons below!
And don't forget, we're hosting a ORTW link party on Friday if you'd like to link up a ORTW post, too!

PS- I wanted to mention it here again today in case anyone stumbles onto this post and doesn't read yesterday's: Kevin and I are working on putting together a "Presto Change-o" class for ShootFlyShoot.com, so if you're interested in learning how to use Photoshop to create inspiration photos like the one I created above, stay tuned for details about when that will launch! 🙂