Hi, and welcome to part 4 of my favorite countertops series!
If you're just jumping into the series today, basically, I've been featuring my 6 favorite countertop materials this week, strictly based on the way they look. (No cost break downs or installation instructions here. They make my brain hurt and seem to vary from place to place, big time.)
Anywho- today's pick is quartz! Specifically, Caesarstone's "Frosty Carrina":
It was just released a couple of months ago and I love how white and faint the linear gray veining is. What a great alternative to real carrara marble. (Another one of my favorites!)
Because it's so new, I had a hard time finding photos of it used in kitchens online. I was able to find this close up on Caesarstone's Pinterest page…
…and here are some screenshots of it from a video on the House and Home website…
…but obviously it's hard to see the veining in those. NessaB posted this photo of Frosty Carrina in her (work in progress) kitchen over at GardenWeb: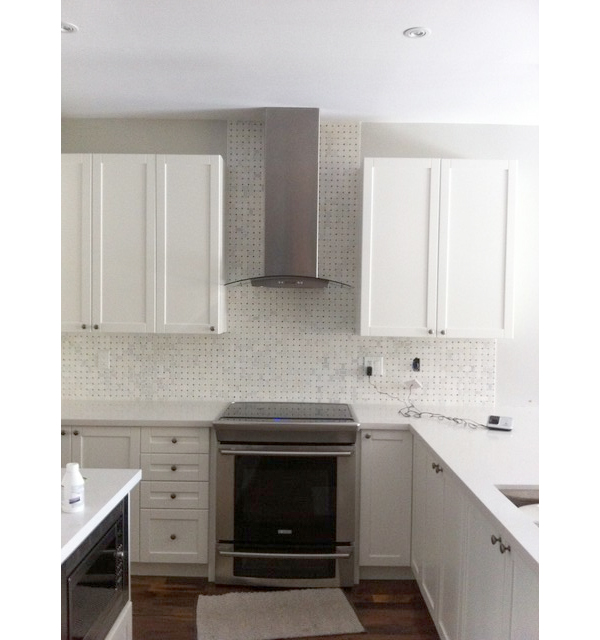 …but again, no close up views there either. I'll keep my eyes peeled for more photos of it in use over the next few months. I'm sure it'll pop up somewhere eventually!
There's actually quite a few awesome carrera alternatives out there on the quartz market right now. I'm also a big fan of Cambria's "Torquay":
Ashley from 7th House on the Left used it in her kitchen:
…and so did Emily from What Emily Does:
Do you have a favorite quartz or two?

PS- To read my previous countertop series posts, click on the links below!
1. Laminate
2. Concrete
3. Eco by Cosentino
And for pics between posts, join us over on Twitter, Facebook and/or Instagram!