…and speaking of kitchens:
I got a comment from a reader named Claire the other day that inspired a series of posts about my favorite countertops. Her comment read:
"After reading this post last night, I thought about your counter top decision and your style all day. What kind of countertops do you like? I have Formica countertops and need to replace them. I do not really love the look of granite and I can't see spending that much on something I don't like, just because other people do, on the off chance it would help me sell my house. I do not have a high end house. Just curious what you like. I love your style."
Since she mentioned laminate in her comment, I thought I'd start by talking about my favorite laminate countertops today.
I'm a big fan of black and white laminate countertops. I think white laminates look really great when paired with black kitchen cabinets:
Here's a photo of a kitchen with black kitchen cabinets and white marble countertops:
I held up this (Wilsonart® HD® High Definition® Laminate) Carrara Santorini sample against some distressed black cabinets at Lowes so you could (kind of) see how easy it would be to replicate that look:
Especially because you can order them with a similar edge as the marble countertop above:
Here's another photo I found that shows laminate with an Ogee edge: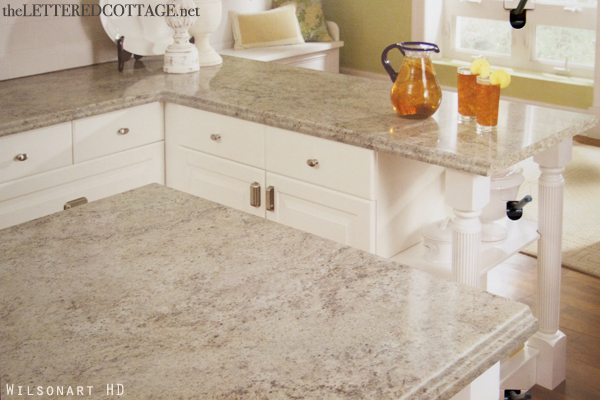 Pretty sharp, huh? I definitely think any of the white colors above would be a lovely and cost effective alternative to marble or quartz if they're not your style, or in the budget.
I also like black laminate on top of white cabinets.
I'm holding up Wilsonart's "Oiled Soapstone" in the photo below:
Here's a photo of a kitchen that has white cabinets and (real) black soapstone countertops:
(BH&G)
That's another look that would be super easy to replicate with Oiled Soapstone laminate, and some black subway tile.
Last but not least, here's one more photo I found online that shows how chic black and white (or light gray) laminate can look if you decide to go that route: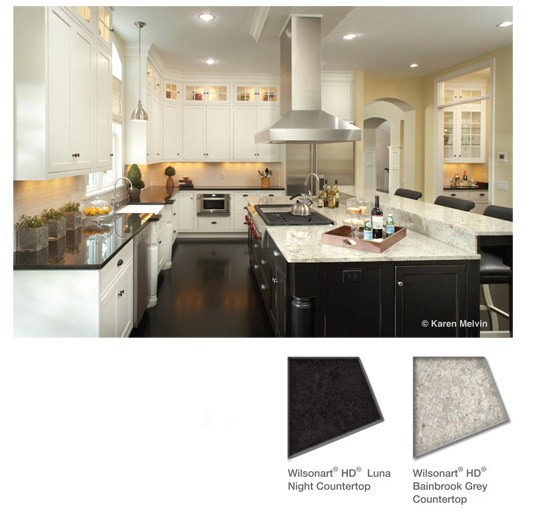 The only other thing I would add is that when you're choosing laminates- I've read that matte finishes and lighter colors are better at hiding wear and tear. But if you do go with a darker color, just make sure it has a bit of a pattern on it, so that if it does get scratched, it won't show as much. That said, Kevin and I have had (smooth, minimally patterned) laminate counters in all of our previous homes, and we don't remember ever seeing any scratches on them- even after cutting things directly on them. (Shhhh!)
I'll be back with a post about another one of my favorite types of countertops soon!

For pics between posts, join us over on Twitter, Facebook and/or Instagram!