Happy Friday, friends!
Many of you have asked about my eyeglasses, so I thought I'd share the brand and model number here today. I have really enjoyed them over the past couple of years!
I have been craving a second pair lately though. I've been taking a lot of photos for my LuLaRoe business, and I feel like it would be nice to have another pair to mix things up with. My friend suggested I try out some Warby Parker's frames, and since their in-home, try-on service is free, and their prices are low ($95 for frame and lenses), I decided to go ahead and give it a whirl.
I chose five frames from their website, and about a week later a cute little box showed up at my door.
These are the ones I chose:
(Lyle – English Oak)
(Finch – Bellini)
(Laurel – Tea Rose Fade)
(Wilkie – Greystone)
(Nash – Crystal)
They come with temporary plastic lenses in them, so excuse the glare, but here's how each of them looked. First up- the Lyle, in English Oak:
These looked *great* on Kevin, but they're just too small for my face. I think he's going to see if he can order them just as readers.
Frame #2- the Finch, in Bellini:
I'm holding them because one of the arms needed to be adjusted and they sat really crooked on my face. I like the shape of them, but I'm not in love with the color on me. I thought they would be more light pink (like the photo on the white background), but they're actually more of a orangey-peach against my skin.
Frame #3 is the Laurel, in Tea Rose Fade:
I looove the dark top/light bottom, but they break the "your glasses shouldn't cover your eyebrows" rule, so unfortunately they aren't right for me either.
Frame #4- Wilkie, in Greystone: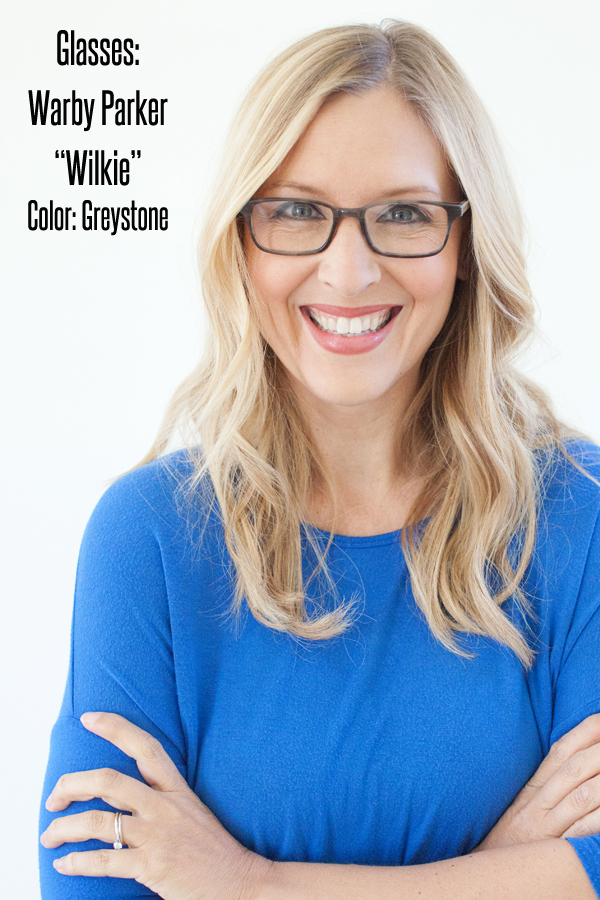 Too much light my current glasses. I don't know why I chose these. :-/
Frame #5 is the Nash, in Crystal:
Otherwise known as the safety goggles- ha!
I would reeeeally love to get a pair of clear frames, but these extend past the sides of my face, which makes them look more like eye protection than eyeglasses. I'm going to look for other clear frame options though because I love how they "disappear" and would go with any color of clothing.
I've already sent those frames back and I've got five more options on the way. I'll publish another post if you're interested in seeing what they send. Until then, happy weekend friend!
Layla
PS- He wanted his picture made in the Lyle frames too. 🙂