"We shape our buildings, therefore, our buildings shape us."
― Winston Churchill
I had a fever last week. Like, all week long. It was horrible. My head hurt almost 'round the clock, which made getting to lay in bed for a week a complete waste. I couldn't read. I couldn't watch TV. I could only close my eyes and hope that by lying perfectly still for long enough, my temperature might shift from the 100-point-something to the 99-point-something. Man what a difference a couple of points can make, am I right?
Anywhoobs…I'm happy to be out of bed and fever-less this week. Still hacking & wheezing and looking like death warmed over, but upright at last…and hopeful that it's just a matter of time before I feel like my old self again.
At some point while I was laying there thinking, I remembered that I hadn't told you about the Old Talbott Tavern. What a charming restaurant/inn! I came across it while searching for places to stay before our trip to central Kentucky a few weeks ago.
It was built in 1779, which makes it the oldest stagecoach stop still in operation. It's located in Bardstown, at the crossroads of the young West, where the east, south, north and west Post roads once met and created a natural stop for every stagecoach that rolled near its door. Back then, grateful passengers found cheer and warmth while horses were changed for the long trip ahead. These days, I'm happy to report, grateful travelers can find the same thing.
We ended up staying at a hotel a couple of hours away, but I had to have my picture made with the old place since we were so close by. After all, thick Flemish bond stone walls stacked around 241 years worth of stories just doesn't plop into your path every day. So, after we visited Bernheim Forest, we drove 20 minutes out of the way to find the Talbott. We pulled up to it right around supper time and the scent of pot roast immediately lured us inside.
I'll never forget the sounds of the wooden floorboards, stretching and popping underneath our feet, as we made our way through the gift shop and into the dining room. And what is it about passing through an extra deep doorway, clad in someone's historic handiwork, that makes entering and exiting feel like such an extraordinary experience?
While we waited for our food, I visually gobbled up all the architectural interest. There were deep window casings clad in the same gorgeous paneled wood, heavy rustic ceiling timbers, centuries-old built-in-cupboards, and two identical fireplaces that made me feel warmer just looking at them.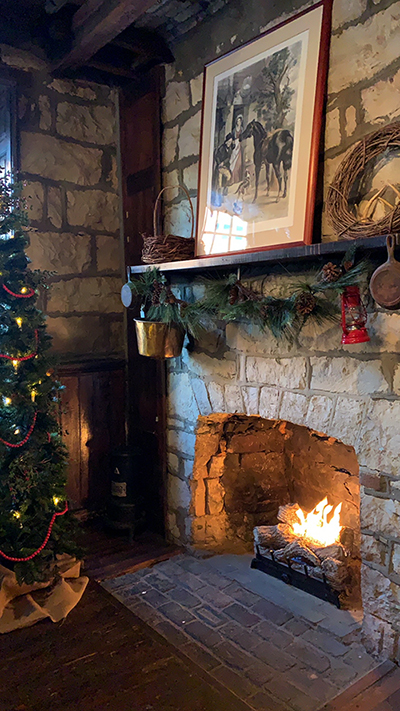 I just sat there and smiled at everything. And as I filled my belly with vegetables and roast, I pictured many of the people who probably once sat there doing the same. Daniel Boone, King Louis Phillippe, Jesse James, Abraham Lincoln, Andrew Jackson- they all knew of the warmth of the hearth fire in the central room.

(A peek at one of the guest rooms upstairs.)
Which made me think: wouldn't it be neat if you could search for accommodations by year? I feel like I'd always filter by "1700s". 🙂
Layla