"One day I was counting the cats and I absent-mindedly counted myself."
― Bobbie Ann Mason
I haven't drawn in years, but 2020 whispered "try again" so I ordered some supplies and I'm even going to give watercolor painting a whirl.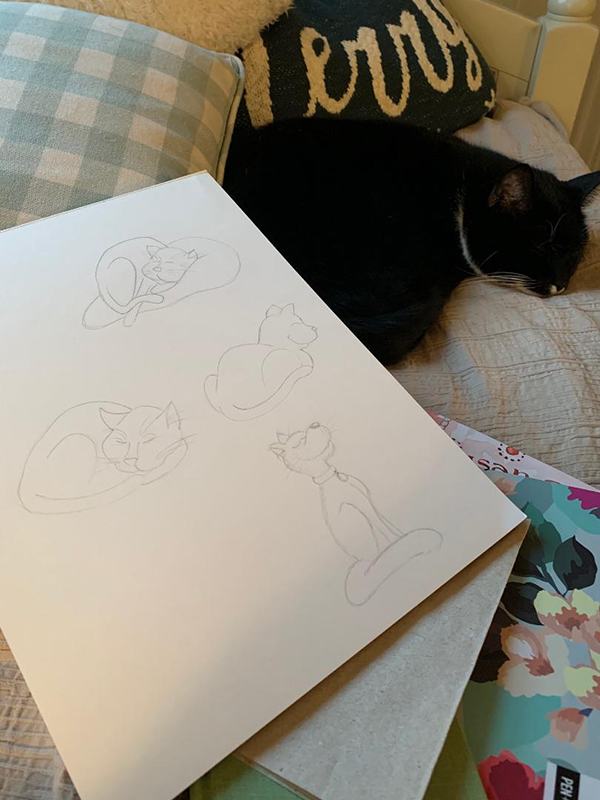 I've always enjoyed drawing animals and my Kit-Cat makes such a good model curled up at my feet. 🙂 Did I ever tell you I was a cat kid? Kind of like a cat lady, except I was, like, 9. Okay, I was like 9 through 13. I was obsessed in that five year chunk! My mom made me join 4-H at one point and I was not enthused until I found out I could specialize in cats. I had 32 of them at the time (they all lived outside) and creating files for each of them (to document their gender, weight, fur color, family tree, personality type, etc.) made me feel just like a real, live vet. My Grandma Beth, who passed away last year, had a huge collection of cat figurines so I always told people my passion for kitties (and the color blue!) came from her.

(Grandma Beth, many years ago)
And speaking of things my Grandma Beth's side of the family loves…puzzles! And more specifically: puzzles pieces. Look what we found tucked in the side of one of our wicker chairs:
The missing sheep shoulder! Someone commented on my last blog post about how she found a missing piece underneath a nearby curtain and after checking beneath ours and not finding it there, I was inspired to look underneath the cushion on one of our "puzzle chairs". I squealed when I saw the edge poking out, but let Steevenson pluck it out and press it into place. 😉
The very next day, we hit the road to Kentucky. Do you remember when I told you about Thomas Dambo's giant trolls? From the very first time I saw a photo of his spectacular Isak Heartstone, I knew that I wanted to spend time with as many of his creations as I could!
We spent the first night in Franklin, Tennessee and then made our way to the Bernheim Forest in Kentucky the next day. It's a 16,000+ acre wonderland where people can connect with nature. Here are some of my favorite photos from that day:
That's Little Nis. He's the first giant troll we found. To see him there, looking at his reflection, was so surreal! I've done so much research about Thomas and his trolls, and to suddenly find myself standing in front of one was a really magical feeling!
My favorite is their fingers and toes. I love how he creates their nails by shaping the boards above them!
And don't even get me started on that big toe with the blue paint. So fun!
Next up, we walked through the most beautiful amber waves of grain…
…and into another section of the forest where we found Mama Loumari:
She is mama to Little Nis' (and Little Elina) and she's got another giant baby in her belly right now, too.
I love how Thomas creates their hair using fallen branches:
I couldn't resist having my picture made with those cool toes!!
Last but not least, we wandered our way over to Little Elina. I think she was everybody's favorite.
She's sitting on the ground, drawing with a rock…
It's hard to tell from this angle, but it's supposed to look like she drew a feather. I bet it looks so cool from above!
On our way back to the car, we passed ginormous evergreen trees dropping the prettiest pinecones. I picked up three to bring home. While I was bent over, I noticed the way the branches were falling and said, "Look, baby! It's a door!". Steevenson squealed and ran "inside".
I'm reading a book called 'The Wild Remedy' right now about how nature can heal us if we just take the time to stop and let it. Did you know that coming into contact with certain proteins in soil can trigger a release of serotonin from a specific group of nerve cells in our brain? Yep. Turns out weeding isn't just good for your gardens!
Hope you're having a peaceful week, friend. I look forward to catching up with you in the comments…
Layla