Happy Friday!
Kevin's parents, Jim and Katie, have been here for a few months now, so I thought I'd share a post about how multigenerational living is going (from my perspective) so far.
If you're new around here, I should probably explain that we each have our own separate kitchen, living, dining, bedroom and bathroom spaces, but we do all enter the house through the same back door/entryway. Which also happens to be Jim and Katie's dining area: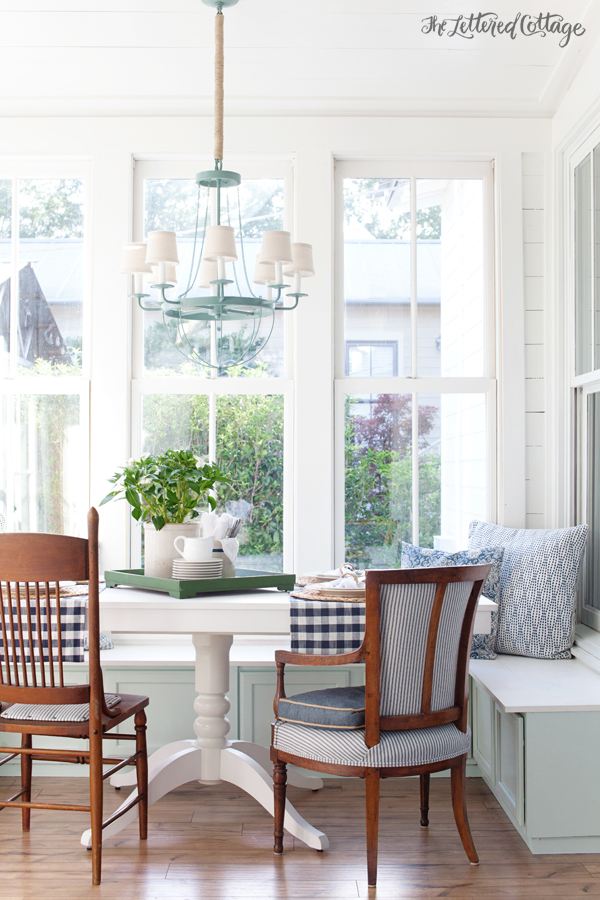 PS- they have shutters and shades on those windows for privacy and light/heat control now! 🙂
Many of you have been asking for a tour of the Bungalow Barn that they live in, but Jim and Katie still have lots of boxes to unpack, and there are still many paint projects that need to be finished, so I'll wait until those things are done and we've had a chance to decorate before I snap and share any photos.
As for the transition, I'm happy to report that going from a family of three to a family of five went much smoother than I expected. I'm not saying it was seamless, but I was surprised how well we seemed to do life together right from the start. If I'm honest, right before they made the move, the anticipation of another a huge life-change started to feel really overwhelming. To all of us, I'm sure. Seems like that's the way it works with anticipation though, ya know? The build-up to the thing that we feel intimidated or overwhelmed by is usually the most stressful part.
And when it comes to keeping things harmonious from day to day, a lot of that boils down to being intentional about honest conversation. Just like with any close relationship, we went into this arrangement knowing that challenges were bound to arise, but we made a conscious decision to always openly communicate our concerns so that we could (quickly) work toward solutions and move away from resentment or misunderstandings.
We pretty much stick to our own sides of the house throughout the day (especially now that Jim and Katie have running water in their kitchen), but it seems like we're all comfortable with "having each other over" whenever we want to chat, share a meal, or need some help or a hug. 🙂
The sweetest part of our new dynamic is how much Steevenson has enjoyed having his Granpè and Granmè here, and seeing how much Jim and Katie bless and are blessed by him too.
Steevenson has his own set of colored pencils on Jim's art desk (he's a retired cartoonist) and the two of them work side by side on their drawings some days. And Katie is always quick to offer to make him scrambled eggs for breakfast (his favorite!) and she always jumps up from her chair when Steevenson gets home from school. He is always so proud and excited to show her what he brought home in his backpack that day and she is always so encouraging as he reveals each piece. 🙂
I look forward to sharing another update a little further down the line, but in the meantime, feel free to ask questions about anything you might be curious about when it comes to multigenerational living. I'm always happy to answer!
Have a great weekend!
Layla
PS- Jim and Katie celebrated their 49th wedding anniversary yesterday!