Every once in a while, I use Google to search for random things like "oldest tree in the United States" (it's a 5,062-year-old Bristlecone Pine that lives in California's White Mountains), or "most popular dessert in 1974 (according to Taste of Home magazine, who breaks it down year by year HERE, it was Watergate Salad. Mmmm!) or "largest butterfly in the world" (Queen Alexandra Birdwing, whose wingspan is a foot wide and only resides in the rainforests of New Guinea) I recently searched for the "most charming towns in Alabama", hoping to find a neat place to visit at some point, and was quickly redirected to many articles about Mooresville.
One article invited readers to "Step into this one-quarter-square-mile Alabama town, and leaves rustle in the branches high above while the shade of their grand arms and playful leaves dance below. White picket fences surround idyllic yards and historic homes, wisteria blossoms hang from awnings, front porch swings gently sway in the breeze and a shower of dogwood petals flutters across the road where most of the town's 50 residents walk or ride their bikes to get around the town's six main streets. Just 20 minutes from Huntsville and a little over an hour from Birmingham, the drive to see Mooresville — especially at Christmastime — is well worth it. During the holidays, the village's torches are alight, casting off a warm flicker on the streets and buildings, and the homes are decorated in all their holiday splendor, ready for Mooresville's annual Holiday Home Tour and Progressive Dinner."
(source)
(source)
(source)
Known as the "Williamsburg of Alabama," more research revealed that Mooresville's earliest settlers came to the area around 1805, and about a decade later, the town's original 62 residents petitioned for (and were granted) an Act of Incorporation, making Mooresville older than Alabama itself, which was incorporated over a year later.
Looking at these photos, it's easy to imagine what the two-hundred-year-old village looked like back then. The beautiful homes being newly-built. The town's original craftsmen and businesspeople setting up shop. Apparently, there was even a tailor shop where future President Andrew Johnson apprenticed for a time.
(source)
And here's something that really tugs on my historic-lovin' heartstrings- the 1840s post office is the oldest in continuous use in Alabama.
(source)
For much of its history, the post office was part of a grocery store, and longtime residents have treasured memories of going there to get their mail and an ice cream cone. It's currently open from 8 a.m. to 10 a.m. every day, except Sundays, and a some of the 48 P.O. boxes have belonged to local families for several generations.
The Stagecoach Inn (pictured below) was built 20 years earlier than the post office pictured above and served as the town's first post office and a sleeping station for the mail carriers who traveled from Huntsville by horse each day.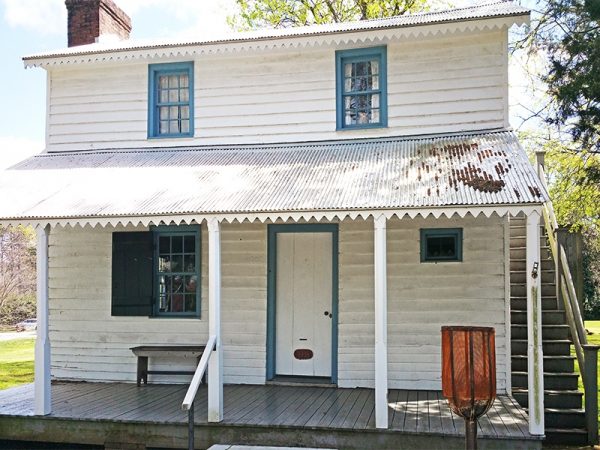 (source)
The post office was located on the right side of the building, where mail was exchanged through the small window. Supposedly, the same window was used for the after-hours sale of liquor. Scandalous! The stairway on the right leads to the two sleeping rooms that the mail carriers stayed in upstairs.
Next up- Lyla's House. It was originally constructed in 1890 by a carpenter named Zack Simmons who built it for himself and his wife, Mandy.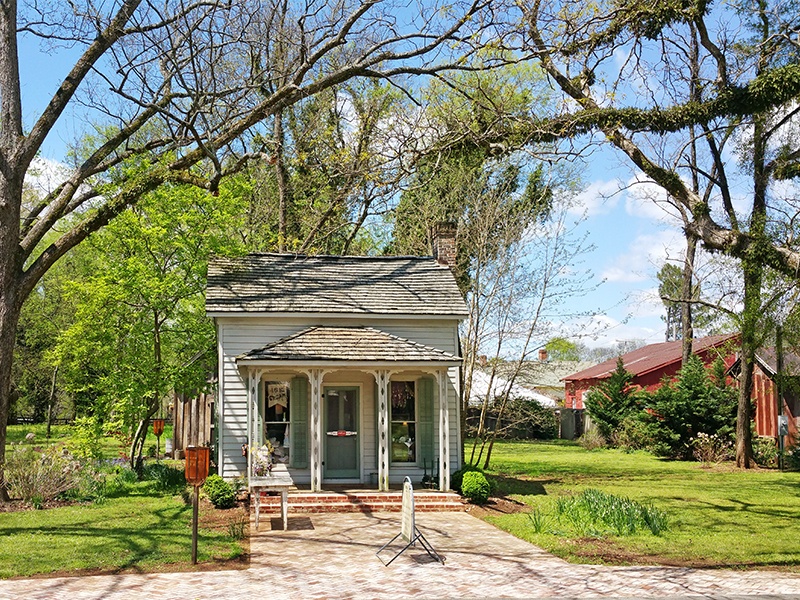 (source)
(source)
Lyla Peebles restored the cottage in 2011 and dubbed it Lyla's Little House. Today, it's a popular spot for locals to get pecan pralines, divinity, cheese straws, and German chocolate milkshakes made with Lyla's homemade ice cream.
The church pictured below was constructed in 1854 and, fun fact, (future) president and general James A. Garfield preached there during the Civil War in 1863.
(source)
Here's a look at some of the homes around town…
(source)
The Corner House (pictured below) was built in 1826 and was originally home to a mercantile business before being converted to a residence in 1936.
(source)
I'm particularly fond of this 1780-style saltbox house that was built circa 1854 and started life as the Martin-Smith Blacksmith and Cabinet Shop.
(source)
This next one was built in the 1820s and is now home to the McCrarys, the sixth consecutive generation of the family to live in the home, and the eighth generation to live in Mooresville.
(source)
At some point along the way, they added this little brick cottage to the property, which served as an office for a while.
(source)
JaVa (pictured below) was previously a general mercantile store, an antique shop, and a tourism office. Now, it's a quirky coffee-shop-meets-antiques-and-art-shop operated by Jack McReynolds and Valerie Connaughton.
(source)
I love what Jack had to say about Mooresville in an article I read online: "For me, one of the most enjoyable aspects of the town is the cacophony of birdsong. It's the only place I have ever lived where birds were the dominant sound."
Here's another one of my favorite descriptions:
"This idyllic enclave stirs something in the Southern soul and awakens the universal imagination. Walking through the tiny town, one feels humbled by his place in the immense expanse of time."
Sounds wonderful, doesn't it? I'd love to join one of their April walking tours, which is led by a local resident. They meet at the old Mooresville Post Office at 10 a.m. and apparently if you come at 9:45, they'll give you a tour of the inside of the post office, too!
So here's to Google searches that lead to places that I look SO forward to visiting sometime soon!
Layla