So? Did you catch the sneak peek of our faux wood beams in my vlog on Friday? 😀
They came from AZ Faux Wood Beams and we. are. lovin' 'em!
Excuse the missing curtain in this next shot. The rod went up a few days ago and I just haven't gotten around to hanging the curtains up:
There were lots of colors and styles to choose from. We chose their Hand Hewn "Old Tuscan" Beam in a 4″x 6″ x 16′ size, and the color is Light Walnut.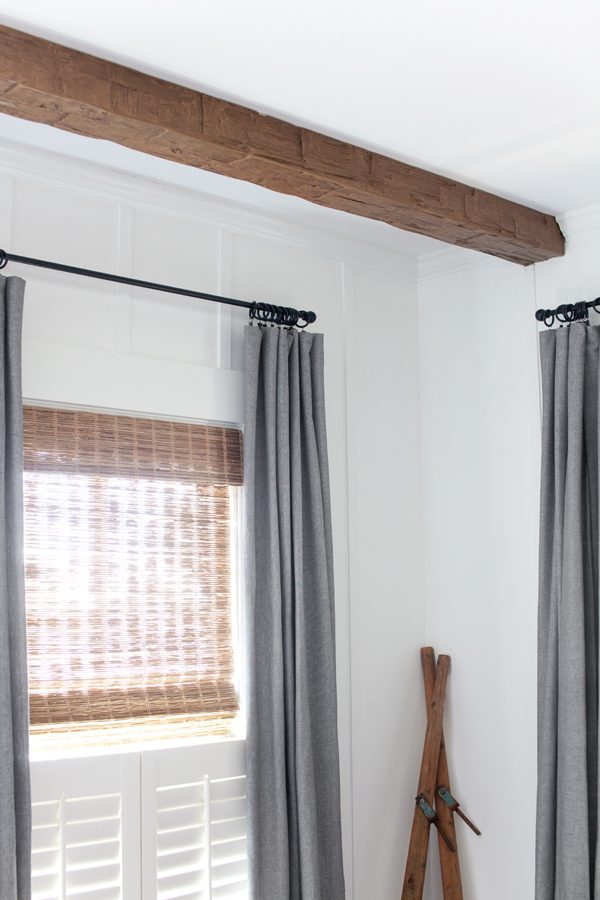 Here's a photo of the samples they sent us to choose from: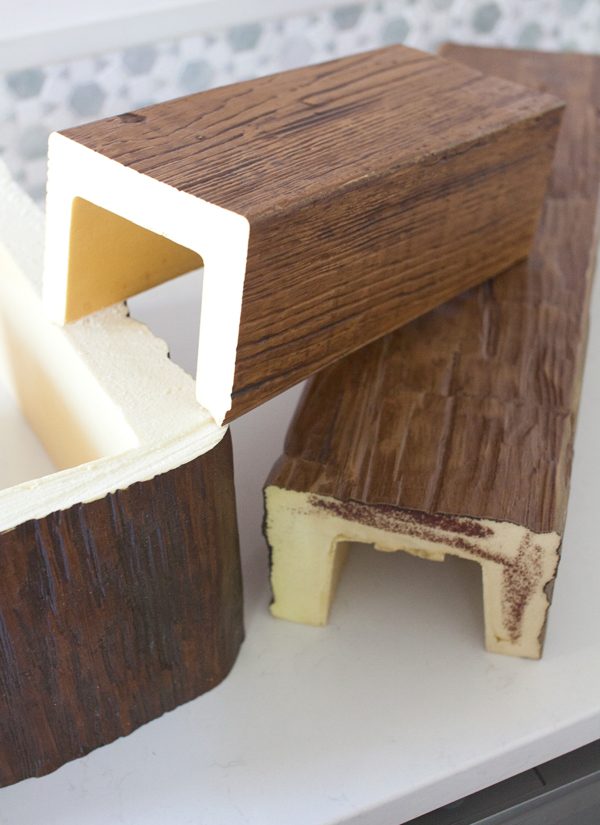 The one on top is "Sandblasted" in the color Fall Leaf Brown, and the one on the left is "Old Timber" in Coffee bean. The one we chose is on the bottom right. It was a little less orange/"perfect" than the one on top, but not as dark as the one on the left. (We didn't want to go dark because we wanted them to look a little different than our floor, which is dark.)
They're lightweight (because they're made of foam) and they're a lot easier to install if your room is cleared of all it's furniture. Here's a photo of the 2″x4″ chunks of wood Brian the Carpenter attached to our ceiling in order to hold them up:
He started by notching out spaces in our crown molding, and then he drew pencil lines across the ceiling using a very long (six-foot?) straight edge. Next, he used heavyweight drywall anchors and screws to hold the chunks of wood in place. He marked their position with painters tape so he knew where to nail the beam once it had covered them up. (He used a pneumatic nailer for that part, by the way.)
I'll be posting some wider shots of the room once I have a few more things decorated and I'm ready to blog about the what we're in the middle of doing on the 4th wall in the room…a.k.a- the one opposite the bed. Got any guesses? 😉

PS- For those that might be wondering, the ceiling in our bedroom is 9 feet tall.