Hi! Did you have a nice weekend? I hope so!
I thought I'd show you the desk area we've been piecing together in our master bedroom today. (Note: I know you're not supposed to have computers in your bedroom, but we live in a 2-bedroom house, and we've decided this is the best spot for them to go.) The area is directly across from our bed, and is still far from finished, so pardon the all the cords and randomly-placed decor items sitting everywhere…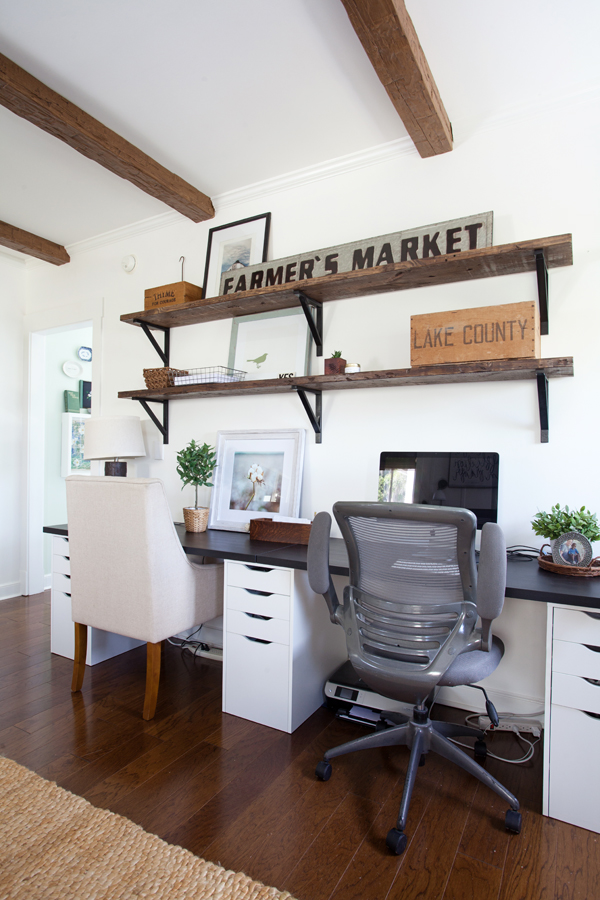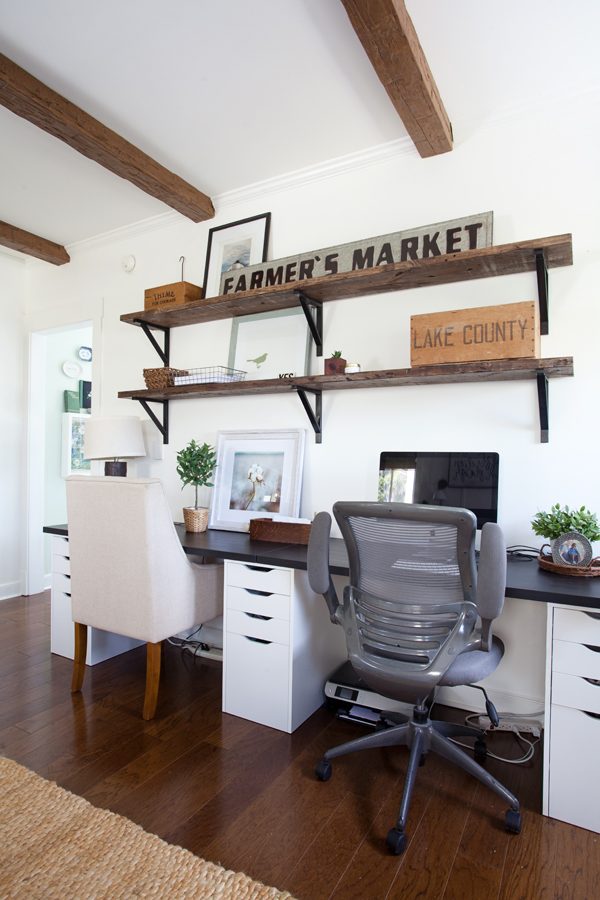 The old (uncomfortable) chairs will eventually be replaced, and I'm thinking about using little curtains on tension rods to cover the printer and power strips. Have you ever seen anyone do that? I'll have to check Pinterest to see if I can find an inspiration pic.
Be right back.
Pretend this is hold music…
Okay, I'm back. 🙂
Found one lickety-split by searching the words "hide cords curtain":
Great job, Kris!
Here's another one that popped up in Google Images:
I'll keep you posted if that's the route I decide to go, and I'm all ears if you've got any other ideas in the meantime!
As for the shelves, we just used two 2″x12″ pine boards from Home Depot. We beat them up with hammers, drill bits, and chisels before we stained them (Special Walnut) to make them look a little less new.
The ($4) black shelf brackets came from Ikea and I just love them!
The cotton photograph that I've got (temporarily) leaning there was taken by our neighbor-friend, Josh…
…and the handcrafted framed (which reminds me of a picket fence!) was made out of native wood by another Alabama friend, Scott, who sells his creations under the name Chirpwood.
Isn't that a great name/logo? 😀 I've got a thing for typography and logos (The Lettered Cottage) and I loooooove that the bird looks like the rings of a tree:
And while I'm bragging on Chirpwood, I also love that their products are created ethically (and in a barn!) and that they use 50% of their profits to impact our world in a positive way.
I feel like our cotton photo wants to hang on a blue or gray wall, so I'm going to be thinking about what room/area could get coated with one of those colors next. Hmmm. Maybe the stairwell? Maybe our master bathroom? Off to wander around the house and dream. 🙂

Get My Free E-book: 15 Common Decorating Mistakes And How You Can Avoid Them
Enter your email to download my free e-book instantly! 🙂