Thank you SO much for leaving such kind and caring comments on my last post. That stuff is so tough, and my heart goes out to those who are dealing with, or have dealt with, the loss of a furbaby. I swear I can still hear Bean walking from room to room sometimes, but somebody told me that's normal. ???
And I was surprised how many safe TV watchers there are out there! I think we should start a club…and I think I should design a t-shirt…or a tote bag, or something.

In rocker boy news, Kev finally made it back home safe and sound! His tour was a success, and he said he's ready to get back to fixin' up this fixer again real soon.
I actually surprised him with a quick getaway to the Gulf this week. I thought it would be a nice way for him to unwind and I really needed to get out of the house. I tend to become a bit of a hermit when he's gone for long periods of time and he's been cooped up in a van with a buncha' band boys for the past couple of months, so we were both feeling pretty antsy to go somewhere a little more….wide open…
(Pensacola Beach, Florida)
It's a three hour drive from our house to Pensacola Beach. I booked the cheapest room I could find, because when you're looking at the sand, the sea and your sweetie, who cares what the room looks like, right?
Well, apparently an angel at the Holiday Inn Express cared what our room looked like this week, because she called me a few hours before we checked in and told me she was going to upgrade us to one of the penthouse suite's at no additional charge. I could not believe it! I wanted to tell Kev, but I decided to keep it a secret until we got there. He was so surprised when we got up to the ginormous room and he saw floor-to-ceiling glass, and nothin' but ocean!
The suite had a nice big living room, a bedroom of equal size, a kitchen, and 2-1/2 baths- one of which had a whirlpool tub that was as big as both of our bath tubs put together!
The private rooftop deck was my favorite part though. It was physically impossible for me to stop smiling on that thing…
And after a hard couple of months missing Kev, and then mourning the loss of Mr. Bean, I gotta tell ya, that was just what this old gal needed.
Because our room was on the west end of the hotel, (and near the end of the beach) we had a view of both the Gulf and the bay that surrounded us…
The sun sets below the bay, over there on the right, and it was such a treat to watch it slide beneath the horizon line each night while we were there.

The water was still a bit too cold to wade in, so we did a bunch of wave-watching instead…

And, of course, we couldn't resist doing this once before we left too…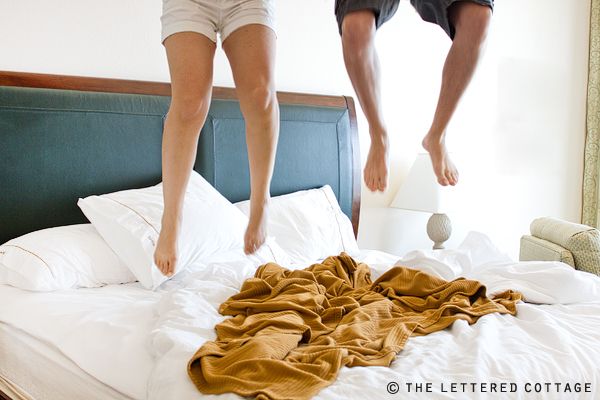 It was a refreshing little trip, and we still can't believe we got to stay in that room!
——————————————————————————————————–
In bloggy news, we're excited to announce that we're going to team up with our pals Rhoda, Sarah and Kate for another link party series in May.
We had a ball throwing the Holiday Home link parties, so we thought we'd try it again and put a Spring/Summer spin on things this time!
The festivities will kick off on Tuesday, May 17th with Sarah's spray paint project link party. Then on Thursday, May 19th, Kate will host an outdoor ideas link party. On Tuesday, May 24th, Rhoda's going to host a Summer recipe link party, and on Thursday, May 26th, I'm going to blog about our Summer mantel and host a Spring/Summer mantel link party.
I had fun putting this one together last Summer…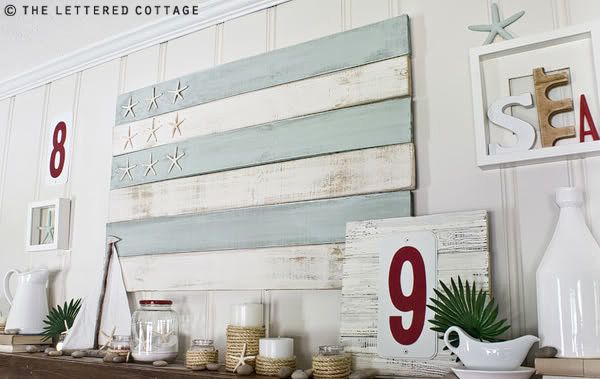 …and I can't wait to play around with another one this year.
Hope you can make it to the Home May'd parties and that you're having a awesome April!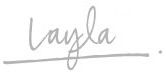 ——————————————————————————————————–
Join us on Twitter or Facebook!
————————————————————————————-
Need help arranging your furniture?
Check out my e-book!
Get My Free E-book: 15 Common Decorating Mistakes And How You Can Avoid Them
Enter your email to download my free e-book instantly! 🙂