Hi.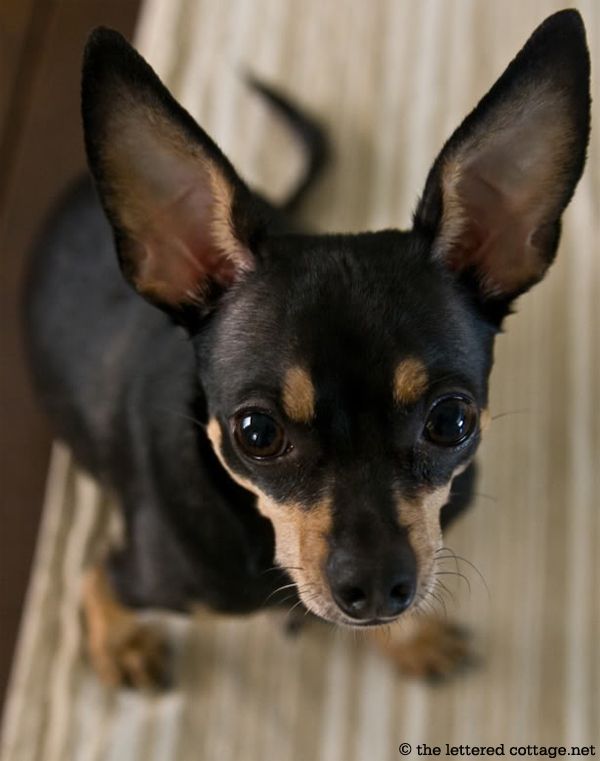 I'm Maximus Palmer, and my Mom thought it would be nice if I blogged about my new little brother, Kit-Cat, today.
Yep. Apparently the kid is stickin' around for good.
I'm not really sure why they wanted me to announce the news though, because…well…the dude sort of weirds me out. I mean, he's craaaaazy hyper, and according to Mom, his claws are MAD sharp. What's up with that!? He's always purring and trying to rub up against me, and he acts like he wants to play with me too, but that is soooo not happening. No way, José. Not with those prickly little paws.
And get this- now that his leg is almost all better, he's starting to act like he owns the place. Yeah…I know- total weirdo, right? He even took over my spot on the back of the couch for, like, two hours yesterday. The kids got no manners, I tell ya.
And to top it off, he's even started playing with one of MY toys, too.
Mom says she doesn't know why I care, because I "haven't played with it one time" since they bought it for me. But still. It's mine, and he doesn't even know how to play with it right anyway. You're supposed to have someone throw it for you so that you can go fetch it. Kit-Cat just attacks it…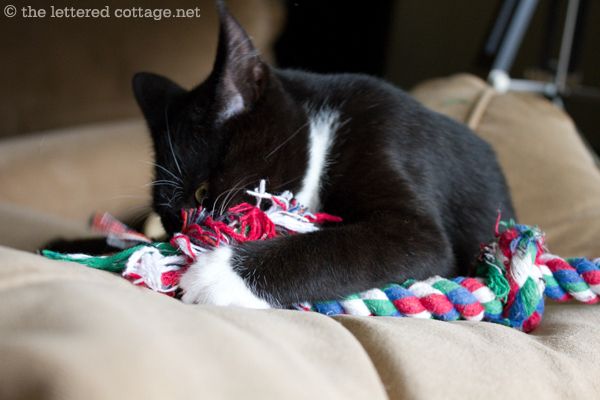 …and lets it attack him.
And stares at it…
And stares with it…
And sometimes, he gets this REAL crazy look in his eyes, and just goes off on it…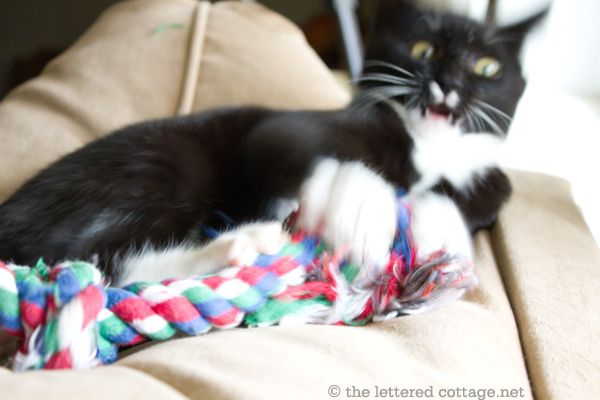 Just watching him play exhausts me.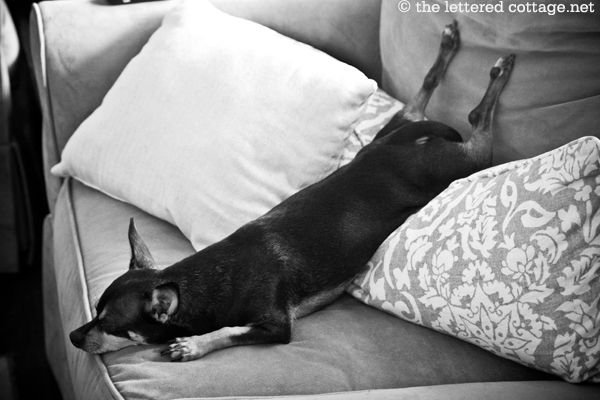 I mean, doesn't he know that taking naps is where it's at? Oh well.
His loss.

____________________________________________
PS- Max's Mom here… 🙂 Just wanted to add that since Max hasn't been chasing Kit-Cat, and because we've got a great/pet-loving house-sitter that will take care of both of our pets when we're gone, everything is working out just fine.
And a big thanks to everyone who emailed us about adopting him if things hadn't gone quite as smoothly here with Max. We truly appreciate your kindness and generosity, and we'll definitely keep you posted on how he's doing!
____________________________________________
Join us on Pinterest, Twitter and Facebook!
____________________________________________
Need design inspiration? Need help with space planning?
Check out my e-book!