Happy Friday, friends!
One of the gals in our Lettered Cottage Community posted a photo of her headboard and asked for advice about how she should decorate the space above it. She gave me permission to blog about it here, so I thought I'd share a few ideas that might work. She did give me a few guidelines though: she doesn't want an old window, a mirror, or to use modern farmhouse word art. Here's the photo of her bed: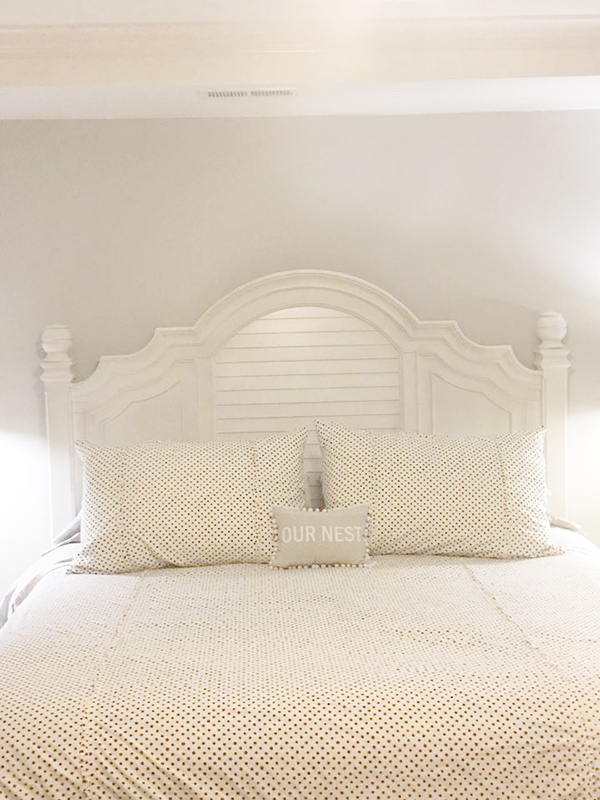 As you can see, it's a short area between the top of the headboard and the bottom of the soffit above it, but there's still plenty of space to do something fun up there. Here are a few ideas:
1. Rows of frames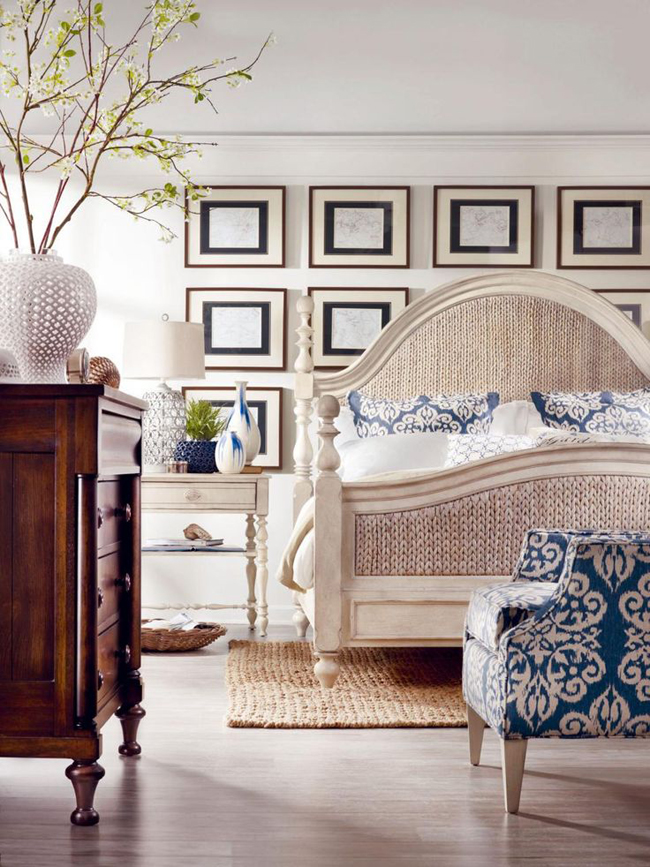 I love how the rows of frames add color and dimension and contrast (line-wise) with the curve of the headboard. And because they're all simple, and the same, it the grouping acts more like 3D wallpaper than a collection that takes away from the beautiful bed. Such a stunning, affordable and easy-to-create statement!
2. Plates
Sometimes I wonder whether or not plates make sense as art in a bedroom, but if I just let go of the idea that plates are usually only seen, stored or used in a dining room or kitchen, and just appreciate them for what they can also be: pretty, collected pieces of vintage ceramic or china "art", I think they can be a beautiful way to add interest to the area above a headboard. Here's a photo of a curvy headboard that doesn't have a ton of wall space above it. So pretty!
(Tammy Connor Interior Design)
3. Mirrors
I know Sandra said she didn't want to use mirrors, but this example was just too gorgeous not to share! I love how they open up the wall up there and reflect what's going on on the other side of the room. It's almost like having artwork that perfectly coordinates because the "picture" inside each frame is the same colors, tones and patterns you see everywhere else in the room.
I also think the fact that two of them are round makes a difference too. I like the way the curve of the frames follows the curve of the headboard.
4. Architectural Salvage
The headboard in this photo isn't arched, but I still think a piece of architectural salvage would work. I also like the idea of using wall sconces that "arch" over the outside edges of the headboard. The combination of those three elements used together creates a more pulled together look because everything on that wall feels connected and keeps your eye moving.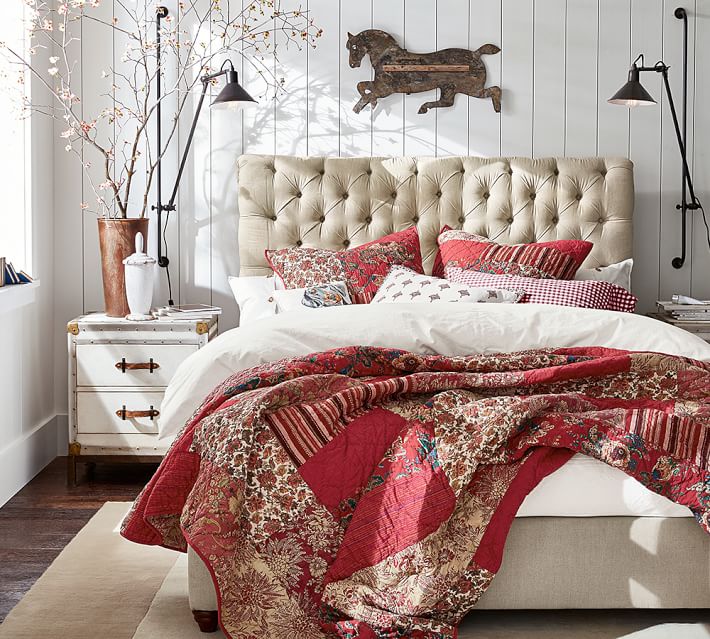 (Pottery Barn)
Here's another great piece of salvage that finishes off that wall space perfectly!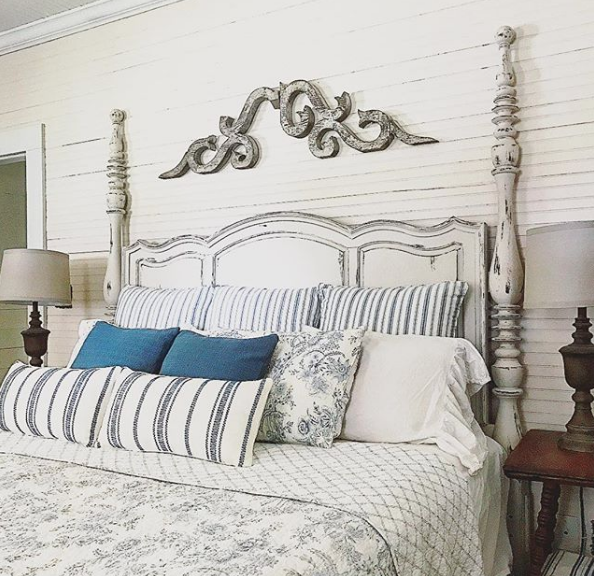 5. Sculptural Art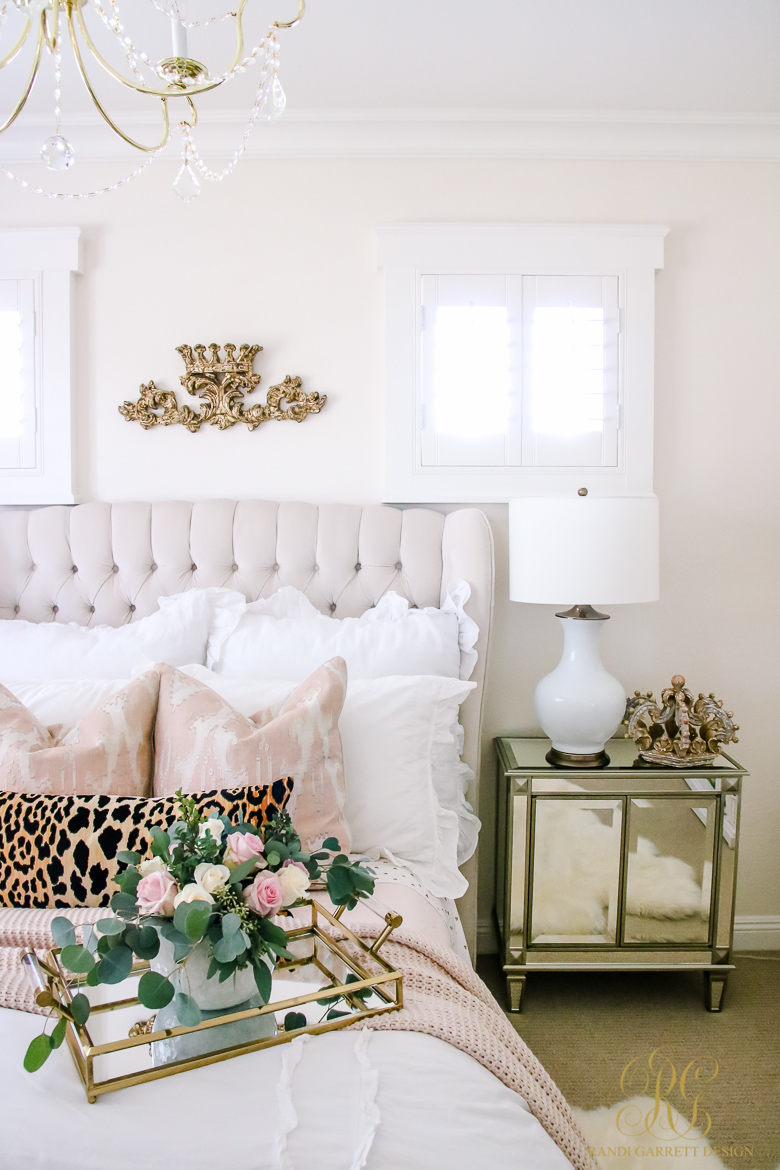 This could be anything from a crown, like in the photo above, to a piece of sculptural millwork or garden art, like this: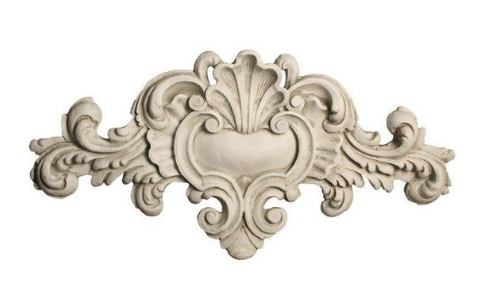 6. Straw Hats
I've become especially drawn to the idea of decorating with straw hats lately. I love the texture, tone and lightheartedness they add to a space. They add the same kind of feeling a basket or jute rug would bring in, but in a completely different place (on the wall, vs. on the floor or on/in a piece of furniture) and the circular shape would complement an arched headboard quite nicely as you can see in the pretty photo below:
7. Statement Wall
Obviously this last one would require a lot more time and energy to execute, but I wanted to include it because it's one of the coolest bed backdrops I've ever seen! I wouldn't add the doors in Sandra's (short) space, but a wall full of simple trim would be a great way to fill up and accent that area. No extra art above the headboard needed!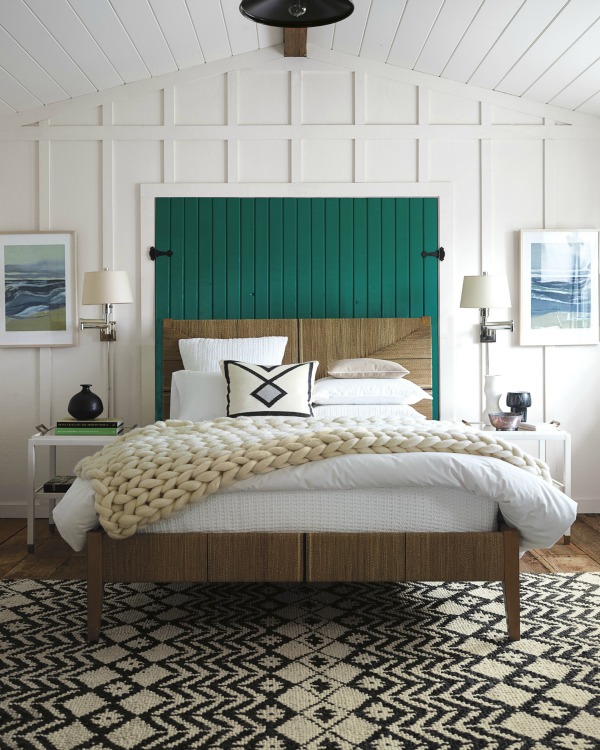 Here are a couple more photos that demonstrate how much impact simple molding can make: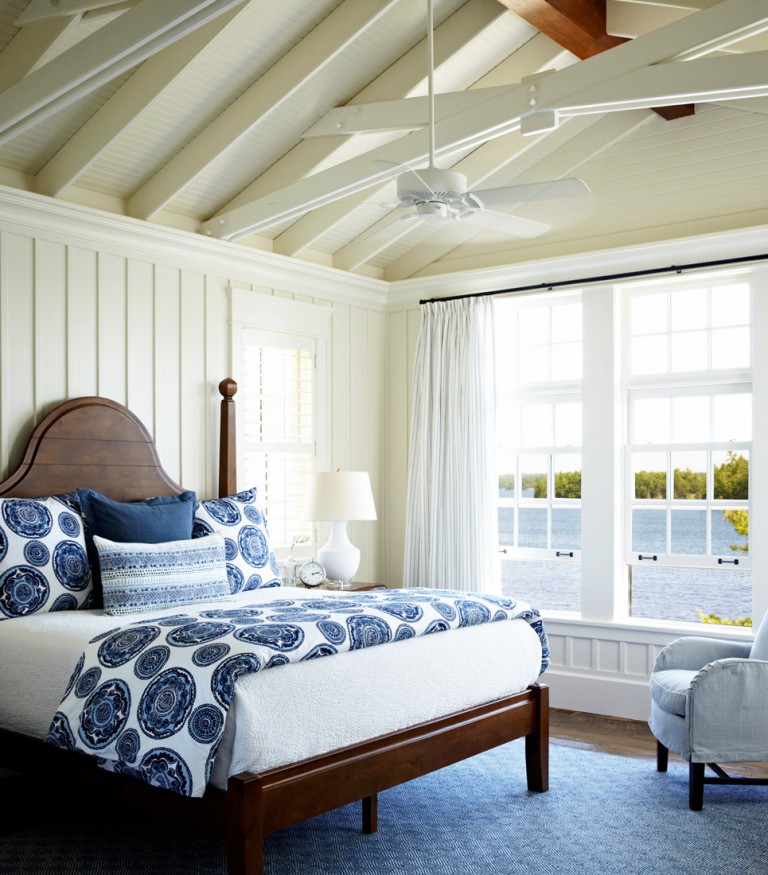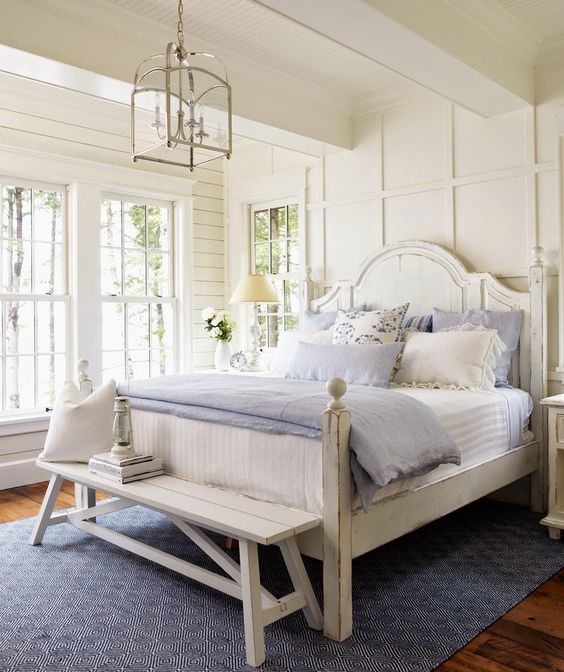 Other options might include: an oar or oars, artwork, vintage trays, hanging lanterns, letters that spell out a word, a historic salvaged sign, a sunburst-style mirror, or a simple row of smaller-scale framed prints.
What do you think Sandra should use above her headboard? I know she'd love to gather up as many ideas as she can so that she can move forward with confidence.
Have a great weekend, friends!
Layla
PS- Great Wolf Lodge in LaGrange, Georgia is quite the place! Pretty sure Steevenson considers it heaven on Earth, but also pretty sure I won't be going back 'til I can get my panic attacks under control. :-/ (Called my doctor on my birthday and have an appointment to talk about my options on June 15th. Woo hoo! 😉 ) Just wanted to warn any friends who also suffer with nervous illness. It's *very* loud in every single area of the resort because of the echo factor (super tall ceilings, tons of people and music pumped through speakers throughout), so the only place you can really get a break from the noise is in your hotel room…which is, obviously, not where your kiddo is going to want to hang out while you're there. I battled my way through it, but I do look forward to going back again when my nerves aren't quite so sensitized. Here's a virtual tour of the indoor waterpark part of the resort. It really is an incredible place!