Hey gang!
We're off to visit my mom in Florida this afternoon, but I wanted to share some updated pics of our "workshop" (that's what Steevenson calls it) before we head down the highway. You may remember, this is how the room looked a few weeks ago:
Well, the new Swiftlock, Antique Hickory-colored laminate flooring is down and we're in the process of customizing the Billy bookcases (from Ikea) now:
We're cladding them with thin pieces of adhesive-backed, reclaimed wood called Stikwood to give them some vintage style character, and to create more hidden storage, which our home is desperately in need of. We still need to finish sticking it to several places, but I'm so pleased with how everything is turning out so far!
One area I'm most looking forward to covering up with the Stikwood is the inside sides of the bookcases…where the peg holes are:
The peg holes are a dead giveaway that the bookcases are Billys, but covering them with the reclaimed wood will take care of that lickety-split!
Another area I want to camouflage is the outside sides. If you look at the photo below, you can see that the piece is actually made up of four main parts. Crown molding, a 1″x6″, a (brand new) Billy extension shelf and a (very old) Billy bookcase. I want it all to be the same color, and to look like one unit, so we'll be adding a thin piece of (white-painted) luan plywood to that area next week too.
We're also adding more Stikwood to the fronts of each cabinet, to cover all the smooth parts.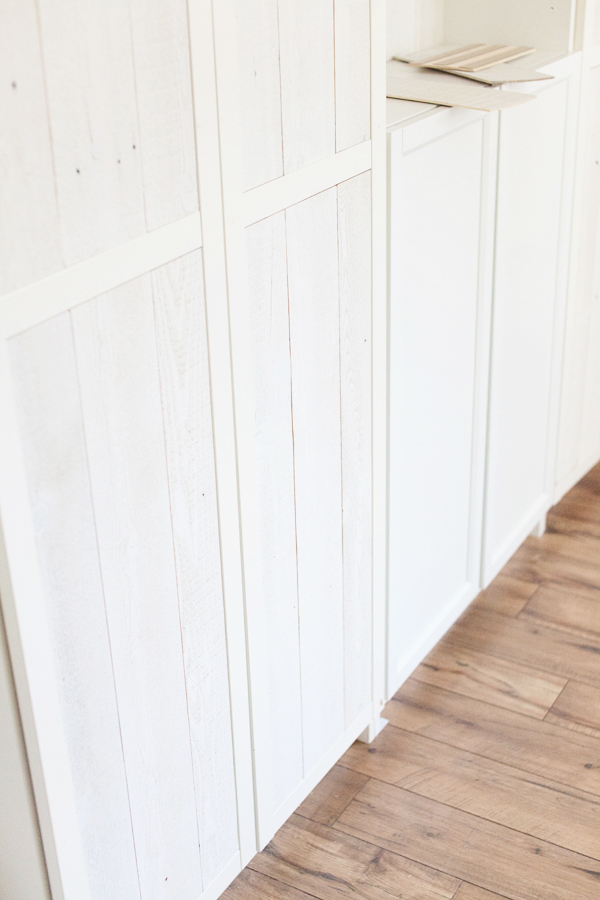 Last but not least, I'll add door pulls and these vintage numbers:
But for now, we're off to the Gulf Coast- woo hoo! Happy weekend friends!
Layla